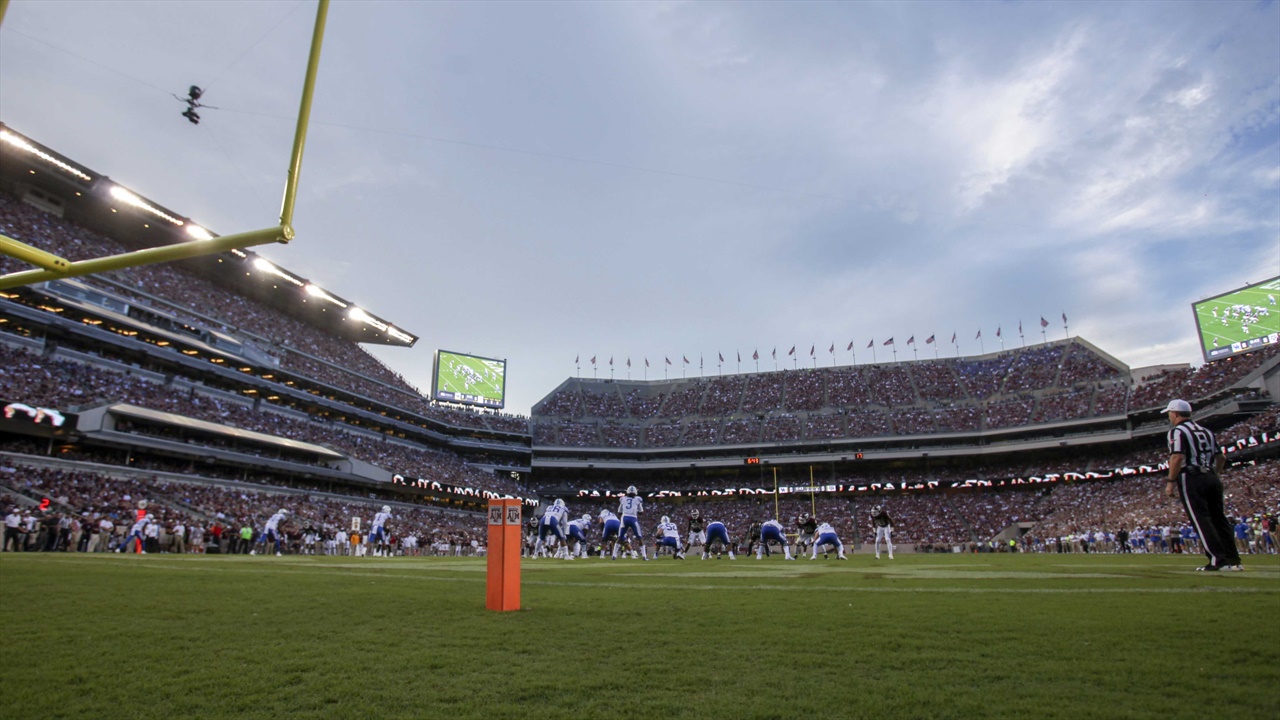 Photo by John Glaser/USA Today Sports
Texas A&M Football
Aggies will move on after resolution on minor NCAA violations
---
While I would say the hits just keep on coming as it pertains to the longest (literally and figuratively) football off-season in recorded history, today's NCAA announcement wasn't something that caught Aggie Football off guard.
No, Thursday's pre-July 4 announcement stems from an investigation that began more than two years ago and centered around allegations by former linebacker Santino Marchiol, who was later dismissed from Arizona by former A&M head coach Kevin Sumlin. So after two years of digging, the NCAA discovered that, under Fisher's watch, the Aggies were — when you cut through all of the drivel — guilty of two things. The first had to do with seven hours of extra 'practice time' during a seven week stretch during the spring of 2018. The second? What is commonly referred to as a 'bump' by the head coach with a high school prospect during a non-contact period.
That's it. That's the list of infractions found during the extensive and extended investigation.
Look, any and all NCAA sanctions should be taken seriously, in this instance if for no other reason than for the fact that the Ags are on probation for essentially a year, meaning no more slip-ups, even of the minor variety. Outside of that, however, this is something that Fisher and the program will leave in the rearview mirror beginning today.
The 'extra practice time'? That's what coaches from pee wee football through the NFL refer to as "if you're not early, you're late." Over the course of seven weeks during Fisher's first spring on the job at A&M, players apparently arrived early enough for pre-practice stretching to add seven hours — total — to the team's on-field time. Again, that's seven hours over a seven week stretch. That's an average of one hour a week (for only the stretch in question) if you're scoring at home.
As for Fisher 'bumping' into a prospect and that resulting in a pair of Level Two violations, well, all I can say is that college football coaches (head coaches and assistants) are probably laughing at the fact A&M got popped with what sure feels like the oddly heavy-handed punishment of pulling the head man off the road for a month this December. Well, they're actually either laughing or really re-evaluating how they're going to do things moving forward, as the 'bump' is probably the most common act by coaches on the trail, whether intentional or unintentional (which was the case with Fisher, as A&M explained in today's release and determined by the investigation).
I know there is some vagueness in terms of the high school and the prospect, but I've done enough digging here to find out that the high school (where the Ags won't be able to recruit again until after this upcoming spring) is an out-of-state spot where A&M rarely has a presence. That's worth noting for those who were concerned it might be a Texas program or a power program in state or nationally. Not the case in this instance.
So two what I think most anyone would consider quite minor violations result in the head coach not being able to recruit off-campus during the fall and the A&M staff being pulled off the road for a ten-day stretch this fall (I don't think this one is a big deal during the season because the Ags would likely set that up around a pair of important road games, perhaps at Auburn followed by a trip to South Carolina). If I'm being honest, that punishment levied by the NCAA and Stan Wilcox does feel a little harsh. Seems like the competitive disadvantage in the final punishment outweighs any advantage gained here, doesn't it?
Who is Stan Wilcox, you ask? He's the former Florida State AD who was in charge in Tallahassee when his national championship head football coach left for Texas A&M. Wilcox slid out of that job and into a new position with the NCAA in October of 2018. He's now the NCAA's executive vice president for regulatory affairs, and one of his roles is described as 'providing strategic direction to enforcement.' Just an interesting little sidebar to this story.
So here we are. The Ags take what isn't what you consider a major punishment by any means but more than a wrist slap from the NCAA for seven hours of extra practice time two springs ago and a one-time impermissible conversation with a prospect while Will Wade and Sean Miller are still coaching at LSU and Arizona, respectively. You've all heard the wiretaps on the HBO special or read about them. There are also the ongoing Zion Williamson/Duke allegations, Bill Self and Kansas...and those are merely the scandals that have bubbled to the surface. Seeing college football's governing body coming down on Fisher — who had a spotless record as a head coach and assistant — like they did really makes you wonder if digging up dirt in College Station is all the NCAA has done since the spring of '18 because it sure doesn't feel like they're focusing on getting to the bigger issues facing college football and hoops.
Oh well, if there's any consolation here it's that, after a full inquiry following several accusations by Marchiol, what the NCAA uncovered wasn't anything close to sinister, and the punishment is one that doesn't involve scholarship cuts or any sort of post-season ban. Once Jimbo serves his time off the road this winter, it's completely behind the Aggies. And in case you're wondering about the lack of in-house visits by the head man down the stretch to the Early Signing Period, keep in mind there's a decent chance there won't even be one this year, which means Fisher would be able to make those less-important-now-than-ever-thanks-to-zoom in-house visits during the month of January.
And now back to our regularly-scheduled debate on whether or not there will even be a 2020 season and, if there is, what it's going to look like. Now that they've closed the book in College Station, maybe the folks at the NCAA can get down to the business of figuring out standardized testing procedures across college football, something that actually will have a profound impact on the integrity of the game.
Never miss the latest news from TexAgs!
Join our free email list