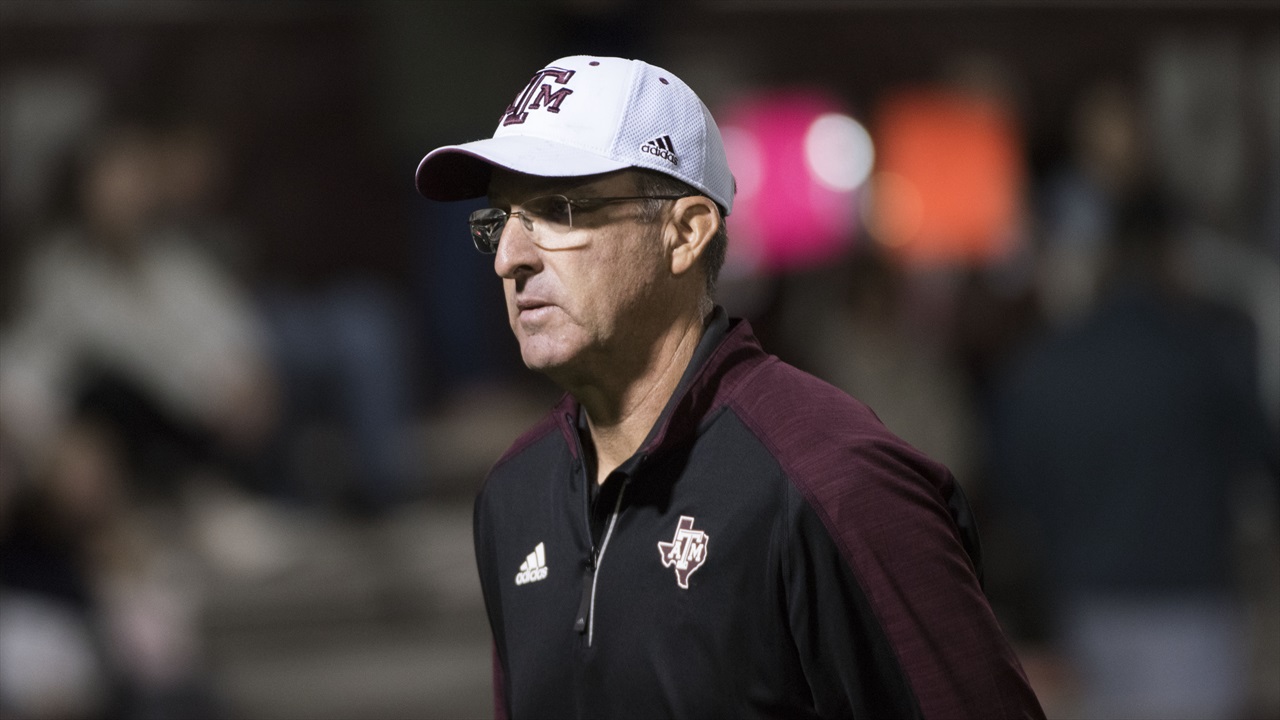 Photo by Margaret Connett, TexAgs
Texas A&M Soccer
Coach G anticipating start of the 2020 Aggie Soccer season
---
Key notes from G Guerrieri interview
We are inching closer to getting ourselves into full training mode. Most of the girls are back and have gone through all of the testing and compliance stuff. Ellis Field is not open yet for them to start training, but they can be working with the sports performance coaches in the weight room.

My blood pressure is helped out and feels normal, knowing that we're going to be playing games soon. We have a preseason exhibition on August 7, and we'll play that without fans. Part of that is gamesmanship, and part of it is because it's so close. The administration wants us to ease into it. It doesn't mean we're not going to have fans this year.

The NCAA has given all of these other sports and their athletes waivers to where they can train and be with their coaches. With women's soccer, they didn't do anything special. It's business as usual. We've never had access to our players during the summer, so that's like normal. This might be selfish, but I want to be around my girls. I want to be with my team. This is an important season coming up, and I'd like to be working with them.

This is not like training for a track meet. Soccer is a contact sport. We have to be training on game situations and how to take a knock. We haven't been able to do any of that since spring break. Even our spring season was cut short.

The SEC leadership has been great. Ross Bjork has also been outstanding. Talk about the right fit at the right time with Ross. Our medical staff has been fantastic as well. I know that they're going to be able to have our best interest at mind as this season gets going.

Ross Bjork's reputation preceded him. With a lot of leaders, you look at whether or not they care. Ross passes that test with flying colors. That is not how it has always been here. Bill Byrne was that way too, in that he cared about everything. I'd walk through fire and over glass for Bill Byrne. I feel the same way about Ross for the way he has started. I've been around some incredible athletic directors during my time here. It's great to have certainty about the people in charge during uncertain times. I feel good that people care about what's going on.

I'm not a scientist or a doctor, but I have some great friends who are. One of the nice things about being in a university setting is you're around some of the smartest people in the world. One of the things they believe we have going for us is that we're an outdoor sport. I'm not sure that our players will have to wear masks, but the coaches might. Look around the world. Soccer is being played all over the place in Europe and even at home with the NWSL. Testing has been an enormous part before each of those games, and our players will have to do those things before each game. It's probably a bureaucrat's dream scenario because there are so many rules for people to follow. If you want to play the game, we will have to follow these rules. I owe it to these players — the young women and their families — to put them int the best situation possible.

These are 18-23-year-olds. We have to tell them and get them to understand that they aren't just responsible for their super body, but they are also responsible for everyone around them. That is very hard for them, but we have to be smart.

It was heartbreaking to see Ally Watt go down during her NWSL debut. It was a non-contact injury on an artificial surface. It was a fluke injury. She had a great season in Australia before joining the North Carolina Courage. She will be back, and she's already posting that she's ready to move forward and come back. It's tough to be a first-round draft pick and go down in your debut with an ACL injury. Big things are still in store for her.

Each year is a new team. Players go out, and players come in, and that changes the chemistry. We lost some great players last year — and not just Ally Watt. We are going to have a great team this year. We have a Venezulenan international in Barbara Olivieri, and she's fantastic. Another international in Andersen Williams is coming down from Canada. We have Taylor Ziemer and some other players coming back. It's going to be interesting now that we don't have Ally Watt, but it will make it to where teams will have to defend us differently. I look at that as the glass is more than half-full because we have some terrific players. I'm confident that it will be another great year for us.
Never miss the latest news from TexAgs!
Join our free email list