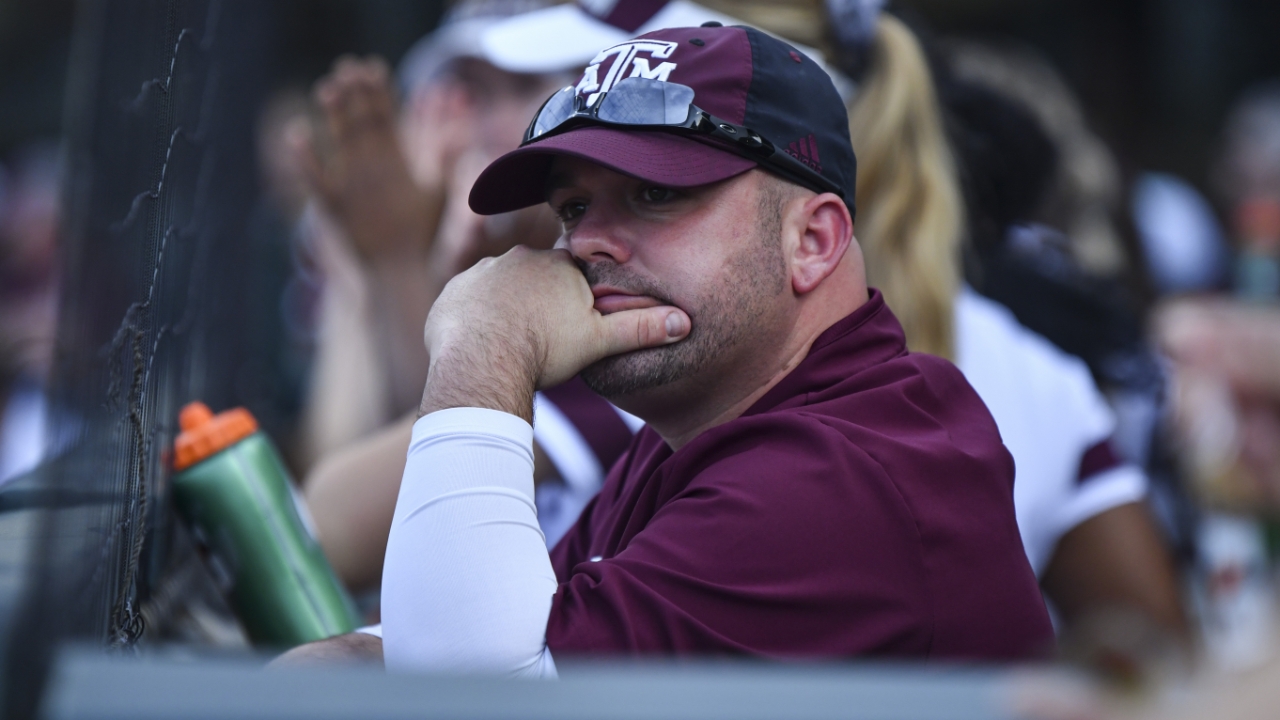 Photo by Jamie Maury, TexAgs
Texas A&M Softball
Craig Snider discusses the recruiting philosophy of Aggie Softball
---
Key notes from Craig Snider interview
A pandemic is something we've never had to contend with. Even just being home all the time is weird. We're on month three of doing nothing. We can't get out and recruit because of the dead period. There's not much to do.

The softball industry has been pretty good at streaming some games that we can watch online, but those are more for grandma and grandpa rather than the recruiters. When you're recruiting, you're looking for skills. You cannot evaluate the skills on those backstop cams effectively.

With the dead period right now — which has been extended through August 31 — there can be no Zoom calls with recruits. We're completely shut down, and I get it. The NCAA wants to ensure that the fall sports get off. If the spring sports taking a step back allows that to happen, then that's what they should do.

Time is something that you don't have as a coach. We've now had some months at home to do some self-evaluating, but also evaluating the program. The program has changed with some of the rules with eligibility relief. It has been a blessing and a curse. We can't get out and recruit, but we've also narrowed our search and our needs. We've changed our thought process and zeroed in on a few players that we want to add.

We're looking at roster sizes of 28 to 30 or 31. A lot of SEC schools could have 30 players or more this season. That is a ton for softball because we don't carry as many pitchers as baseball teams do. However, the rules still haven't changed regarding travel roster size. Some big decisions will have to be made. We're also going to have to figure out how to practice and get the best out of that many players.

I think the big thing is going to be measuring everything. We're going to have to look at the numbers. We will need to get these hitters as many at-bats as possible in the fall to get that data. There won't be any comfortable days, that's for sure. We're going to be working hard.

What you can see on some of these streams are the tools. We're looking for run, defense, hit and power. You want to see those tools. On the webcams, we can see power and hitability when they're making contact or the ball is going over the fence. We can see how fast they run. With defense, it's much harder to see how they move. We can kind of see arm strength, but it all depends on the quality of the stream. We try to put tangible numbers to them, but that's not easy. We use the MLB 20-80 scale. If we can evaluate tools and find that a player is about a 55, that's a good pickup for us. You can still see the hustle and the effort, too.

The calendar change has been a blessing for the sport of softball. For years, it was just wide open. We were not good at it as an industry. You could miss on so many kids so easily because it was so hard to evaluate an eighth-grader. You always had that fear of missing out, so you'd offer after another program offered. When they changed the rule, it was great. It helped us, and it helped the kids. This September 1 rule change has been such a blessing.

I've worked at a couple of excellent schools, but nothing rivals the pride and tradition of Texas A&M. It means something more here, and it's hard to explain. When you go to Kyle Field and see the War Hymn, it sends chills up your spine. When we do Farmers Fight before a softball game, and the whole crowd is doing it at David Diamond, it's just different. It's incredible. We have some of the best fans, and they love the game. They care, and I love that. I love that about this place.

Transferring hasn't always been the case in softball. The introduction of the transfer portal has opened up a lot of new things, good and bad. Softball probably ranks fourth out of all the sports with the number of players in the portal. When we were recruiting early, they didn't know what they wanted out of a college program. When you're young, shiny objects catch your eye, and you commit and go there. When you mature as an athlete, you figure out what you want beyond sports, and I think that's why you're seeing a large number. I hope we'll see a difference in that going forward, and I think the numbers of kids in the transfer portal will die down a bit.

I think we were trending up when the season ended. We have two seniors and then a great class coming in. That will helps us a lot. There is a lot of great athletes in this program, and we're adding more that are going to make an impact for us. I'm looking forward to this young roster being a little better versed this next year and going forward.

Jourdyn Campbell is going to be great. Offensively, she's very mature. I'm excited about that. She was in the top three in the nation in doubles and did that as a freshman. She also held it down at shortstop last year. Even she will have some competition at that position, but we're going to have depth across the board.

I got started coaching softball when I was 18. I played baseball my entire life but wasn't good enough to play beyond high school. I was helping out and giving some instruction and ended up getting hired. I when to Centenary in Louisiana, worked at Oklahoma as a graduate assistant. I made a stop at Stephen F. Austin and coached with Gay McNutt. Then I was at Florida State until Coach Evans called. I've been blessed to have coached at some great places throughout my career.
Never miss the latest news from TexAgs!
Join our free email list