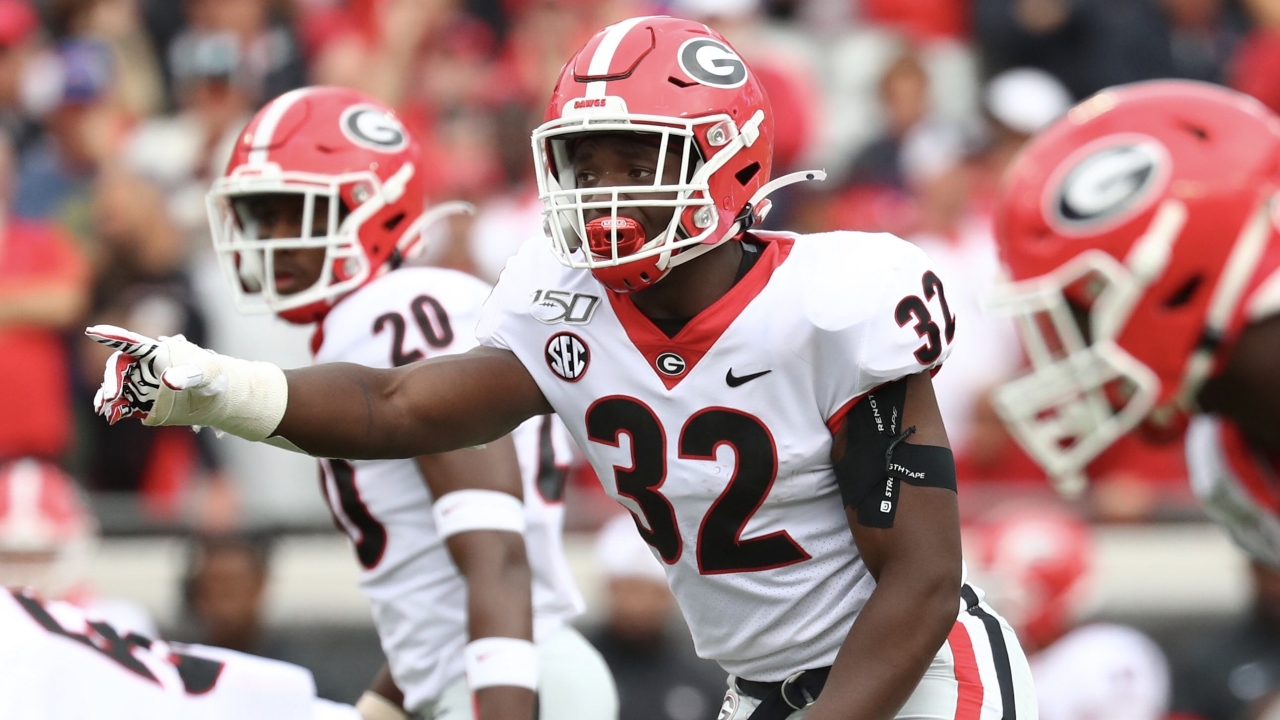 Photo by Kim Klement-USA TODAY Sports
Texas A&M Football
Top to bottom: Ranking the 2020 Southeastern Conference linebacker units
---
There was a time when Texas A&M was synonymous with great linebackers. Back then, A&M turned out NFL-caliber linebackers with assembly line-like consistency.
You know the names.
Larry Kelm. Johnny Holland. John Roper. Aaron Wallace. William Thomas. Quentin Coryatt. Marcus Buckley. Reggie Brown. Warrick Holdman. Dat Nguyen.
But that was two decades ago. Since then, the Aggies have struggled at linebacker more than they have excelled.
Sure, there have been some great individual linebackers like Von Miller, Sean Porter and Jason Glenn, but overall, linebacker has rarely been viewed as a position of strength.
That may be changing. A&M linebackers were sound in 2018 and solid in 2019 with Buddy Johnson and Anthony Hines in their first seasons as starters.
They figure to be better this year, too. A&M might not be ready to be listed among the nation's best linebacker crews just yet, but the Aggies' linebackers might be among the best in the Southeastern Conference, though.
Here's a prospective ranking of SEC linebacker corps for the 2020 season:
1. Georgia: All-SEC selection Monty Rice (pictured above) and Jack LB Azeez Ojulari, who led Georgia with 5.5 sacks, ensure the second level of the Bulldogs defense will remain formidable. Georgia led the nation in run defense in 2019 and doesn't figure to slip much. Departed middle linebacker Tae Crowder will be missed, but there are plenty of capable tacklers ready to step in.
2. Alabama: The Tide linebacker corps wasn't bad, but it also wasn't up to usual standards in 2019. A big reason for that is that Shane Lee and Christian Harris were starters as true freshmen. An even bigger reason is All-American Dylan Moses suffered a season-ending knee injury. His return eases the losses of Terrell Lewis and Anfernee Jennings to the NFL draft.
3. LSU: Three starting linebackers must be replaced. Two of the departed (K'Lavon Chaisson and Patrick Queen) were first-round draft choices. The other (Jacob Phillips) was a third-round pick. The arrival of transfer Jabril Cox — a two-time FCS All-American — is a considerable boost. Expect junior Damone Clark to step into an outside spot and excel. Sophomore Marcel Brooks, once a five-star recruit, figures to take on a more significant role.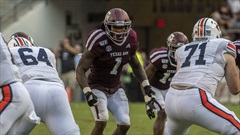 Lia Musgrave, TexAgs
4. Texas A&M: In their first seasons as starters, Buddy Johnson and Anthony Hines had solid seasons. They played a big role in an A&M defense that ranked among the nation's Top 30 against the run. However, they were also involved in giving up too many big running plays. They figure to get better in their second seasons, but how much? Aaron Hansford was effective in a backup role. Sophomore Andre White showed flashes in his debut year. Incoming freshman Antonio Doyle could make an impact.
5. Auburn: Senior K.J. Britt is effective against the run and in pass coverage. He's one of the best linebackers in the SEC. Sophomore Owen Pappoe and junior Zackoby McClain are solid. They must prove they can play at a high level without a dominant defensive line in front of them.
6. Florida: Departures of leading tackler David Reese and top pass-rusher Jonathan Greenard are huge losses. However, James Houston — who posted 38 tackles last season — will ease the loss of Reese to some extent. Replacing Greenard won't be as easy. Brenton Cox, a who sat out last season after transferring from Georgia, could fill that role. Jeremiah Moon is sound. Ventrell Miller is proven as an inside linebacker.
7. Missouri: Typically, Mizzou used just two linebackers in 2019. Typically, they were reasonably productive. The loss of middle linebacker Cale Garrett to injury was a setback. He's now with the NFL's Tennessee Titans. However, outside linebacker Nick Bolton returns after posting 107 tackles — the second-highest total in the SEC last year. Cameron Wilkins and Devin Nicholson both got starter experience in the middle, but neither is as good as Garrett was.
8. Kentucky: The loss of emotional leader Kash Daniel in the middle would seem to be a significant blow. Except that Jamin Davis started in place of Daniel against Louisville and had a strong showing. At 6-foot-4, 232 pounds, Davis certainly looks the part of an effective middle linebacker. Jamar Watson posted 11.5 tackles for loss from the strong side last season. DeAndre Square led Wildcat linebackers with 65 tackles from the weak side.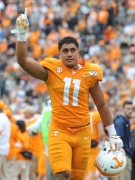 Randy Sartin-USA TODAY Sports
9. Tennessee: Henry To'o To'o is looking to build on a solid showing in 2019. As a freshman, To'o To'o posted 72 tackles with five resulting in lost yardage. Beyond him, the Volunteers will be relying on unproven new starters. Quavaris Crouch and Kivon Bennett looked good in spot duty and figure to take over starting roles. Also, a trio of incoming four-star prospects could challenge for immediate playing time.
10. Mississippi State: Heavy-hitting Erroll Thompson earned All-SEC recognition in 2018, and he posted 84 tackles last season. His decision to return for his senior season was a surprise to most and a godsend in Starkville. However, he's the only linebacker on the roster with more than superficial college experience.
11. South Carolina: The Gamecocks were 12th in the SEC in run defense last season. Improvement won't come easily with WILL LB T.J. Brunson having completed his eligibility. Hope can be gleaned from the fact senior Sherrod Greene and junior Ernest Jones return as starters.
12. Ole Miss: Lakia Henry and Jacquez Jones 159 tackles a year ago. That's encouraging, but the fact remains the Rebels run defense was torched by most SEC opponents.
13. Vanderbilt: The good news is Vanderbilt returns a wealth of experience at linebacker. The bad news is they were part of one of the worst defenses in the nation last season. Cedar Hill product Dimitri Moore — an inside linebacker — posted 99 tackles. Outside linebacker Andre Mintze managed 4.5 sacks. Two others posted at least 34 tackles. But half of Vandy's 2019 opponents rushed for 200 yards or more.
14. Arkansas: The Hogs allowed more rushing yardage and more big plays on the ground than any team in the SEC last season. That was with All-SEC LB De'Jon Harris, who completed his eligibility. There was plenty of blame to go around, but the linebackers certainly bear some culpability. Weakside LB Bumper Pool is pretty good. He posted 94 tackles. But help is desperately needed. Maybe Oklahoma transfer Levi Draper can provide it.
Never miss the latest news from TexAgs!
Join our free email list
PRESENTED BY