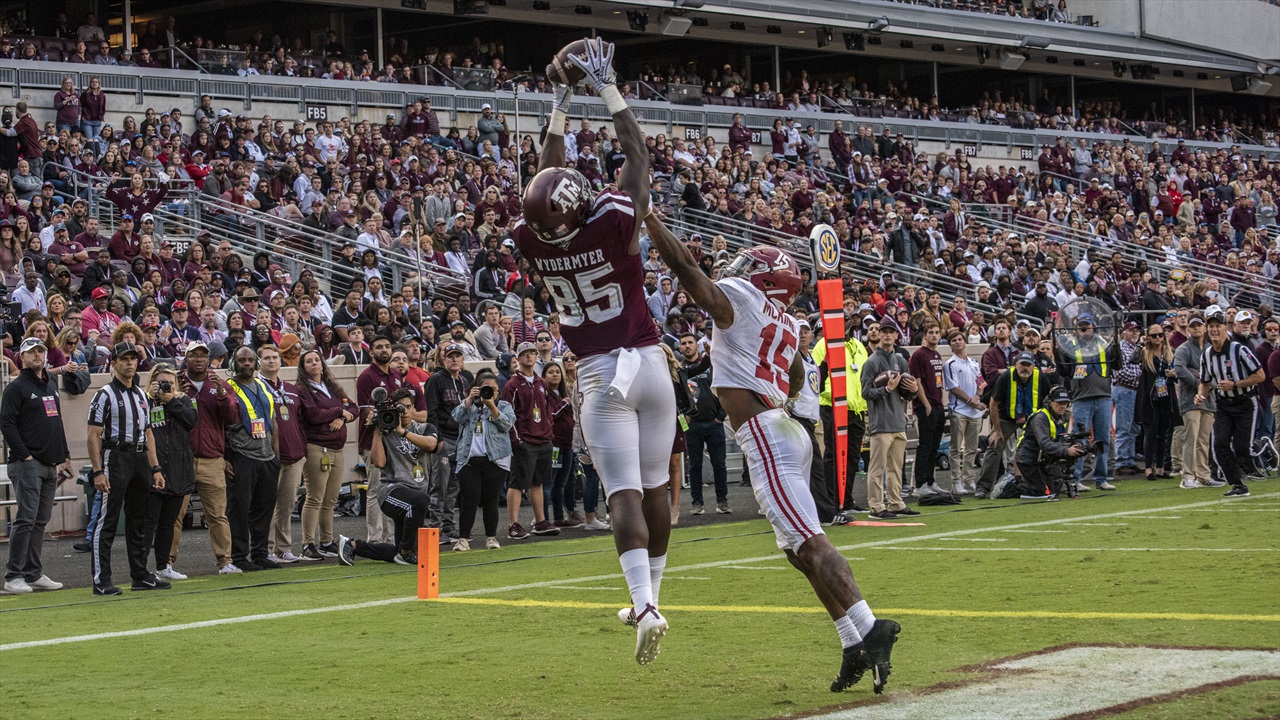 Photo by Lia Musgrave, TexAgs
Texas A&M Football
Jordan Pugh analyzes the 2020 Texas A&M tight ends room
---
Key notes from Jordan Pugh interview
I appreciate you taking the time to compliment the PPT gear. I work hard on it. If you could get my wife to agree with it, I'd be thankful! I'm big on the logos and spent a lot of time on it because I want it to stick out. That's encouraging.

I don't know Deuce Harmon‍ personally. A lot of kids that come through my facility know him. I have seen him play, though. I know he's a four-star guy that is really a five-star talent. The physicality and ball-hawking ability, along with his spacial awareness, is precisely what you want in a defensive back. He's the full package. I'm impressed by his talent and his intelligence. When you watch Harmon in high school, you can tell he understands the game. He knows route combinations and stems. That's very advanced for someone his age.

It's easy to teach man-to-man or press coverage. "That's your guy. Follow him to the bathroom and back." When you teach zone coverage, it's much harder. The kids have to understand space, and so many young players don't get that. Harmon does. That's one of the reasons they like him so much. He's the type that can come in and play right away.

Tackling is a "want to." You can teach it all day and go through the mechanics. When it comes down to it, you have to want to bring somebody down to the ground. That's 99 percent of the battle. When you have a willing and aggressive guy who wants to make tackles, that's very important.

When you talk about tight ends, as a DB, you're not usually worried about speed. They typically won't be quicker than you, but they will be bigger and block you away from the ball. When you add the speed factor, then you're in trouble. With the Gronks and the Tony Gonzalezes of the world, they can use their body and block you away from the ball. That catch radius is enormous.

Jalen Wydermyer and Baylor Cupp are going to be able to push the DBs to their limit. Their length gives them such a huge advantage. That's why they're such dangerous weapons for this offense.

You have to be physical to take down a tight end. The tight ends want to turn it into a street fight because they're bigger than you. Defensive backs need to bring it back to them. Tight ends are typically going to run short and intermediate routes. You have to be able to undercut some of those routes. You have to be ready to tackle well, and you also have to make quick plays on those routes.

With Jason Witten as an example, he was never going to run by you, but he was phenomenal at using his body to make a play on you.

When you look at Jalen Wydermyer, he impressed me last year. With the size and how he came in, it looked like a natural fit in the offense and in the SEC. He was physical in the run game with his blocking. That is what impressed me more than anything. I know he is an NFL talent. He is only going to progress and get better.

When you look at this entire room — with Max Wright and Glenn Beal — this could be one of the most talented position rooms on the whole team. Jalen is that leader. They could be an exceptional group.

The biggest thing is the trust factor. Can I trust you, and will you do what I tell you? As Ryan Renick started playing more and became more comfortable in the offense, he became more of a threat. That's huge. He's another weapon. That is another reason why I say the tight end room could be one of the best on campus.

Moving Max Wright to tight end told me something. When you look at him and Glenn Beal, those are more of the blockers. Jimbo knows he has to get his running game going. I think you will see the same offense we did last year with a few more wrinkles with the tight ends and the H-back position.

This group is going to cause match-up issues. If you can have different sets without changing personnel, that's a problem for defenses. It's hard for them to control and gameplan for that. They're looking for ways to slow you down. Having guys who can flex and play multiple spots, it gives defenses fits. It's hard for them to figure things out.

To be able to start out of your base and you can motion a tight end out, not only have you moved a receiving threat out, but you've also taken a man out of the box to cover him. That helps the running game. Look at what Jimbo has done at Florida State and all that. He uses tight ends in this way, and it helps open everything up.

The real football guys know that your center is the most important position outside of the quarterback, but having a tight end who can block, run routes and catch the ball is also massive. The reason that Gronk is considered one of the all-time greats is because he can do it all. Tony Gonzalez was in my division. He could put you on the ground like a he was a left tackle, and he could go up and get the ball.

Wydermyer needs to get bigger and more physical. When you play the bigger teams in the SEC, it comes down to the line play. You have to be able to get the running game going. If he can elevate that part of his game, then the NFL scouts are going to begin to take notice.
Never miss the latest news from TexAgs!
Join our free email list