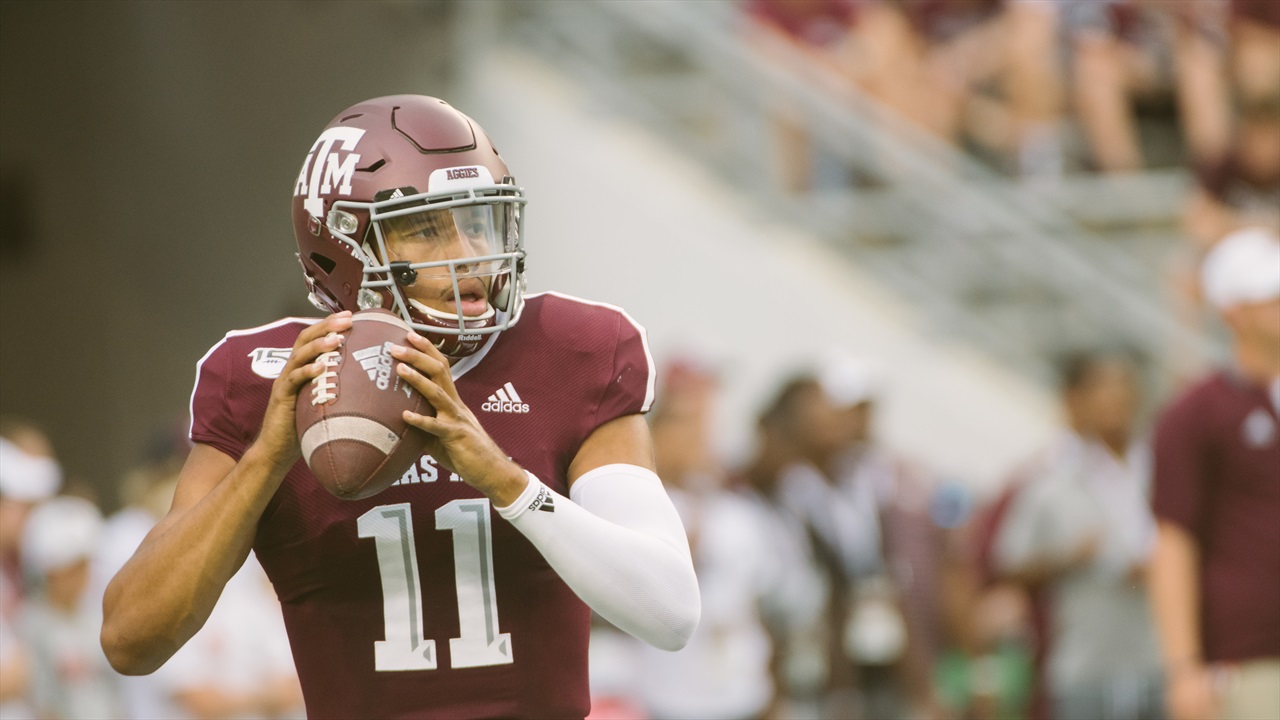 Photo by Rey Romo, TexAgs
Texas A&M Football
Top to bottom: Ranking the 2020 Southeastern Conference signal callers
---
Perhaps Texas A&M quarterback Kellen Mond was just ahead of his time.
Last year at Southeastern Conference football media days, Mond made the strong — but wrong — proclamation that he was the best quarterback in the SEC. That declaration could've been dismissed as Mond just showing self-confidence. However, Mond said that wasn't the case.
"In my opinion, I'm the best one," Mond said. "That's not just because I'm a confident person. I actually believe that."
Mond might have believed that, but few others did. His comments were immediately answered with ridicule and derision throughout the SEC.
Mond had a good year in 2019, but he certainly wasn't the SEC's best quarterback. LSU's Joe Burrow won the Heisman Trophy. Alabama's Tua Tagovailoa might have if not for injuries. They were both named All-SEC. Both were among the top five picks in the NFL draft.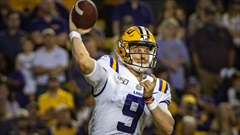 Lia Musgrave, TexAgs
That previous sentence is precisely why Mond might have been ahead of his time. His proclamation might have been a year early. Now that Burrow and Tagovailoa are no longer in the SEC, a strong case could be made that Mond is indeed the best quarterback in the SEC.
Sure, a case could be made for Florida's Kyle Trask. Transfers Jamie Newman at Georgia and K.J. Costello at Mississippi State have an argument. A list of sophomores headed by Auburn's Bo Nix could also get into the debate.
But there are several reasons to believe Mond was right. He was just a year early.
Top Projected SEC quarterbacks
1. Kellen Mond, Texas A&M: Mond certainly has his critics. Many of them reside in College Station. Yet, the fact remains that last season he ranked third in the SEC in passing and second in total offense. He's the league's top dual-threat. He should be better this year with more help and improved protection. Avoiding "loud" mistakes is the key to taking that step from "very good" to perhaps "great."
2. Kyle Trask, Florida: Certainly, a strong case could be made for Trask, who was the SEC's biggest surprise last season. An injury to then-starter Feleipe Franks thrust Trask into the starting lineup, and he took full advantage of his opportunity. Trask passed for 2,941 yards and 25 touchdowns. He's not a running threat, though.
3. Jamie Newman, Georgia: Some project Newman as a first-round draft choice, which indicates that perhaps he should top this list. He's a big guy (6-foot-4, 230 pounds), and he's put up big numbers. Last season at Wake Forest, he passed for 2,868 yards and added 574 more on the ground for 3,442 yards of total offense. That's just 45 yards more than Mond had. Newman will have more talent around him at Georgia, but he'll be in a different offense and facing much better competition.
4. K.J. Costello, Mississippi State: Two seasons ago, Costello ranked 15th in the nation in passing while at Stanford. Last year, he was slowed by injuries. He has proven that he can play at a high level. Whether he can quickly grasp Mike Leach's offensive system is yet to be determined.
5. Bo Nix, Auburn: Nix showed promise as a true freshman. He was inconsistent, but that is expected of a first-year player. Still, Nix has to make significant improvements. He'll be working behind a rebuilt offensive line, too.
6. Mac Jones, Alabama: Frankly, we're not sure if Jones is even the best quarterback at Alabama. He must fend off challenges from sophomore Taulia Tagovailoa and five-star rated freshman Bryce Young. Jones catches criticism for throwing two pick-sixes against Auburn. He also passed for 327 yards and three touchdowns in that game. Alabama has won national championships with similar quarterbacks.
7. Ryan Hilinski, South Carolina: Helinski had a solid freshman year with 2,357 passing yards and 11 touchdowns. He figures to improve as a sophomore. He'd better, or he might not play. Some think four-star freshman Luke Doty will take his job.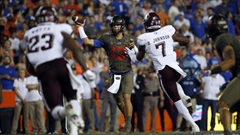 Kim Klement/USA Today Sports
8. Feleipe Franks, Arkansas: A solid showing at Florida in 2018 was followed by an injury-shortened 2019 season. As a graduate transfer, Franks will immediately upgrade the quarterback position in Fayetteville. Still, he was at best an above-average quarterback while surrounded by good talent at Florida. He'll be surrounded by marginal talent at Arkansas.
9. Jarrett Guarantano, Tennessee: He needs to run the plays coach Jeremy Pruitt calls on the goal line. Otherwise, he's a solid starter. He threw for 2,158 yards in 2019. Guarantano improved in the second half of the season. He passed for 415 yards vs. Missouri, 229 vs. South Carolina and 221 in a bowl victory over Indiana. That indicates he's trending upward, and he better be. Guarantano faces a challenge to retain his starting role from Maryland transfer Kasim Hill.
10. John Rhys Plumlee, Ole Miss: Quick. Who led the SEC in rushing yards per game in 2019? Right, it was Plumlee. His running ability puts pressure on defenses. The problem is that quarterbacks also need to pass. Plumlee completed just 52 percent of his attempts last season. New coach Lane Kiffin will help with that. Yet, it would not be a giant surprise if Matt Corral comes in for obvious passing situations.
11. Myles Brennan, LSU: Who knows what to expect from Brennan? He won't be as good as Joe Burrow, but that's means nothing. Burrow had arguably the best season for a quarterback last year in college football history. Brennan, meanwhile, passed for 353 yards in mop-up duty. A four-star rated recruit in 2017, Brennan might be a worthy successor to Burrow. Or he could be passed over if a high profile transfer (USC's J.T. Daniels, perhaps?) chooses LSU. At least he'll have an excellent group of receivers with which to work.
12. Terry Wilson, Kentucky: A knee injury forced Wilson to the sidelines early last season. He had a mediocre showing in 2018 when he passed for fewer than 200 yards in ten of the Wildcats' 13 games. There would be no surprise if Auburn transfer Joey Gatewood beat him out for the starting job.
13. Shawn Robinson, Missouri: Admittedly, Robinson has a chance to climb on this list. Still, there are reasons to have reservations. A shoulder injury put a premature end to his 2018 season at TCU. He sat out last year. He's had solid, but unspectacular stats against defensively weak Big 12 teams. However, in the third game of the 2018 season, he passed for 308 yards in a loss to Ohio State.
14. Whoever, Vanderbilt: All three quarterbacks who played for Vandy last year have departed. Then, redshirt freshman Allan Walters opted to enter the transfer portal. That leaves the Commodores with junior college transfer Jeremy Moussa and freshmen Ken Seals and Mike Wright competing to direct new offensive coordinator Todd Fitch's system. Without spring football, there's no telling who will win the job.
Never miss the latest news from TexAgs!
Join our free email list
PRESENTED BY