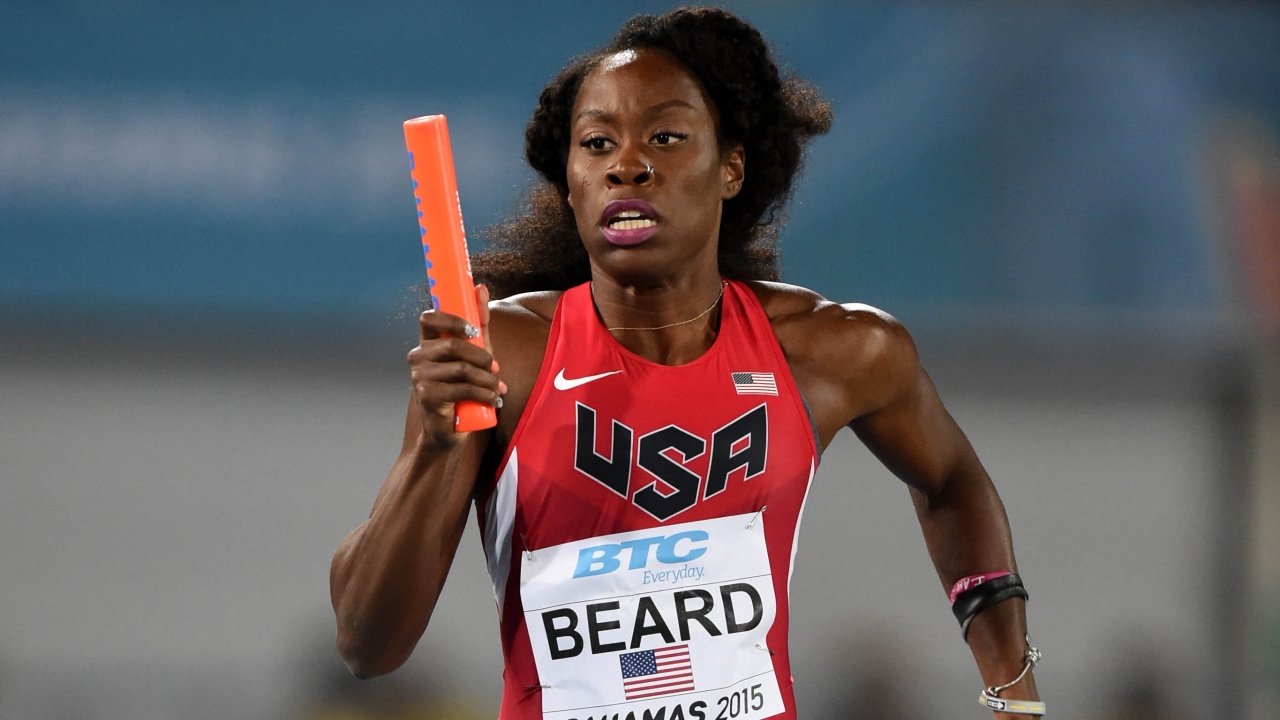 Photo by Kirby Lee-USA TODAY Sports
Texas A&M Track & Field
Aggie track great Jessica Beard reflects on her time in the Maroon & White
---
Key notes from Jessica Beard interview
I've seen the 4x400 relay a few times. It's a weird thing to watch your races. It never gets old to watch, but I only watch it whenever I need a pick-me-up. I think I ran about a 49.8 split, and I definitely haven't run that fast since then. Hopefully, I can get back to that by 2021.

It's always an honor to represent Texas A&M and my teammates that helped us achieve the National Championship. There were a lot more involved than just me. It's an honor to be on the TexAgs Mount Rushmore for sure.

The last few weeks have been challenging to adjust to. As an athlete, you've grown accustomed to the way things work and a certain way of doing things. I am a contracted athlete, and it is hard to meet the contractual obligations when everything has been thrown up in the air as it has been. Most of our meets are in the United States, but we also travel to Europe. So how do we maintain our fitness, so we are still prepared for next year? You have to listen to your coaches and trainers more than ever before.

I decided to take the year off of school to train for the Olympics, and I think that was the right call, but plans have to be altered, and there are a lot of things to figure out now, especially for grad school. I am still navigating everything. Indoor Worlds have also been moved to next year as well, so it's been a lot to figure out. We know we are going to have a season this year. We just don't know when yet. I know we're just going to keep training like we know how to, then figure out what the rest of the year looks like getting ready for next year.

I try to be honest with recruits. My dad told me I needed to go to a warm state that had a summer. I thought Ohio had summer, but I was completely wrong. I had some Texas schools in my top group, and at the time, I didn't know about the rivalry between t.u, but they were my second school. I made a pros and cons list because I came to realize some things look good to the eye but not on paper. So I chose A&M, and I learned a lot about the traditions as soon as I got here. It helped that I knew a few of the people in the recruiting class, so I came in with a little familiarity, even coming from Ohio.

We didn't have a 4x400 relay team in 2009, but I remember being in the stands watching the men compete and having the feeling that it finally happened, that we won the championship. In 2010, I think what stood out most was that two of our best athletes were injured, and they were writing us off in favor of Oregon. Everyone remembers the 2011 relay, but in 2010, I got second against Oregon in the relay. I was apologizing for losing, but we won the championship, so no one cared. That really stuck out to me in that year, all the people saying we weren't going to be able to win, but we all came together and beat the naysayers. In 2011, I'll never forget that I kept my form. There had been times when I lost a few events when my coach told me I broke form. I had that thought in the back of my mind, so I was able to rest on that and come back and win that relay. It was an incredible moment.

Once I graduate from grad school, I want to be a high school athletic director. I definitely want to be hands-on as a coach and athletic director to help students get to the collegiate level, so I'm excited to keep pursuing my masters and to get involved with that when the time is right.
Never miss the latest news from TexAgs!
Join our free email list