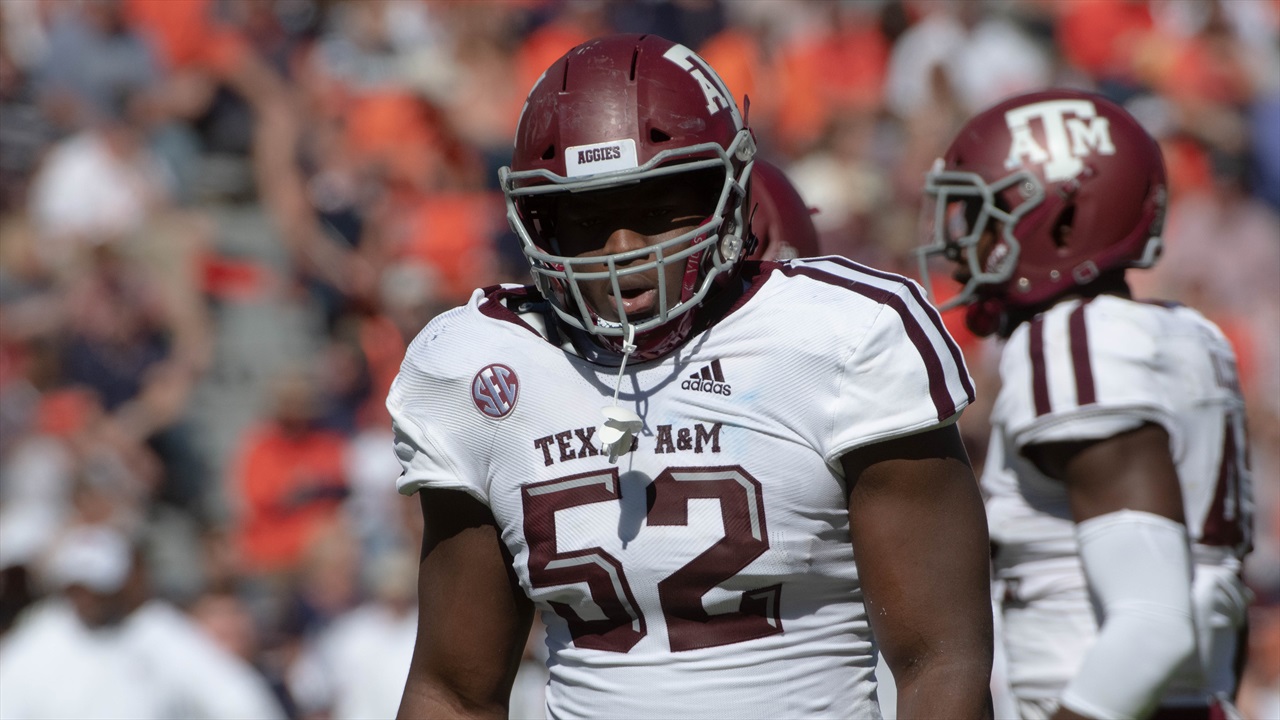 Photo by Andrew Kilzer, TexAgs
Texas A&M Football
Wrecking Twos: Madubuike could join distinguished group of A&M early-round picks
---
If the majority of NFL mock drafts are accurate, then defensive tackle Justin Madubuike will become a member of Texas A&M's "Wrecking Twos" on Friday evening.
That is, prominent Aggie defensive players selected in the second round of the NFL draft.
The NFL's annual selection process begins on Thursday at 7:00 p.m. with the first round. The draft continues on Friday at 6:00 p.m. with the second and third rounds. Rounds four through seven are on Saturday, beginning at 11:00 a.m.
The Cincinnati Bengals will open the draft and are expected to pick LSU quarterback Joe Burrow.
Madubuike, who posted 105 tackles and 11 sacks in his three-year A&M career, has been rated by some analysts as a possible late first-round selection.
However, most project him as a second-round pick, which would put him in the esteemed company of many other Texas A&M defensive players.
The list of A&M defenders taken in the second round includes safety Justin Evans (2017), safety Terrence Kiel (2003), cornerback Jason Webster (2000), defensive tackle Brandon Mitchell (1997), linebacker Aaron Wallace (1990), linebacker John Roper (1989), linebacker Johnny Holland (1987), cornerback Pat Thomas (1976), safety Tommy Maxwell (1969) and linebacker Jack Pardee (1957).
Overall, 28 Aggies have been second-round picks, beginning with Joe Routt in the 1938 draft.
"Give me Texas A&M defensive tackle Justin Madubuike, who has some untapped potential as an interior pass-rusher."
Should Madubuike be taken in the second round, some team figures to get a steal, according to ESPN draft analyst Mel Kiper Jr.
In his latest article, Kiper wrote: "Give me Texas A&M defensive tackle Justin Madubuike, who has some untapped potential as an interior pass-rusher. He could play 3-technique in a 4-3 defense and pick up a handful of sacks a season. The 293-pound Madubuike is an underrated athlete — his 7.37 3-cone time at the combine was the fastest by a defensive tackle over the past two years. I'd take him in the top 40."
2020 figures to be the 10th consecutive draft in which at least one A&M player has been taken in either the first or second rounds. The last time A&M didn't have a player taken that high was 2010 when an Aggie didn't come off the board until the Carolina Panthers chose defensive back Jordan Pugh in the sixth round.
Three other Aggies are also expected to be taken in the later rounds — punter Braden Mann and receivers Quartney Davis and Kendrick Rogers.
Few punters are drafted. In fact, only two were selected in last year's draft. Utah's Mitch Wishnowsky was a fourth-round pick of the San Francisco 49ers, and Stanford's Jack Bailey was selected in the fifth round by the New England Patriots.
However, the record-setting Mann could be the earliest punter taken since the Jacksonville Jaguars took Cal punter Bryan Anger in the third round in 2012.
Davis and Rogers are both projected to be taken on the final day of the draft.
Davis had 99 receptions for 1,201 yards and 11 touchdowns in the last two seasons at A&M. Rogers had 68 catches for 788 yards and seven touchdowns in three seasons at A&M.
Never miss the latest news from TexAgs!
Join our free email list
PRESENTED BY