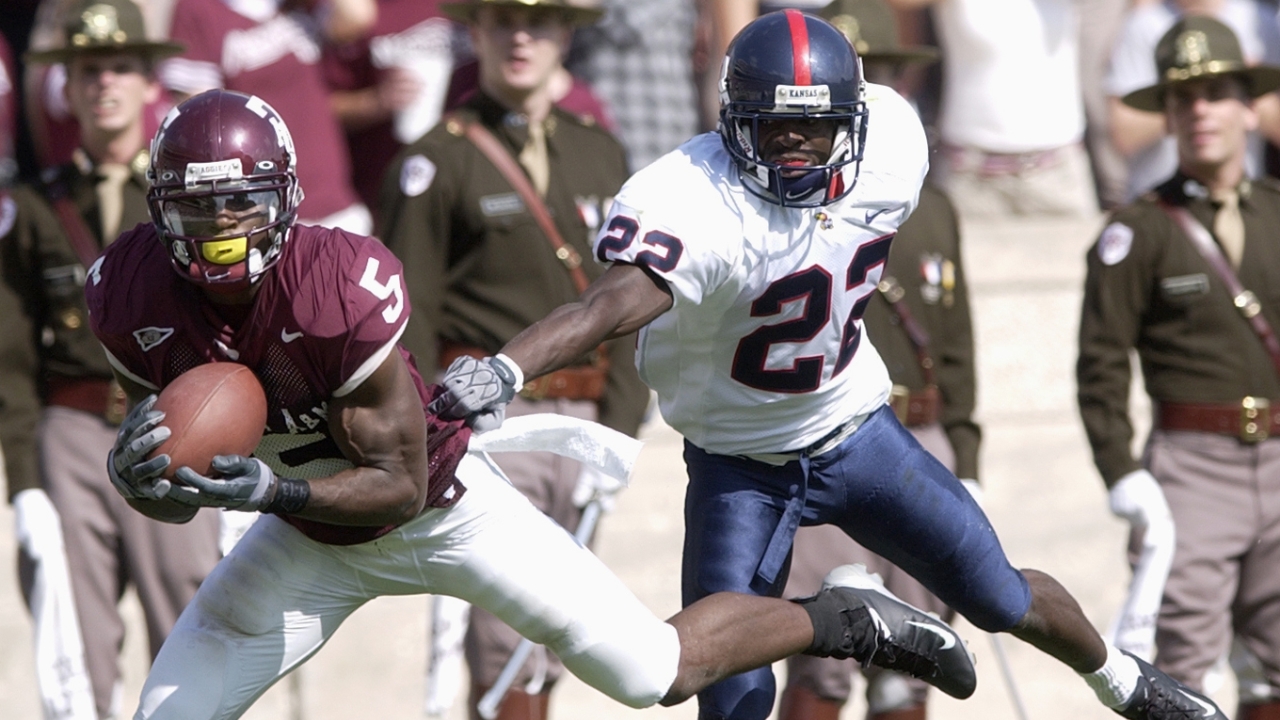 Photo by Butch Ireland/Terrence Murphy
Texas A&M Football
'A lot of emotion': Terrence Murphy recalls the highs and lows of Draft day
---
Sitting on the couch at his mother's house in rural East Texas, Terrence Murphy was a nervous wreck. He was watching the 2005 NFL draft and eagerly awaiting a telephone call from the team that would select him.
A record-setting, big-play receiver at Texas A&M, Murphy was hoping to be taken in the first round. The Pittsburgh Post-Gazette even had a pre-draft article predicting the Steelers would use their first-round pick either on Murphy or Virginia tight end Heath Miller.
They chose Miller.
So, with every pick that was announced in the second round, his level of anxiety increased exponentially. Then the uncomfortable silence in the room was shattered like a piece of china falling on the floor.
The phone rang. Murphy looked at his mother. He gulped. He answered. And then he heard the voice...
Of his brother Marcus.
"I had told all my friends, family and whatever [not to] call me," Murphy recalled with a laugh. "You have that one brother who's a knucklehead, and he kept calling me over and over.
"A couple of receivers had been taken in front of me. The phone rings and I'm thinking 'OK, this has got to be it.' My brother says, 'Have you been drafted yet?' I said, 'Dude, quit calling me. A team could be calling me while I'm on the phone with you.'"
The telephone finally rang – a call from Green Bay Packers coach Mike Sherman, who asked Murphy if he'd be willing to play in the snow.
"I'll play in a mudslide if you need me to," said Murphy, who was the 58th player and 10th receiver to be selected.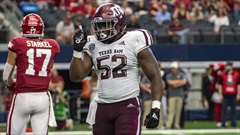 Lia Musgrave, TexAgs
The memory of that stressful day makes Murphy uniquely qualified to speculate what emotions Texas A&M defensive tackle Justin Madubuike may be feeling when the NFL draft begins on Thursday night.
Madubuike has been projected by some to be a first-round selection. Most mock drafts have him as a second-round pick, but there is always the possibility of slipping into the third round.
Madubuike is one of four Aggies who figure to be drafted this weekend. Receivers Quartney Davis and Kendrick Rogers, as well as punter Braden Mann, will likely be taken in later rounds.
Murphy knows they will all be on edge until the call comes.
"You think about all the games you've played, the scrimmages, the practices. You're sitting there and you're replaying all those experiences through your mind," Murphy said. "Then you grasp that fact that in 24 or 48 hours, one of those 32 teams will call your name and you'll be an NFL draft pick.
"I just felt a sense of gratitude for my coaches, my teammates, my mom and the sacrifices she made. You carry all that weight. It's a lot of emotion for sure. That's why you see big, bad tough guys crying when their names get called."
Murphy remembers that emotion all too well. He had originally planned to watch the draft from a College Station hotel room, but his mother nixed that idea. She insisted that he come home to Tyler for a draft party.
But Murphy didn't feel like partying as what many would consider less-accomplished receivers were picked ahead of him.
Braylen Edwards, Troy Williamson, Mike Williams… Hell, Matt Jones was a quarterback at Arkansas. Of the nine receivers taken ahead of Murphy, only Roddy White, who went to Atlanta, had a stellar career.
Yet, all that angst vanished as soon as the call from Sherman came.
"They showed it on TV and then we lose our minds," Murphy said. "I don't remember anything for about two minutes. I was just pushing people out of the way to get to my mom.
"We're in small-town East Texas. I go outside and you literally can't get up the street. There's probably 60 cars. People I haven't seen in years. It was like a parade."
"You think about all the games you've played, the scrimmages, the practices... Then you grasp that fact that in 24 or 48 hours, one of those 32 teams will call your name and you'll be an NFL draft pick."
Madubuike, Davis, Rogers and Mann figure to have a similar parade sometime this week. They will experience the same angst Murphy did. They will also experience the same joy. But they probably won't have to do what Murphy did the day after the draft.
He got another phone call from a Wisconsin area code. This time the voice asked for Mike Montgomery, an A&M defensive end.
"I said, 'You just drafted me. Did something change?'" Murphy recalled. "They said, 'We're looking for Mike Montgomery. We want to draft him. If we can't get him on the phone we're going to draft someone else.'"
Montgomery had filled out an official NFL form and listed Murphy as an emergency contact.
"I texted him, 'Mike. The Packers are trying to draft you right now and you won't answer your phone. You literally have to get on the phone.'"
The Packers drafted Montgomery with the sixth pick in the sixth round.
Never miss the latest news from TexAgs!
Join our free email list
PRESENTED BY