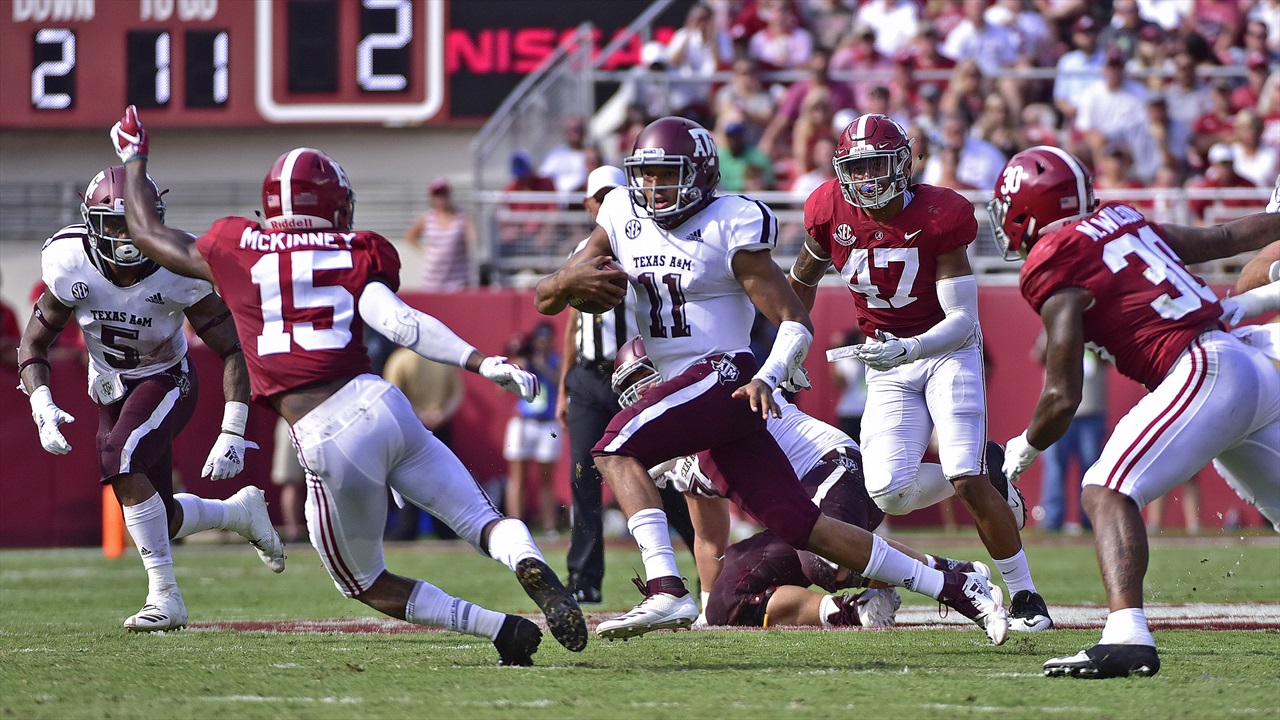 Photo by Brandon Jones, TexAgs
Texas A&M Football
Fourth before first: How A&M stacks up to last three non-Bama SEC West champs
---
All college football programs aspire to be No. 1. Texas A&M is no different.
But for Texas A&M to have a chance to become No. 1, the Aggies probably must first become No. 4.
The explanation: Since A&M entered the Southeastern Conference in 2012, only three teams have finished ahead of Alabama in the West Division. Auburn did it in 2013 and 2017. LSU did it in 2019.
Texas A&M aspires to be the fourth. Is it realistic, though?
An answer might be revealed by accumulating data from those three teams as they entered those specific seasons and then comparing it to A&M's situation entering this coming season.
The information compiled includes returning starters, the previous season's performance in scoring offense and defense, leading returners in skill categories and recruiting class ranking.
Of course, there are other factors that cannot yet be measured. Health, breaks, the emergence of new players and even Alabama's overall strength are, obviously, vital elements. The future cannot be seen. Therefore those factors cannot yet be considered.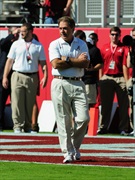 TexAgs
However, the other preseason indicators offer enough similarities to previous West Division winners to suggest that Texas A&M will be a bona fide contender in 2020.
The three other West Division teams to beat Alabama all returned eight offensive starters and at least seven defensive starters. Both LSU in 2019 and Auburn in 2017 returned seven regulars on defense. Auburn, in 2013 had eight defensive regulars back.
Those teams all returned a starting quarterback, at least three starting offensive linemen and at least three starters in the secondary.
A&M returns eight starters on offense and seven on defense. A&M returns starting quarterback Kellen Mond, four starting offensive linemen and three starters in the secondary.
A&M also is comparable to those SEC West winners in overall offensive production the previous season.
Last year, A&M averaged 29.5 points per game. That's just a little less than LSU in 2018 (32.4) and Auburn in 2016 (31.2 points). It is much more than Auburn in 2012 (18.7) when the Tigers struggled mightily in their final season under coach Gene Chizik.
The Aggies were also similar in points allowed. A&M surrendered an average of 22.5 points in 2019 despite facing three opponents that ranked among the nation's four highest-scoring offenses.
LSU allowed 21.8 points in 2018, while Auburn allowed 17.1 in 2016 and 28.3 in 2012.
Last season, A&M allowed 22.5 points per game, 130.6 rushing yards, 209.5 passing yards and 340.2 yards in total defense.
Maintaining and improving upon stats often depends on which starters are returning.
Like A&M with Isaiah Spiller, who rushed for 946 yards last season, Auburn returned its top running back in both cases — Tre Mason in '13 and Kamryn Pettway in '17. LSU did not return its top running back in 2019, but Clyde Edwards-Helaire rushed for 658 yards in the season prior.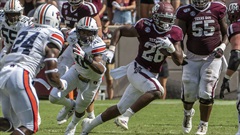 Lia Musgrave, TexAgs
A&M will also return leading receiver Jhamon Ausbon, who hauled in 66 catches for 872 yards last season. In 2019, LSU returned leading receiver Justin Jefferson (54 for 875 in '18), while in 2013, Auburn returned Sammie Coates (42 for 902 in '12). Auburn's 2016 leading receiver was Tony Stevens, a senior.
All three SEC West teams that finished ahead of Alabama returned their starting quarterbacks. But a returning starter at quarterback has not been a significant issue.
Heisman Trophy-winning quarterback Joe Burrow was definitely a key to LSU winning last year, but Auburn's incumbent starting quarterbacks were both replaced. Jonathan Wallace was supplanted by Nick Marshall in 2013, and Jarrett Stidham replaced Sean White in 2017.
Yet, there would still be hints that A&M will seriously contend. Burrow passed for 2,898 yards as a junior in 2018. As a junior last season, Mond passed for 2,897.
An injection of talent from a strong recruiting class will help, too. All three SEC West winners had just brought in recruiting classes ranked among the nation's top ten. A&M's 2020 class was ranked sixth.
One final similarity.
None of the teams that won the West Division over Alabama were picked by the SEC media to win.
A&M won't be picked over Alabama, either.
Never miss the latest news from TexAgs!
Join our free email list
PRESENTED BY