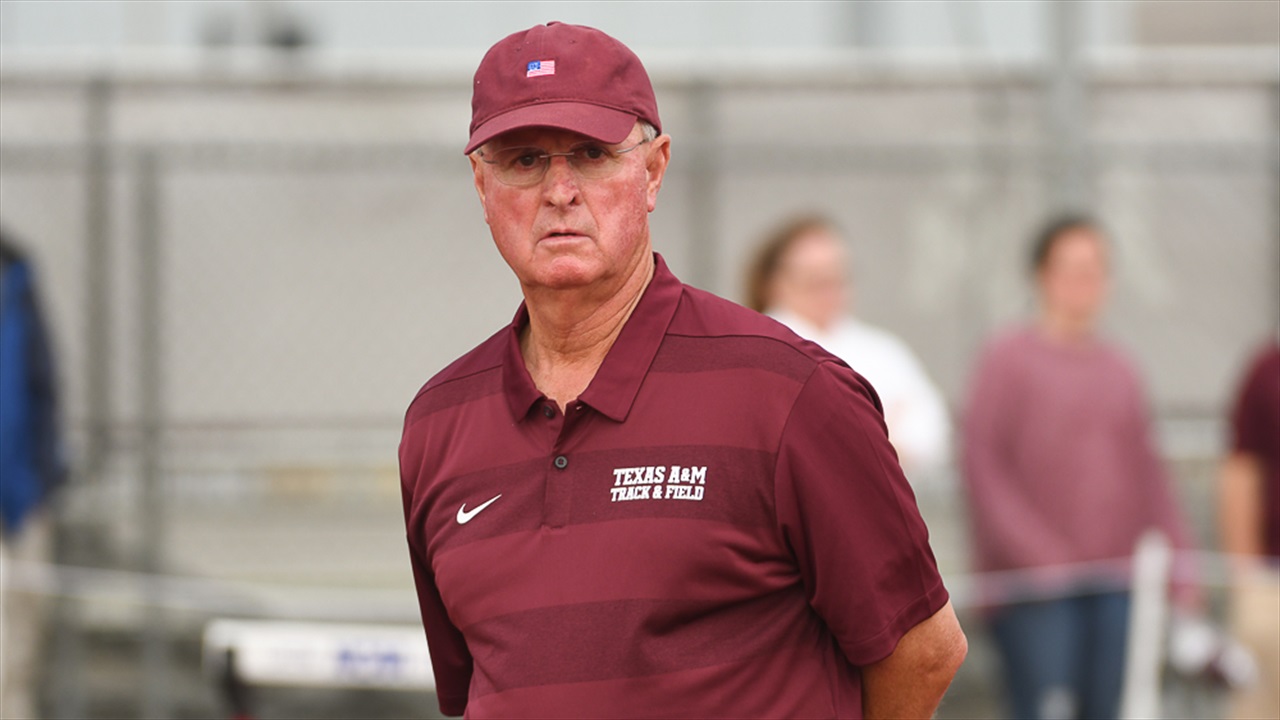 Photo by Mintie Betts, TexAgs
Texas A&M Track & Field
Coach's Take: Pat Henry motivating his team to pursue excellence off the track
---
Key notes from Pat Henry interview
This fell in a flex-time for us. Training and continuing to be an athlete at this point in your life is essential. Finding time and ways to get some running in is important. Somethings like vaulting and throwing can't happen, but we have ways for them to continue their strength training. They have plans in place and have to follow those plans.

This is a tough situation for everybody, not just athletes. Those committed athletes who are committed to being the best will continue to keep themselves doing what they can. They aren't sitting around and doing nothing.

Everyone is still in school right now, so they're pretty busy during the day. However, they have to stay training.

Those who are good communicators continue to communicate. Those who are poor communicators are not talking. The vast majority of them are keeping us up-to-date, though. We can't call them and check-in on them. It's up to them. You have to trust them.

We were getting on the track when they canceled the meet. They stopped us. I thought the day before that we were going to get through it. That was probably the toughest moment for athletes to be at the national meet and keep pulled off. That would be like walking on the field at the college world series or the national championship football game, and they end your season abruptly. I tried to tell the team that there are a lot of people smarter than we are telling us what to do. They didn't like it, and neither did I, but at the end of the day, we all realize they made the right decision. Sometimes you have to listen and do what you're told.

The Olympics were rescheduled for 2021, but there are even some thoughts about a further delay. The way that big meets and stuff like the Olympic Games go, I wish they had delayed it for two years. I know the financial impact is going to be huge, and they're going to want to run it as soon as they can. It's all unknown for the athletes. We don't even know in NCAA cycles where we are or when we're going to be allowed to start training.

You have to tolerate all of this right now and do the best we can to get through this. And we will get through this. Americans always get through the tough. I keep telling my team this and trying to keep them focused.

I don't want them to lose focus on their education because that's the most important part of it all, but when you take athletics away from an athlete, that gets a little difficult. I still know if someone doesn't go to study hall, even in the virtual study hall. There are always things going on academically. Our academic people are telling us that our athletes are doing a great job adapting to all of that, and that is great to hear.

I think scholarship numbers are going to have to change a little bit, but it's not that significant. It's great that some are getting years back. In our sport, we are a percentage based sport. Our athletes are paying some of their schooling. Some will be able to come back because they can pay to come back. Some will not. That's a shame because they will have missed their senior year, but that's reality. Not everybody is getting it back. Some can afford to get that year back.

We didn't finish our indoor season. We were on the track, but nobody was named a national champion. I think that our athletes should be allowed to have another indoor season, but the powers that be don't see it the same way that a coach sees it.
Never miss the latest news from TexAgs!
Join our free email list