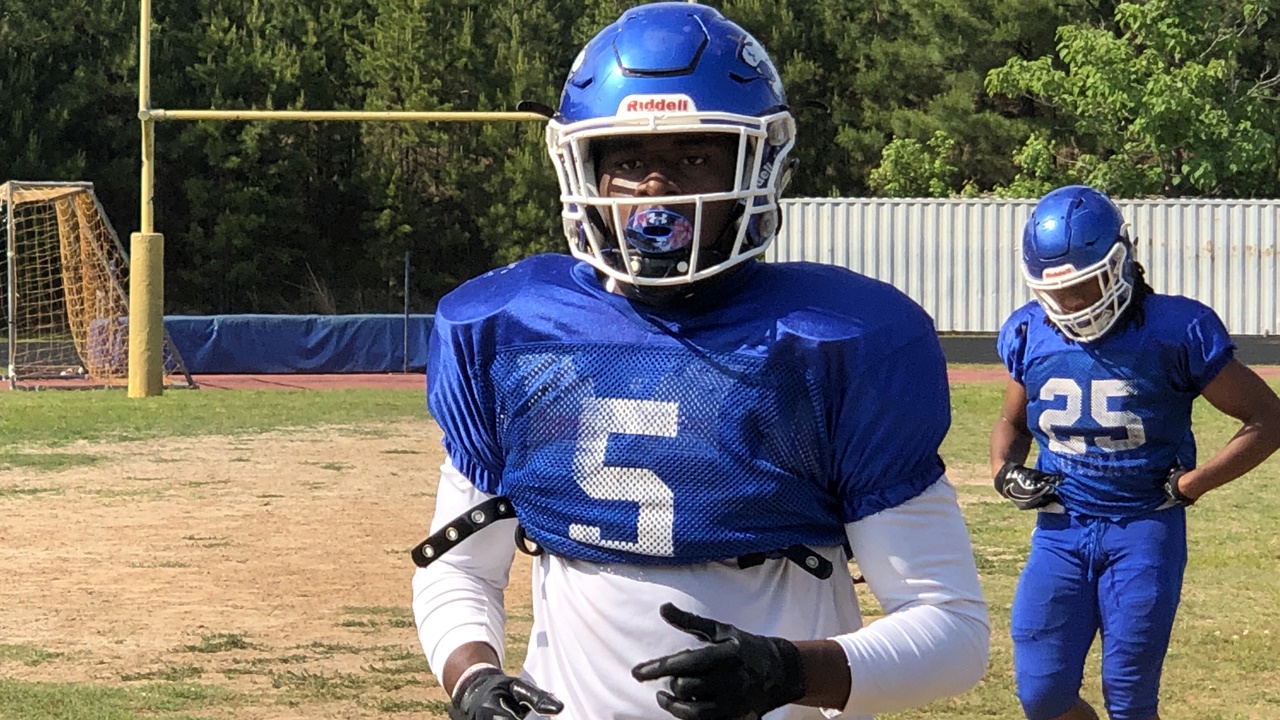 Photo by Scott Schrader/TrojanInsider.com
Texas A&M Football
'I'll wake people up': Deondre Jackson headed to A&M with something to prove
---
Incoming Texas A&M freshman running back Deondre Jackson questions the methodology of recruiting astronomy. He says he's an under-valued commodity who soon will be owed an apology.
Jackson never paid much attention to the star ratings given to high school prospects. He didn't even know he was rated a three-star prospect until friends at Stephenson High School in Stone Mountain, Georgia told him. But when he arrives at Texas A&M, he intends to prove those who rated him a mere three-star prospect were sorely mistaken.
Indeed, in recent weeks he's posted several messages via Twitter to that effect.
On March 22 he tweeted: "I'd rather fail trying to get to the top than succeed being mediocre."
On March 13 he tweeted: "I ain't scared of the SEC. I was built for this."
The day before he tweeted: "In a year I guarantee 247Sports you will put some RESPECT on my name."
Those are big statements. But then at 211-pounds — and growing — Jackson is a big guy.
"I'm letting people know I'm underrated," Jackson said via telephone earlier this week. "A lot of people are sleeping on me. I'm letting them know when I get my time to shine, I'll wake people up."
Jackson rushed for 1,220 yards and scored 20 touchdowns as a high school senior. He drew offers from Auburn, Alabama and Florida, among others.
Yet, he was rated just a three-star prospect because some have questioned his overall speed and see him strictly as a power back.
Jackson says they should look again. He averaged more than six yards per carry last season. That isn't accomplished only by running over tacklers.
"I'm letting people know I'm underrated. A lot of people are sleeping on me."
"A lot of people think because I have bigger-back size all I want to do is run people over," he said. "People are shocked when a big guy like me comes through the hole and gives you a move. They will be thinking, 'Dang, he's so big and he can move.'
"Don't get me wrong. I'm still a power back, too. But I keep them guessing. You never know what's coming up."
Earlier this year, Corey Johnson, the Stephenson running backs coach, kind of alluded to that.
"Dre is the kind of back that runs hard," Johnson said. "He's not going to go down with dink and dunk tackles. At the same time, he'll run away from you."
Still, Jackson's star rating had made him an afterthought even among some Aggies, who are rightly excited about the addition of Fort Bend Marshall speedster Devon Achane and Arizona running back Darvon Hubbard.
Jackson was ranked just 49th among running backs in the nation by 247sports.
"I'm not bashing anybody else," Jackson said. "I'm just saying I should be up there. I know what I can do."
However, he didn't know Texas A&M knew what he could do. He knew about the Aggies because he'd watched Johnny Manziel, Mike Evans and Trayveon Williams play on television. He just didn't know A&M knew about him.
Jackson admitted he was surprised when then-A&M running backs coach Jay Graham approached him about a scholarship opportunity.
"I was kind of shock when Coach Graham came out to practice last year," he said.
Now, the plan is to make similar shockwaves when he arrives in College Station.
"I definitely think I can come in and make an impact," he said. "That's the plan … just basically coming in, being a student of the game, learning how the scheme works, get everything together and take off with it."
Never miss the latest news from TexAgs!
Join our free email list
PRESENTED BY