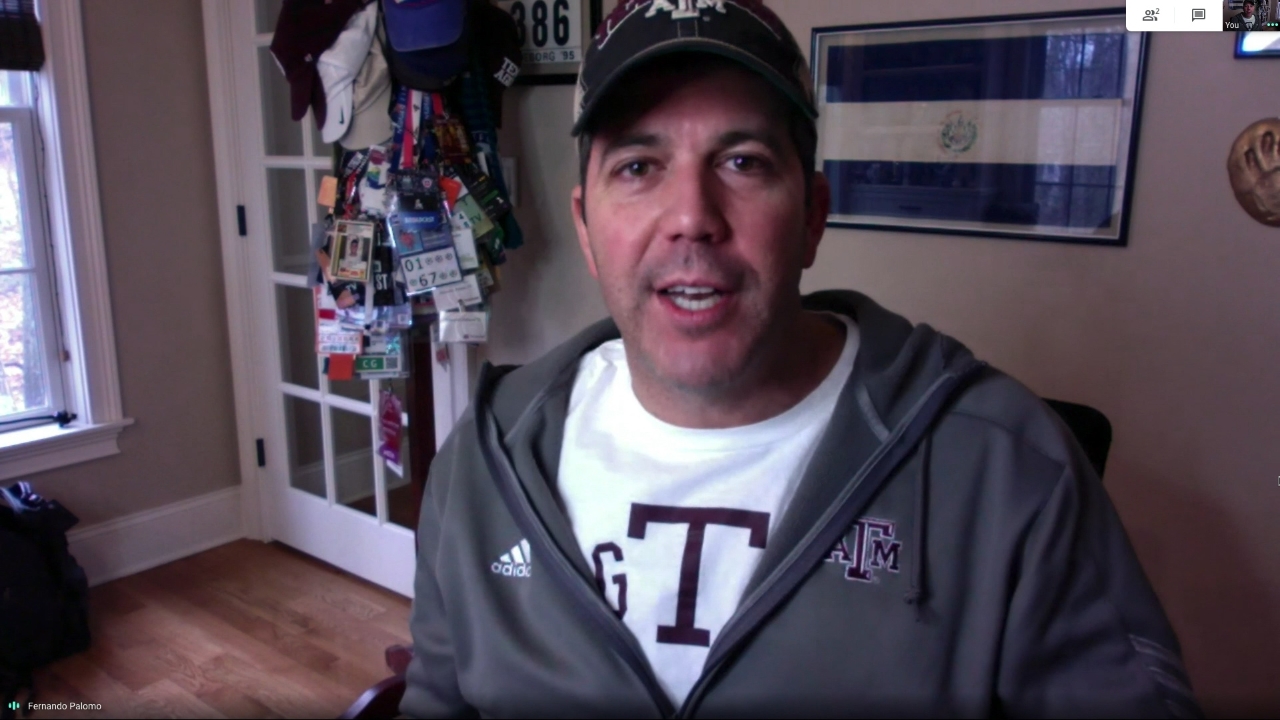 Texas A&M Soccer
Fernando Palomo discusses impact of COVID-19 on sports around the world
---
Key notes from Fernando Palomo interview
I think the lifestyle of the profession is a juggling act. I'm usually away all the time because the sports schedule sets my schedule. I'm blessed right now to be able to be here with my family when, usually, I probably wouldn't be. We're having school in the house, and all the classrooms are in session right now.

There's a lot of news every single day trying to make light of how everything is going to go down once we get back to a routine. How will sports respond to all of this? This is something we haven't experienced in centuries.

When you started hearing about the postponement of leagues, that's when you knew things started to get very serious in the sports industry. I don't think it occurred to anyone that isolation would be the solution, but there was a match played north of Italy back in February right about the time we started to hear about some cases there. The collection of individuals in that stadium made it a huge concern. It dawned on me at that time that sports had to take a step back in the midst of all of this. We were not only putting fans in danger but the players as well. Then you started to hear about players getting sick. Then it hit the NBA. The most global league in the United States decided to halt the season, and that's when everything changed. That game in Italy played on February 19th was considered Match Zero, a biological bomb that went off.

I always have my phone near me because we're constantly meeting, trying to draw up a road map to see how soccer will come back when it's time to go back. Soccer was able to get ahead of the curve because that is one sport. The Olympics has 33 sports and athletes from all over the globe, so deciding what to do with something as significant as the Olympics is a massive decision-making process. There are a ton of decisions that have to be made to be prepared for when all this comes to an end.

The passion of fans fuels the world of sports. Fans will buy tickets on weekdays and weekends. Sometimes they'll buy season tickets just to watch sports whenever they can. A lot of these fans are now unemployed. We're trying to pitch in any way we can and help fans get back on their feet, and hopefully, get everything ready so that we can serve them when the time is right. It's going to improve the greatness and the grittiness of sports.

European soccer leagues intend to finish the season on the field, so they're preparing everything right now to get everything under control and finish the season the right way.

It has been a very different time, but the realization that we have a set of leaders that step up when called upon has been incredible to witness. We've set up TV studios in our own homes. As far as ESPN Deportes is concerned, we're setting up shows from all over the globe, places like Mexico City, Los Angeles, Connecticut. That speaks volumes to the commitment this network has on keeping the fans entertained.

I cannot think at all about the college football season being canceled. We're looking forward to that season, and we're just looking forward to sports coming back and providing us with some light to get us out of this dark we're in right now.
Never miss the latest news from TexAgs!
Join our free email list