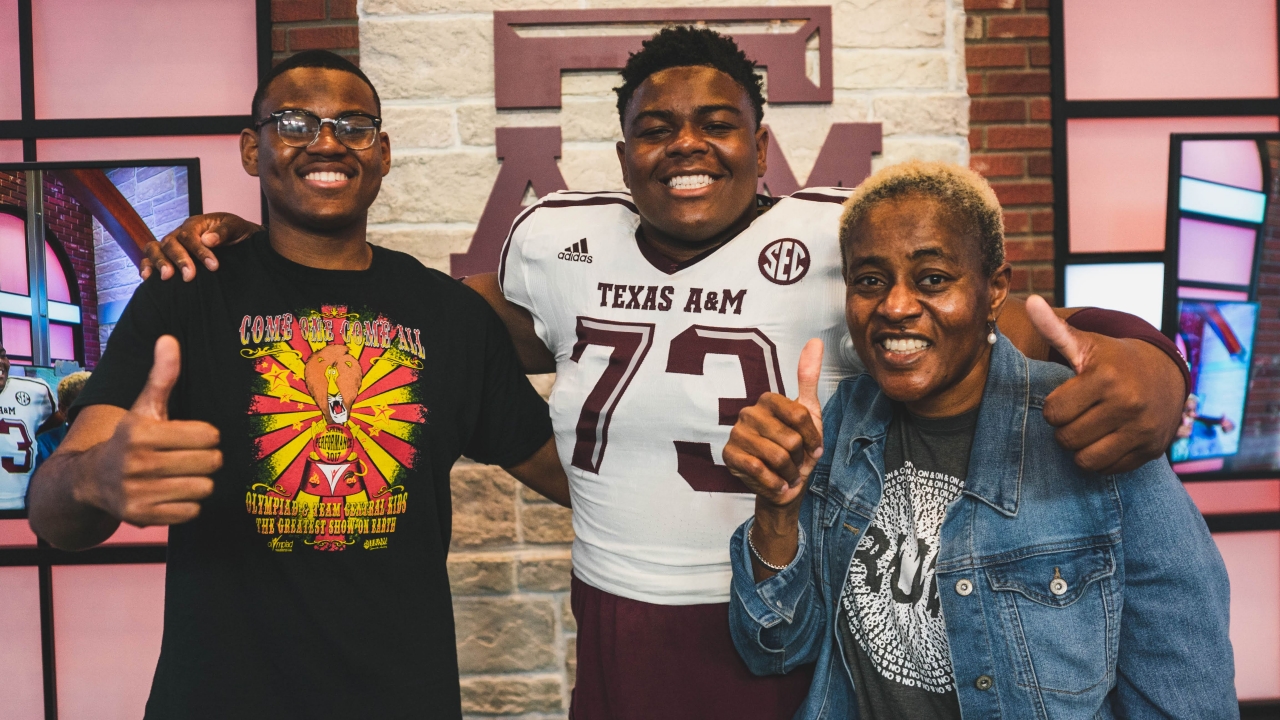 Photo by Akinola Ogunbiyi
Texas A&M Football
Fulfilling Promises: Family motivates Akinola Ogunbiyi to maximize opportunities
---
Promise is important to Akinola Ogunbiyi. Promises are, too. He fully intends to fulfill both.
The 6-foot-4, 331-pound offensive lineman from Sugar Land has vast promise. That's apparent in his highlight tape, in which he routinely amasses a tall stack of pancake blocks.
This size, strength, agility and on-field nasty attitude made him a prize four-star recruit in Texas A&M's heralded 2020 recruiting class. He's counting on those assets to take him even farther.
Hence the promises.
"I always tell my mother one day she won't have to take care of anything," Ogunbiyi said this week. "Football is my gateway there."
Obviously, he's referring to someday playing in the NFL. Getting there will require determination, sacrifice and perseverance through unexpected obstacles and difficulties.
That won't be anything new for him. At just 17 years old, Ogunbiyi already has overcome several obstacles and difficulties that could've changed the direction of his future.
In March of 2019, Ogunbiyi was on top of the world. National recruiting services ranked him as a four-star prospect. He had just received a scholarship offer from Texas A&M. And like many teenagers, he was taking a class to get his driver's license.
But after class one night, his older brother, Ayo, was not there to pick him up. After waiting 30 minutes Akinola started making phone calls.
"I always tell my mother one day she won't have to take care of anything. Football is my gateway there."
That's when he learned his mother, Aggy, had suffered a stroke that rendered her paralyzed on the left side of her body.
"Really, before this, a stroke wasn't something I had a lot of information about or had done a lot of research on," Akinola said. "It was scary seeing her in the hospital. When she started crying, I started crying."
So much immediately changed.
Akinola's father, BabaTunde, lived in their native Nigeria. Ayo was attending Lamar University in Beaumont, but he transferred to the University of Houston so he could drive Aggy to physical therapy appointments.
"It was pretty hard, especially when she came home from rehab," Akinola said. "I'd have to go to school at 6:30 in the morning and wouldn't get home until 6:30 at night. She was by herself. That made it hard."
Akinola did what he could. Aggy progressed to the point that she could move around their home with the help of a walker. But still struggling with her movement on the left side, she couldn't carry items.
Akinola made a basket and attached it to her walker. That way she could put plates, utensils and food in the basket and take it the table to eat when no one else was there to help.
"I'd go home and see my mom cry," he said. "Sometimes, I'd think I'd rather stay there and take care of my mom than play football."
But football was becoming a means to someday make their lives much better. That in itself was amazing because Akinola didn't even follow the sport until he was a freshman at Kempner High School.
In fact, when needing a physical education course, Akinola first selected swimming – even though he couldn't swim.
"I thought they would teach me along the way," he said.
Noting his enormous size, friends suggested Akinola try football. "Why not?" he thought. He admits he was at times bewildered and confused that first year. In his sophomore year, though, he was becoming a force.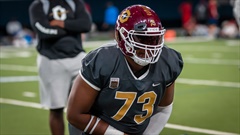 Justin Schoenemann
"After my sophomore season, the coaches told me they think I'll have a chance to play on Saturdays and Sundays," Akinola said. "That's probably when I thought I could become a better player.
"It's a blessing. I remember days in church praying about it. I told my dad, 'You won't have to pay for college.' And now it's here."
The question was exactly where "here" would be.
Akinola originally committed to Texas A&M on June 2, 2018. He de-committed on March 7, 2019. Then on April 20, he committed to Georgia. On June 23, he flipped back to A&M. He signed with the Aggies in December.
"A&M always had a special place in heart," Akinola said. "It's close to home. Every place has its perks, but this was best for me and for the situation with my mom.
"I feel like everything happens for a reason. God put me at A&M for a reason. I feel like I got closer to my mom because of everything that's happened."
Akinola Ogunbiyi might not be back on top of the world, but he's climbing.
He got his driver's license. He does a daily regimen of push-ups, planks and sit-ups as he prepares to join Texas A&M this summer. And his mother's health has improved through physical therapy and rehab.
"She's a great example of perseverance and hard work," Akinola said. "I'm a great worker, too. I don't want to let my parents down or my family down."
Never miss the latest news from TexAgs!
Join our free email list