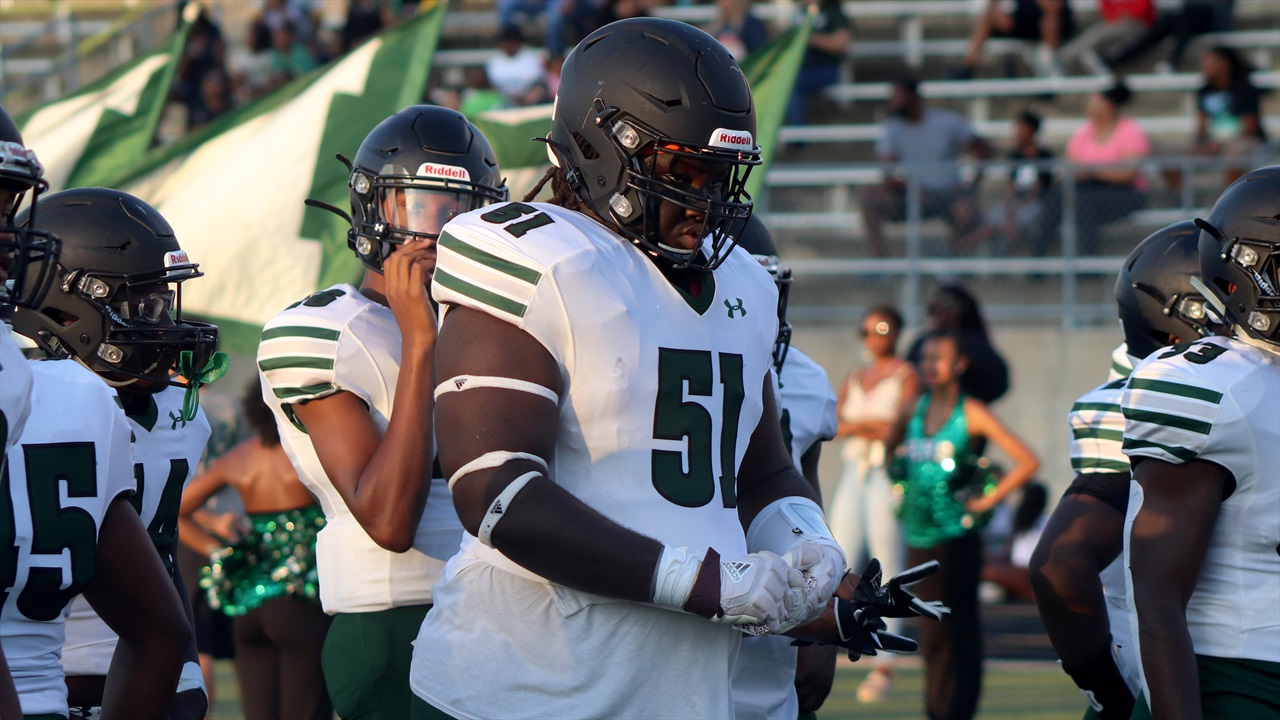 Texas A&M Football
Smart Chibuzo headed to Aggieland with a head full of steam...and a headset?
---
It's not unusual for football players to take on two roles during a game.
One guy might kick and punt. A receiver or running back may also return kicks. A defensive end might shift inside on certain plays.
But tackle and offensive coordinator? That's absurd, right? Well … maybe not.
Fort Bend Hightower Offensive Coordinator Will Blaylock recounts a game against Friendswood when 6-foot-4, 350-pound Smart Chibuzo tried to double as offensive tackle and play-caller.
"I hear a voice I haven't heard on the headset saying, 'The middle of the field is wide open. We've got to throw it in the middle of the field.''' Blaylock said.
The voice was Chibuzo's. That annoyed Blaylock for two reasons.
First, who on the sideline let Chibuzo on the headset? Second, Chibuzo should be blocking, not watching.
"I watched the film the next day," Blaylock said. "Smart has beaten the kid he's blocking so bad the kid wasn't rushing anymore. I've never seen that before. So, he's just watching the game because nobody would rush.
"And damned if he wasn't right. The middle was wide open."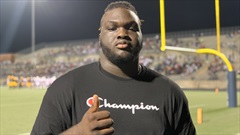 TexAgs
Apparently, play calling is among many talents possessed by Chibuzo, who is part of the heralded 2020 recruiting class Texas A&M coach Jimbo Fisher assembled.
"He's a bit of a dancer," Blaylock said. "He likes the music. He's in the weight room and he's moving around a little bit. I told him, 'If you can dance you can pass block.'
"He said, 'Coach, I'm good then.'"
Chibuzo credits his nimble feet to a childhood of playing soccer back in Nigeria. He was born in Houston but lived several years in Abuja. His family moved back to Houston when he was 11 years old.
"I'm really good at soccer," Chibuzo said. "I was a big soccer player. I had a lot of stamina. I played to the whistle. When I came back to Houston everybody was playing football, but I didn't care about it."
Indeed, Chibuzo owes some of his football success to a long lost friend named John, who encouraged him to join his youth select team — the Fresno Gators. Alas, they were never teammates. At 11, Chibuzo already weighed 200 pounds and was too heavy to play in the Gators' league.
He had to play in a league with a higher weight limit and ended up on a team called the Redskins.
"I played defensive end and defensive tackle," Chibuzo said. "I was doing really well. In one game I had like 30 tackles. I was signing autographs."
Yet, Chibozo did not play in seventh grade. He goofed off as much as he played in eighth and ninth grade.
"I was too focused on dumb stuff. Little things like being the class clown," Chibozo said. "Then I got to go on some college junior day visits. I saw how the coaches treat college football players and how you could get a free education. That's what made me change.
"I started working hard to show I wanted it and to be the best I could be."
Not long afterward, Grambling was the first program to offer a college scholarship. Many more offers from higher-profile programs soon followed.
Texas A&M was the first big-time program to offer. Alabama also offered. So did Florida, Texas, Nebraska, LSU and Georgia.
Chibuzo committed to A&M on June 2, 2018, though he was tempted to flip his commitment to Georgia. His friend Akinola Ogunbiyi, also of Nigerian descent, was once committed to Georgia.
"I was 100 percent going to flip, especially with Akinola fixing to go there," he said. "I went on a visit and saw how they treated players.
"But then I had to think … me and Akinola were Jimbo's first commits (for 2020). I stayed to show I'm loyal to people that gave me my first big opportunity."
It also didn't hurt that Ogunbiyi flipped his commitment from Georgia back to A&M.
Ogunbiyi and Chris Morris of West Memphis, Arkansas are more celebrated line prospects. Both were rated four-star prospects by national recruiting services.
"...me and Akinola were Jimbo's first commits (for 2020). I stayed to show I'm loyal to people that gave me my first big opportunity."
Despite Chibuzo's impressive offer list, he was rated a three-star prospect, which befuddles Blaylock.
"I think Smart is going to get his name called and will get to play on Sundays (in the NFL)," he said. "The only thing that will stop him is if he gets injured.
"Realistically, he could play all the positions on the offensive line. He played four positions for us and never missed a beat. He gave up one sack, and it was a communication deal. No lineman lined up and beat him one-on-one.
"I don't know why he's only a three-star guy," Blaylock said.
Some defensive players might question that, too. Blaylock recalled a game last season when a safety saw the 350-pounder steamrolling toward him.
"Big boy was rolling and the safety wanted no part of that," Blaylock said. "He sprinted in the other direction."
Chibuzo aims to make an immediate impression when he arrives at A&M.
"I'm going to own Kyle Field," he said. "I don't know how I'm going to do it yet, but I'm a hard worker. It starts with how you wake up in the morning and the attitude you have. If you're going to see the field, you have to show you really want it for yourself and your family."
Blaylock doesn't doubt Chibuzo can make an immediate impression at A&M. Once a 300-pounder himself, Blaylock knows a good blocker when he sees one.
He was a lineman on a Tyler John Tyler team that lost to Katy in the Class 5A high school state championship game in 2000. He later played collegiately at Baylor before becoming a high school coach.
"I've got certain feelings about Aggies because I'm a Baylor Bear," Blaylock said with a laugh. "But he's going to do well. It wouldn't surprise me if he plays as a freshman. Physically, he can handle it. He just has to learn the system."
And be sure to stay off the headset.
Never miss the latest news from TexAgs!
Join our free email list
PRESENTED BY