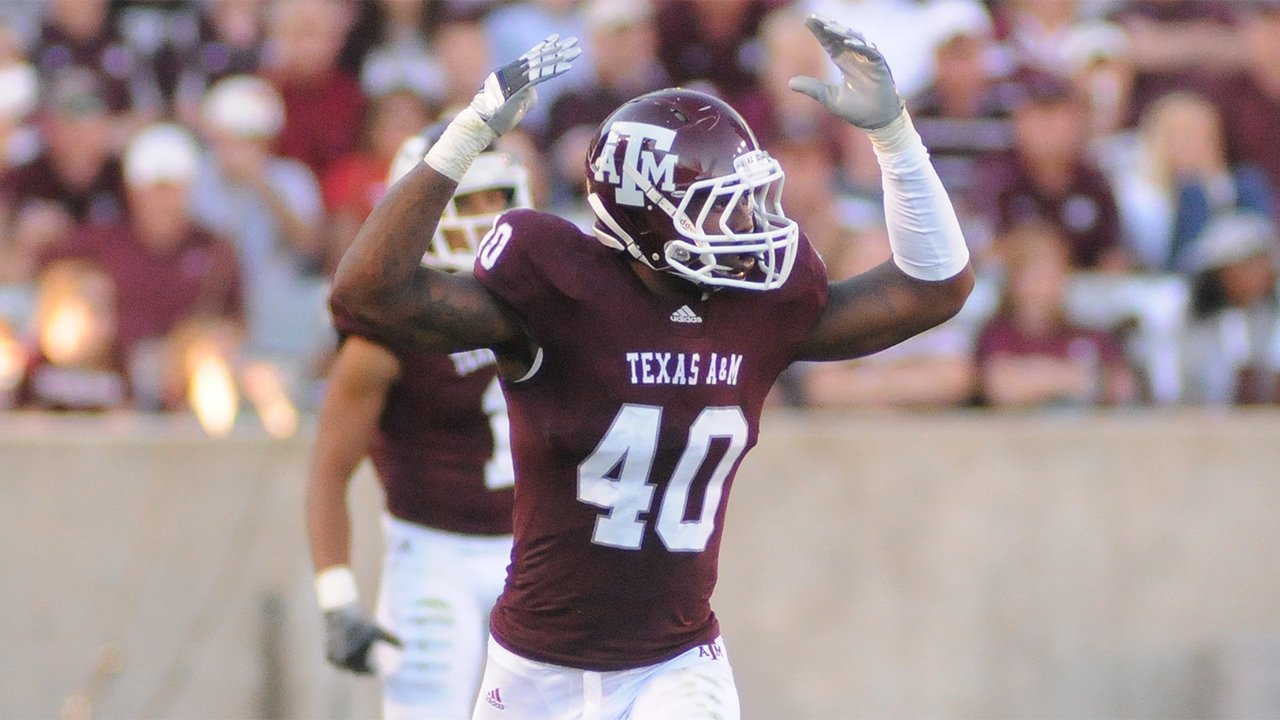 Photo by Andrew Kilzer, TexAgs
Texas A&M Football
The ABCs of Texas A&M: An alphabetical look at the history of Aggie football
---
Most Aggies, it seems, know Texas A&M football history like their ABCs. They can list players from Don Abbey to Howard Zuch.
That might be a bit extreme, but the fact remains that legions of Aggies are also football historians.
However, there are those who still have much to learn. With that in mind, here's an alphabetical look at Texas A&M's football history.
Aaron, Antonio and Adams: The 1993 Texas A&M defense ranked third in the nation in total defense and second in scoring defense. The triple-A combination of cornerback Aaron Glenn, linebacker Antonio Armstrong and defensive end Sam Adams was a major factor in that success. Adams and Glenn were All-Americans that year. Armstrong was named All-American the next season.
Blitz Brothers: The pass-rushing linebacker duo of John Roper and Aaron Wallace terrorized Southwest Conference quarterbacks in the late '80s. They were both All-SWC in 1988 when Roper posted 15 sacks and Wallace had 14.5. Wallace finished his career with an A&M record 42 sacks. Roper is third all-time with 36.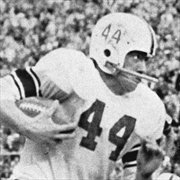 12th Man Magazine
Crow, John David: A two-way star, John David Crow is one of the toughest and greatest players in A&M history. He won the Heisman Trophy in 1957. And if he hadn't won it... well, "they ought to stop giving it."
Dat Nguyen: Born in a Vietnamese refugee camp, Dat Nguyen grew into an A&M legend and one of the all-time most beloved Aggies. A three-time All-Big 12 linebacker, he holds the A&M record with 517 career tackles. He won the Lombardi Award and was named All-American in 1998.
E. King Gill: He gained fame for his role in the 1922 Dixie Classic despite not actually playing. You know the story. The Aggies were depleted by injuries, so coach Dana Bible called on Gill, who was in the press box working as a spotter, to suit up in case he was needed. He wasn't, but he stood ready if called upon, which gave birth to one of college football's greatest traditions — which we'll get to later.
Football, Johnny: A mere three-star recruit who some viewed as a potential safety, Johnny Manziel — aka Johnny Football — became a nationwide phenomenon in 2012. Playing with a reckless abandon, he set an array of NCAA records while passing for 3,706 yards and rushing for 1,410 to lead the nation in total offense. He earned All-American recognition and became the first freshman to win the Heisman Trophy. He left A&M after just two seasons on the field but still holds the school career record with 9,989 yards of total offense.
Goal-line stand: There have been more than a few in A&M history, but the most famous occurred in the 1986 Cotton Bowl. On fourth-and-goal from the 1-yard line, Auburn running back Bo Jackson (the Heisman Trophy winner) was stopped for a 2-yard loss by a posse of Aggies. That stop protected a 21-16 lead. Just to show it was no fluke, the Aggies later stopped Jackson short on fourth-and-2, but that was at the A&M 27-yard line.
Haskell Hurricane: That was a popular nickname for John Kimbrough, perhaps A&M's first national star. A two-time All-American, Kimbrough starred on A&M's 1939 national championship team. He scored both touchdowns in a 14-13 Sugar Bowl victory over Tulane. The next season he was the runner-up in the Heisman Trophy voting to Michigan's Tom Harmon.
It ain't like it used to be: Upon coach Jimbo Fisher's arrival, he promised changes to Texas A&M football culture. That quote has been oft-repeated and is now an unofficial slogan.
Junction: As the story goes, two busses filled with 115 football players left College Station on September 1 for Junction, Texas. There, first-year coach Paul "Bear" Bryant would hold a grueling, 10-day fall camp for the 1954 season. Temperatures were so hot, Bryant was so demanding and practices were so exhausting that most of the team quit. Only 35 players — to be forever known as the "Junction Boys" — survived the camp. Three years later, several of those players played vital roles in A&M winning the 1956 Southwest Conference championship.
Despite facing older and more experienced college teams that were not as affected by the draft, the [Kiddie Corps] won their first four games, finished 7-2-1 and were invited to play in the Orange Bowl.
Kiddie Corps: Almost all of Texas A&M coach Homer Norton's 1943 football roster had been drafted into service for World War II. Hoping to field a team anyway, Norton placed newspaper ads and approached A&M's Corps of Cadets seeking boys willing to play on his football team. Boys are what he got. The average age of A&M's 1943 team was 17.5. Newspapers referred to them as A&M's "Kiddie Corps" and projected nothing short of abject failure. However, Norton's team was a surprising success. Despite facing older and more experienced college teams that were not as affected by the draft, the Aggies won their first four games, finished 7-2-1 and were invited to play in the Orange Bowl.
'Lectric Leeland: That was the nickname bestowed upon Leeland McElroy, an electrifying running back and return man from 1993-95. A two-time All-American and three-time All-Conference selection, he averaged 39.3 yards on kickoff returns to lead the nation in 1993. That included three touchdowns, two of which were on consecutive returns against Rice. McElroy completed his A&M career with 2,442 rushing yards and 1,099 kickoff return yards. He holds A&M career records for kickoff return average (36.6 yards) and return touchdowns with four.
Myles Garrett: According to some recruiting services, Garrett was the top prospect in the 2014 recruiting class. He did not disappoint. In three seasons, Garrett accumulated 31 sacks and twice was named All-American. He was the first selection in the 2017 NFL draft to become the only Aggie ever drafted No. 1 overall.
National champions: The 1939 Aggies posted six shutouts and allowed just 18 points en route to a 10-0 regular season. They were voted Associated Press national champions over Tennessee. Then they validated that by defeating Tulane in the Sugar Bowl, while Tennessee lost to USC in the Rose Bowl. A&M also claims national championships in 1919 and 1927.
Overtime: Texas A&M has an impressive history of overtime football games. The Aggies are 14-6 in overtime. Their last conference championship was a 36-33 victory over Kansas State in overtime. They've also won their last seven overtime games, including the record seven-overtime 74-72 victory over LSU in 2018. A&M has beaten Arkansas in OT three times.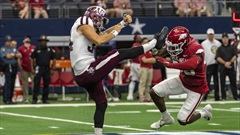 Lia Musgrave, TexAgs
Punter U: No team wants to punt, but few do it as well as Texas A&M. Four Aggies — Braden Mann (2018), Drew Kaser (2013), Shane Lechler (1998-99) and Steve O'Neal (1968) — have earned All-American recognition. Mann won the Ray Guy Award as the nation's premier punter in 2018. Justin Brantley and Mark Stanley were also all-conference punters.
Quentin Coryatt: In two seasons, Quentin Coryatt was an imposing inside linebacker who personified Texas A&M's Wrecking Crew defense. He posted 92 tackles in 1990 and '91 and was named to the All-Southwest Conference team in both years. In '91 he was named Southwest Conference Defensive Player of the Year and received All-American recognition. Coryatt gained national notoriety in 1991 with "The Hit," in which he broke the jaw of TCU receiver Kyle McPherson. ESPN called it "The Hit of the Year."
Red, white and blue out: The day after terrorists hijacked four jet airliners and attacked the World Trade Center in New York and the Pentagon in Washington on September 11, 2001, Texas A&M junior Eric Bethea came up with an idea that Aggies should show their patriotism in a coordinated way at A&M's next football game. The plan was for a specific color T-shirt — either red, white or blue — to be worn by fans in each of the three decks of Kyle Field. Of course, that would require printing tens of thousands of t-shirts and accurately distributing them in time for the Aggies' game against Oklahoma State on September 22. In just 10 days, somehow that idea came to fruition. More than 80,000 fans filled Kyle Field that day. Those in the upper deck wore red, the middle deck was in white and the lower deck wore blue in an amazing display that drew national recognition and praise. The Aggies' 21-7 victory was really anticlimactic; the Kyle Field fans won that day.
SEC, SEC: Unhappy with the direction and leadership of the Big 12 Conference, the Aggies opted to join the Southeastern Conference in 2012. The controversial move was part of a rash of conference realignments going on at that time. The move proved a financial windfall and led to the $485 million renovation and expansion of Kyle Field.
Twelfth man: E. King Gill's willingness to stand ready in case he was needed at the 1922 Dixie Classic was the genesis of the Texas A&M's grand Twelfth Man tradition. In the spirit of Gill, A&M students stand during games to symbolically show they are ready to enter the game if needed. In 1983, Jackie Sherrill took the tradition a step further. He formed the Twelfth Man Kickoff Team — a group of non-scholarship students — to cover kickoffs. The unit was immediately successful. In later years the idea was changed to include just one walk-on who each week had to earn the honor of wearing No. 12 on game days. In 2018, Cullen Gillaspia became the first player from the Twelfth Man unit to be taken in the NFL draft.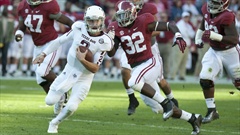 Jason McConnell, Aggieland Illustrated
Upsets: Eight times A&M has posted upset victories over opponents ranked among the nation's Top 5. Twice, A&M has upset the nation's top-ranked team. In 2002 freshman quarterback Reggie McNeal threw four touchdown passes and led A&M over No. 1 Oklahoma, 30-26. Ten years and one day later, freshman quarterback Johnny Manziel threw two touchdown passes to lead the Aggies over No. 1 Alabama 29-24.
Von Miller: In his final two seasons at A&M, Von Miller emerged as one of the fiercest defensive players in the country. He led the nation with 17 sacks in 2009. He followed that with 10.5 in 2010. Miller received All-American honors both seasons. He was also the recipient of the Butkus Award as the nation's top linebacker in 2010. Miller was eventually taken by Denver with the second overall pick in the 2011 NFL draft. Following the 2015 season, he was Super Bowl MVP in the Broncos' 24-10 victory over Carolina.
Wrecking Crew: During a more than 15-year period, Texas A&M's defense was so dominant it earned the nickname The Wrecking Crew. Defensive back Chet Brooks was largely credited with providing that name. Whether he was responsible or not doesn't really matter; the name stuck because it was accurate. From 1985 to 2001, A&M was ranked among the nation's Top Ten in either total defense or scoring defense (or both) in 12 seasons. The Aggies led the nation in total defense in 1991, were third in '93 and '95, were fourth in '86 and fifth in '94. Not surprisingly, A&M won seven conference championships in that span.
X-orbitant salaries: Much to the rest of the nation's chagrin, Texas A&M often has been aggressive — and generous — in hiring football coaches. A&M raised eyebrows (while others across the country raised objections) when coach Jackie Sherrill was offered a six-year contract worth $1.7 million in 1982. That turned out to be a bargain. Thirty-five years later, the Aggies were at it again when they lured Jimbo Fisher away from Florida State with a 10-year, $75-million contract. That deal drew objections across the country, especially from Ohio State Athletic Director Gene Smith. Smith called the deal "ridiculous" even though he was paying coach Urban Meyer $6.5 million annually. In fact, Smith was so appalled at how much A&M was paying Fisher that he raised Meyer's salary to $7.6 million a year.
Yale Lary: An All-Southwest Conference conference back in 1951, Lary played 11 seasons as safety and punter for the NFL's Detroit Lions. He's the only Texas A&M football player in the Pro Football Hall of Fame.
Zeros: In 1917, the Aggies held all eight opponents to zero points. They were even better in 1919 when they posted 10 victories via shutout. In fact, from the final game of 1918 until the final game of 1920, the Aggies posted 18 consecutive shutouts. Alas, times have changed. A&M's most recent shutout was 67-0 over Ball State in 2016. A&M hasn't posted multiple shutouts since 1993, when the Aggies blanked LSU 24-0 on September 4 and two weeks later blanked Missouri 73-0.
That's just one alphabetical lesson. There surely are others. List your complete Aggie alphabet or just entries for a particular letter or two.
Never miss the latest news from TexAgs!
Join our free email list
PRESENTED BY