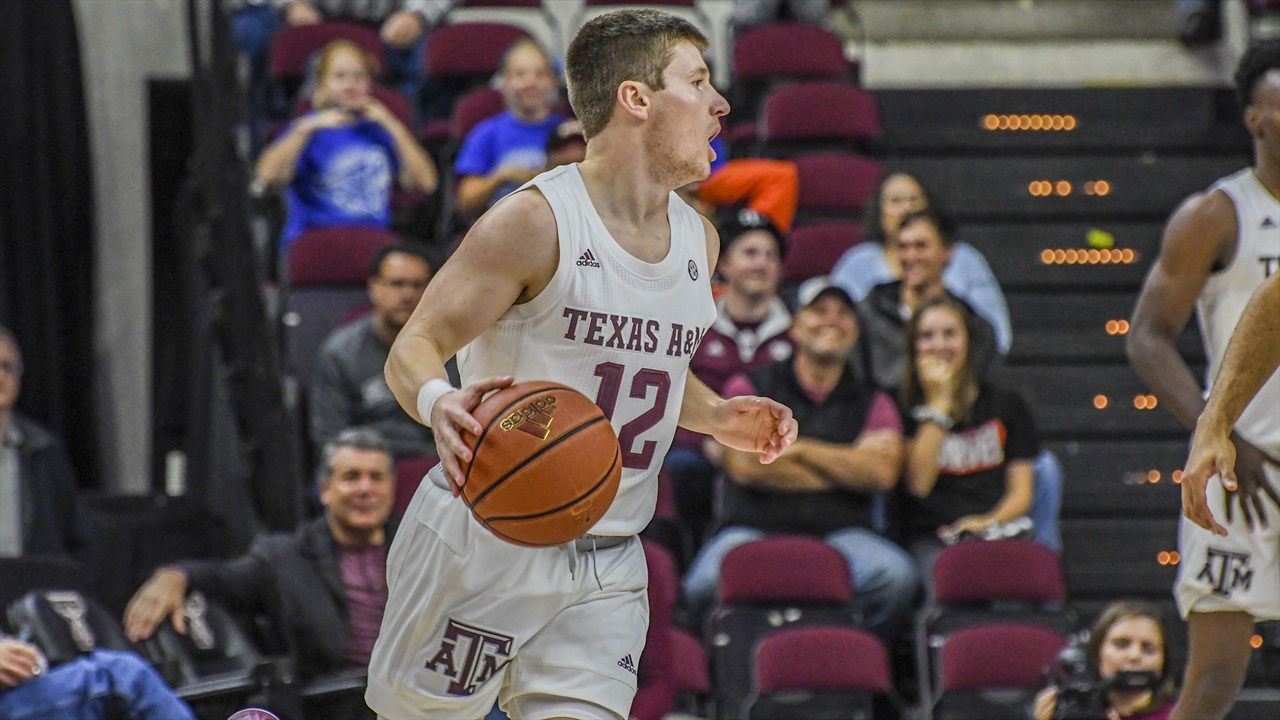 Photo by Lia Musgrave, TexAgs
Texas A&M Basketball
Mark French reflects on his final season in Aggieland following abrupt ending
---
Key notes from Mark French interview
We had a really good rhythm and found the formula for how we could win. We were peaking at the end of the year. For us - and for Chuck, Nebo, and I as seniors - we were itching to do something crazy in Nashville. It all happened so quickly that I don't even know if we realized what happened. Things have happened so fast in the last week. It's been odd. It's kind of upsetting we couldn't play in the SEC Tournament.

We went to Nashville on Tuesday, and we're going to play until Thursday - that's standard. We had our media availability and shootaround. We had a walkthrough as well. When the Rudy Gobert news hit on Wednesday night, we kind of knew the smart people in the room weren't going to let this thing go off. Then, obviously, they killed the whole thing. Props to all of the people at A&M and the SEC for taking care of this, but it does kind of stink.

So many guys look up to the pros. When we aren't practicing or playing, we're watching the NBA. When that hit, we realized we needed to refocus.

The locker room was so together, and it was a type of cohesion that I hadn't seen in my four years here. We wanted to go out and fight, but we couldn't do that.

We've talked about coming back if we got the chance. You'd have to speak with Nebo and Chuck for that answer. For me, I think I'm done regardless. I don't think my body could take another boot camp. So many don't realize what it takes to even get to an SEC Tournament. It starts in the summer and goes through boot camp and then the season. That's where my mind is at right now. I do think the NCAA should let guys come back if they want to. Go get your masters and play in March Madness if you want.

It was a shock. BK is close to me. BK is my guy, and he always will be, but Buzz clicks more with me from a personality standpoint. That's not to say one style is better than the other, but it just worked for me. Everyone realized Buzz knew what he was doing, and we'd get where we wanted if we just put in the work.

Orlando was awful. Just terrible. The basketball was horrible. But we learned who needs the touches and what the shots should be. We learned we weren't going to be the most talented, but we were doing to fight.

I can't wait to come back in the years to come and see the legacy we laid is at in a couple of years.

It's been a year for me. I was close to graduating, but I'm glad I got to come back and finish things out at Texas A&M.

FCA is a great organization, and having something outside of ball to turn to is important. It's essential to have an outlet, and that's been my outlet for quite a few years. I've made many friends, and I'm thankful for it.

The future depends on what day you ask me. I've been thinking about coaching, but I've been thinking and praying about it. I guess I'm going to go the corporate route either in Houston or Dallas right now. Obviously, this coronavirus has thrown a wrench into everything.
Never miss the latest news from TexAgs!
Join our free email list