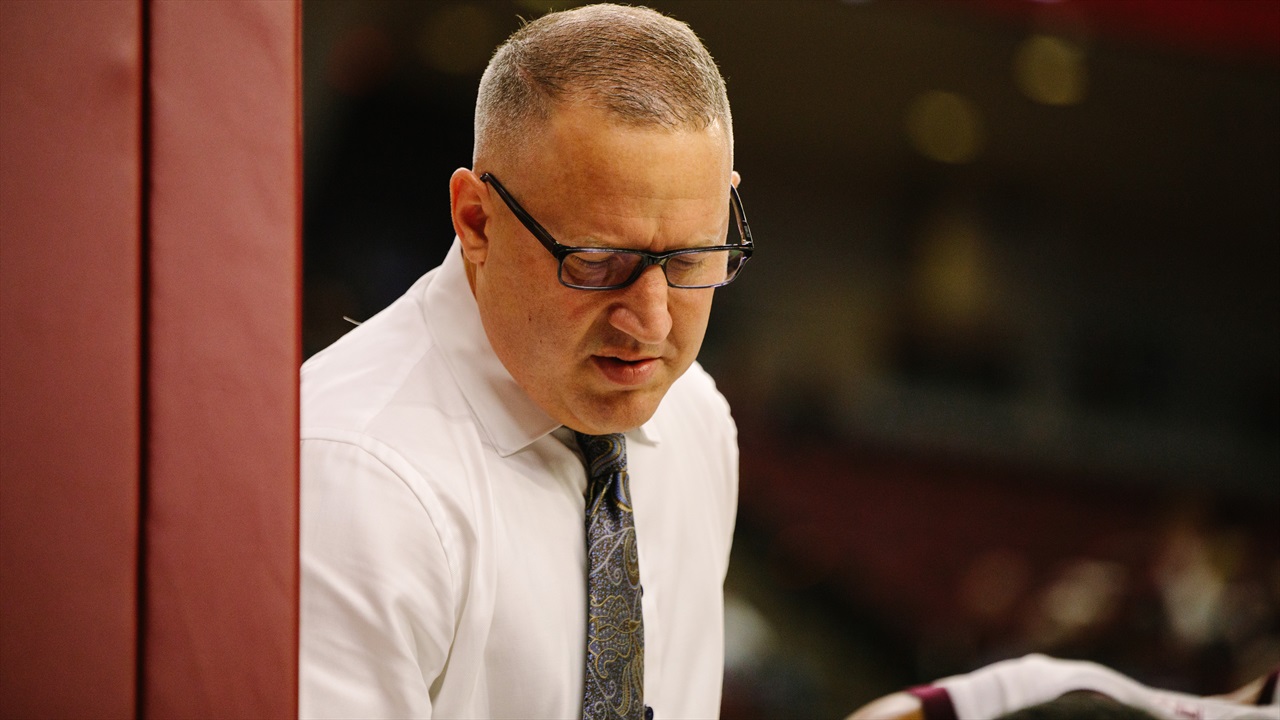 Photo by Rey Romo, TexAgs
Texas A&M Basketball
After abrupt end to year one, Buzz Williams looks forward to the future at A&M
---
Press play above to hear complete audio of Buzz Williams's teleconference.
Although Texas A&M's basketball season came to an abrupt halt, the Aggies finished with five victories in their last seven games.
That streak is a tangible reason to be encouraged for next season.
Coach Buzz Williams, however, is even more encouraged by the intangibles he experienced with his first team at A&M.
"The thing I'm most excited about is everyone in our program believes in how we go about things," Williams said in a conference call on Wednesday afternoon. "Everyone who is part of our program going forward is aware of that process and embraced it. You don't typically find it as strong as we were able to do in the last 50 or 60 days."
The Aggies started slow. They were 3-5 in early December. They remained woefully inconsistent when Southeastern Conference play began. They were 5-6 after consecutive blowout losses to South Carolina and Florida.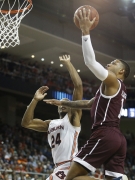 TexAgs
However, they finished with victories over Georgia, Alabama, Mississippi State, No. 17 Auburn and Arkansas. They were also competitive in losses to Kentucky and LSU.
Senior Wendell Mitchell and junior Savion Flagg struggled with inconsistency most of the season, but were highly productive in the final seven games. Mitchell averaged 16.1 points in the last seven games, while Flagg averaged 13.
Junior college transfer Quenton Jackson also contributed to the surge by averaging 11.7 points in that stretch.
At one point, the Aggies were the worst 3-point shooting team in the nation. But down the stretch, A&M shot 41.6 percent (62 of 149) from 3-point range.
Much of that success can be attributed to guards Savion Flagg and Wendell Mitchell. Flagg hit 22 treys in the last seven games. Mitchell hit 20.
That provided help for senior forward Josh Nebo, who led A&M in scoring, blocked shots and field goal percentage. He was also second in rebounding.
A&M was a preseason pick to finish 12th in the SEC. Instead, the Aggies finished 16-14 overall and 10-8 in the conference, tied for sixth.
"Our guys got to the point they were excited to work either in the film room or in practice with no coaching related to effort anymore, no coaching related to attitude or body language," Williams said. "When a coach has to coach those things, you've got a long way to go. When you can coach things other than that, you're further down the path."
The Aggies were the No. 7 seed in the SEC tournament. They hoped to win enough games in Nashville to earn a place in a national tournament.
Those hopes ended when the SEC Tournament was canceled due to fears of spreading the Coronavirus.
"I hate we couldn't play, but there are bigger things at stake," Williams said. "It makes me incredibly grateful for what we experienced."
"I hate we couldn't play, but there are bigger things at stake. It makes me incredibly grateful for what we experienced."
Williams said he told the Aggies they needed to win multiple games in Nashville to have a chance to extend their season beyond the SEC Tournament.
"Our kids were excited to play. Our kids wanted to play," he said. "I told them the truth. I told them if we win one, we're coming home, and it's the end of the season. If we win two, I don't know. If we're playing in a third game, we'll see."
The idea that A&M could even hope to be in a postseason tournament appeared highly unlikely after their showing in the Orlando Classic on Thanksgiving Weekend.
The Aggies lost by double figures to Harvard and Temple and then endured an embarrassing 67-62 loss to Fairfield. Fairfield finished its season 12-20 and tied for eighth in the Metro Atlantic Athletic Conference (MAAC).
Ironically, that loss might have been a blessing in disguise.
"I told them after we got beat by Fairfield, 'Congratulations. You're now the worst Power 5 team in the country.' I think it just flushed out whatever residue of junk was left.
"I told the kids there was freedom in what happened. Everybody knows we're bad, and there's no way to go but up. I think during my tenure here, we'll always remember what took place on Thanksgiving weekend in 2019."
More likely, they'll remember how they banded together afterward.
"I thought the togetherness with which we worked was almost like we had been here multiple years," Williams said.
That togetherness is why Williams is disappointed the season ended so abruptly. It's also why he's eager for next season.
"This pause we can't control," he said. "But we couldn't have ended on a better note. Whenever we get to go back to work, I hope we're able to resume where we left off."
---
NOTE: The audio of Buzz Williams was provided to TexAgs courtesy of WTAW's Zach Taylor.
Never miss the latest news from TexAgs!
Join our free email list