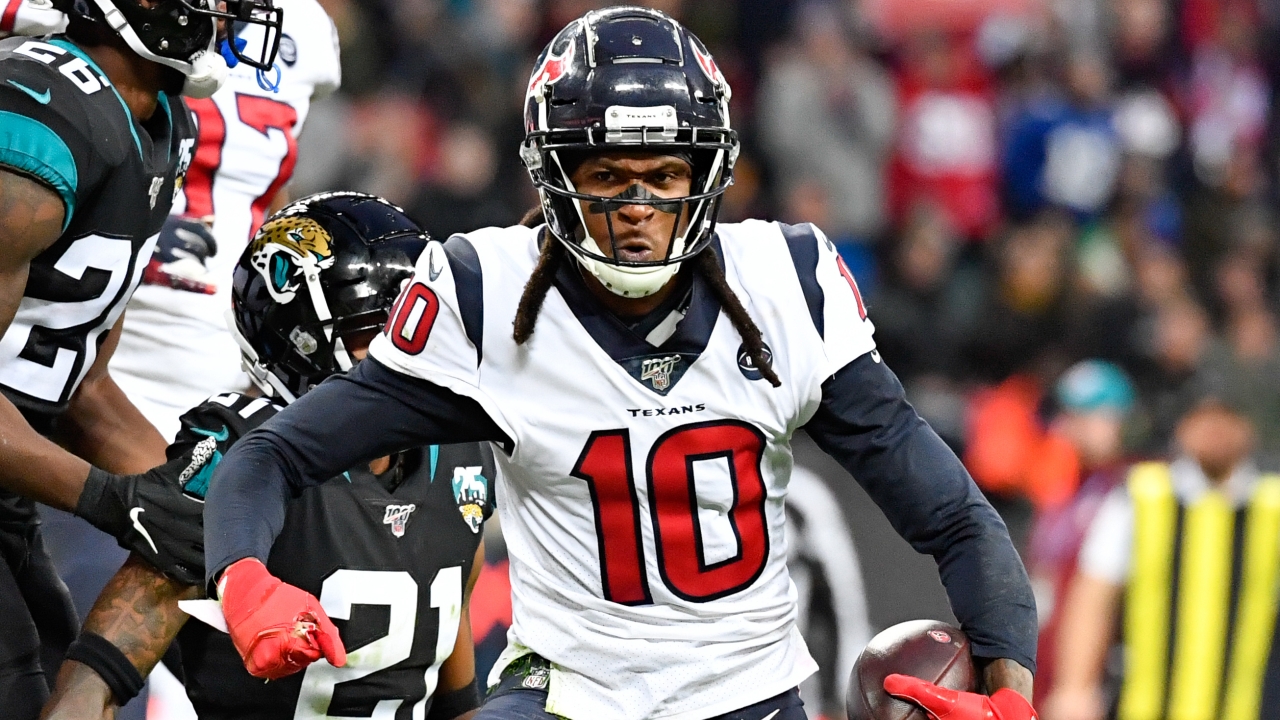 Photo by Steve Flynn-USA TODAY Sports
Texas A&M Football
John Harris analyzes Texans' decision to trade All-Pro WR DeAndre Hopkins
---
Key notes from John Harris interview
From noon on Wednesday when the Rodeo shut down... Oh boy. Now you think about it and it's duh. I think about my friends and family and people throughout the state and world. Right now, everyone close to me is healthy and that's all you can ask for. My daughter is supposed to graduate this year. We don't know if she's going to graduate or have prom, so she's kind of bent out of shape about that. She was going to go to LA to act, so she and my wife were going to go scout it out there. We decided to use spring break as our last spring break as a family and we went down to Galveston. We're practicing social distancing right on the water.

I've been trying to make sense of it for a while. I had already gone on Texans air last night. That was tough. Mark and I have kind of helped one another get through this trade. Hopkins was my favorite player and it wasn't even close. Hop would meet us at the Greenbriar and we'd go to Applebee's. He'd get his to-go food because he wants to go watch Game of Thrones, but he'd always shoot the breeze with us for five minutes.

Knowing the situation, the Texans didn't have a first-round draft pick. This is a draft chock-full of wide receivers. From a football standpoint, if they could find a wideout that could pair with Fuller and Stills that is cheaper and younger, then it would make sense. I think what they got in return was not what people expected. I think fans could've lived with it if they got a first. When the Bills gave up a first for Diggs, it made Texans fans even angrier. I can't blame them. DeAndre Hopkins is a better player than Stefon Diggs.

This deal is not about David Johnson. Inside that building, part of it was whatever was going on with Bill O'Brien and DeAndre Hopkins. They also thought that they could get younger and cheaper so it was essentially Hopkins for a second-round pick. If I'm a GM, I would've called Bill O'Brien and offered him a first. He would've done it.

I guess you can live with it because these players the Texans have dealt are in the NFC West and you don't have to see them all of the time. Texans fans are upset, and they should be. I'm upset.

Bill O'Brien would tell you that DeAndre Hopkins is better than any receiver in this draft class right now. But can you get one of those guys in this class to get 70-75 perfect of Hopkins production in year one with the possibility to get better? I think so.

If Will Fuller can get healthy, he's the guy that scares me. That's a big 'IF' and I understand that. You want a player that is reliable and dependable, but the game is also about risks. If Fuller is healthy and some people can come in and get better, they'll be okay.

The Texans understand that in due time, the credit card bill on Deshaun Watson and Laremy Tunsil are coming. Hop already wanted to re-negotiate his deal.
Never miss the latest news from TexAgs!
Join our free email list