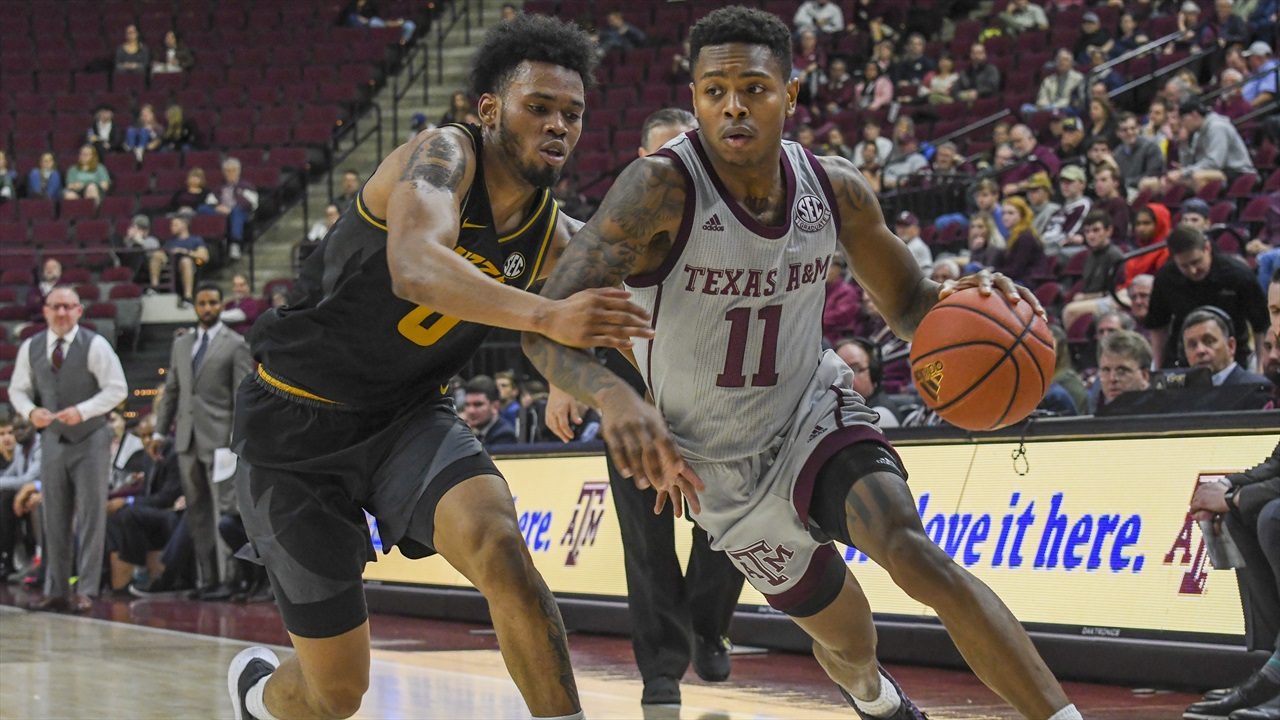 Photo by Lia Musgrave, TexAgs
Texas A&M Basketball
Aggies looking for third victory over Missouri in second round of SEC Tournament
---
NASHVILLE, Tenn. — The colors are still black and gold. The mascot is still Tigers. Three Smiths — not brothers — are still key players.
Still, No. 7-seed Texas A&M (16-14) is expecting to face a different Missouri (15-16) in the second round of the Southeastern Conference basketball tournament on Thursday at 6:00 p.m. on the SEC Network.
A&M already defeated Missouri 66-64 in Columbia and 68-51 at Reed Arena. However, those wins provide little comfort to A&M coach Buzz Williams, who anticipates a stronger opponent in the third encounter.
"We'll play a third different team … a team with many more weapons than we played in the first two games," Williams said. "I don't think we have played the best Missouri team that they have. I think that will be on Thursday."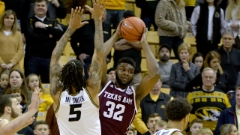 Denny Medley-USA TODAY Sports
In the first game, guards Mark Smith & Dru Smith and forward Mitchell Smith combined for 42 points and 22 rebounds, but forward Jeremiah Tilmon, who averages 8.2 points, did not play.
Mark Smith, who leads Missouri in 3-pointers with 53, did not play in the game at College Station, while Dru and Mitchell Smith accounted for just 13 points.
However, each of the Smiths scored in double figures, and Tilmon had eight points and nine rebounds as the Tigers closed the regular season with a rousing 69-50 victory over Alabama.
"They're just now catching their groove," Williams said. "They're a completely different team than the team we played the last time they were here."
Of course, the same can be said for A&M, which has won five of its last seven games. In that span, the Aggies have shot 41.6 percent (62 of 149) from 3-point range. Before that hot streak, the Aggies were shooting 25.7 percent (127 of 494).
Much of that success can be attributed to guards Savion Flagg and Wendell Mitchell. Flagg has hit 22 treys in the last seven games. Mitchell has hit 20.
Mitchell was scoreless in the first game against Missouri. He's hit in double figures in 10 of 13 games since, including 25 in a win over Arkansas last Saturday.
Mitchell had 12 in the second win over Missouri. Meanwhile, Josh Nebo had 18, Quenton Jackson had 16, and Emanuel Miller had 10.
"Early in the year, we were really confused," Miller said. "We were not sure who we were and what our identity was. Lately, we know what our identity is, what we have to do to succeed, and how hard we have to compete. We've been on a roll and just trying to use that momentum going into the tournament."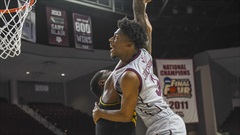 Lia Musgrave, TexAgs
Despite the improved shooting, the Aggies agree maintaining momentum starts on defense. A&M is tied for second in the SEC and 60th in the nation in scoring defense, allowing opponents 65.2 points per game.
A big key will be containing Missouri at the 3-point line and keeping the Tigers off the free-throw line. Missouri has converted 205 3-pointers and is ranked second in the nation in free throw percentage.
"We have to set the tone early," Miller said. "Let them know you're not going to get any easy shots. Every shot is going to be contested.
"The third game is going to be a testament to who fights the hardest."
The Aggies are also fighting to extend their season. They'd need to win four games to get into the NCAA Tournament. That's unlikely.
A win or two may enhance their chances of getting a spot in the National Invitational Tournament field.
Williams isn't overly optimistic but remains hopeful the Aggies can keep their season going.
"It's just the opportunity to be around those guys (for) another practice or four or a game," he said. "Because the camaraderie, the chemistry and the symmetry of what's going on is really special. Selfishly, I kind of hope it can last a little longer just so we can be around together."
Never miss the latest news from TexAgs!
Join our free email list
PRESENTED BY