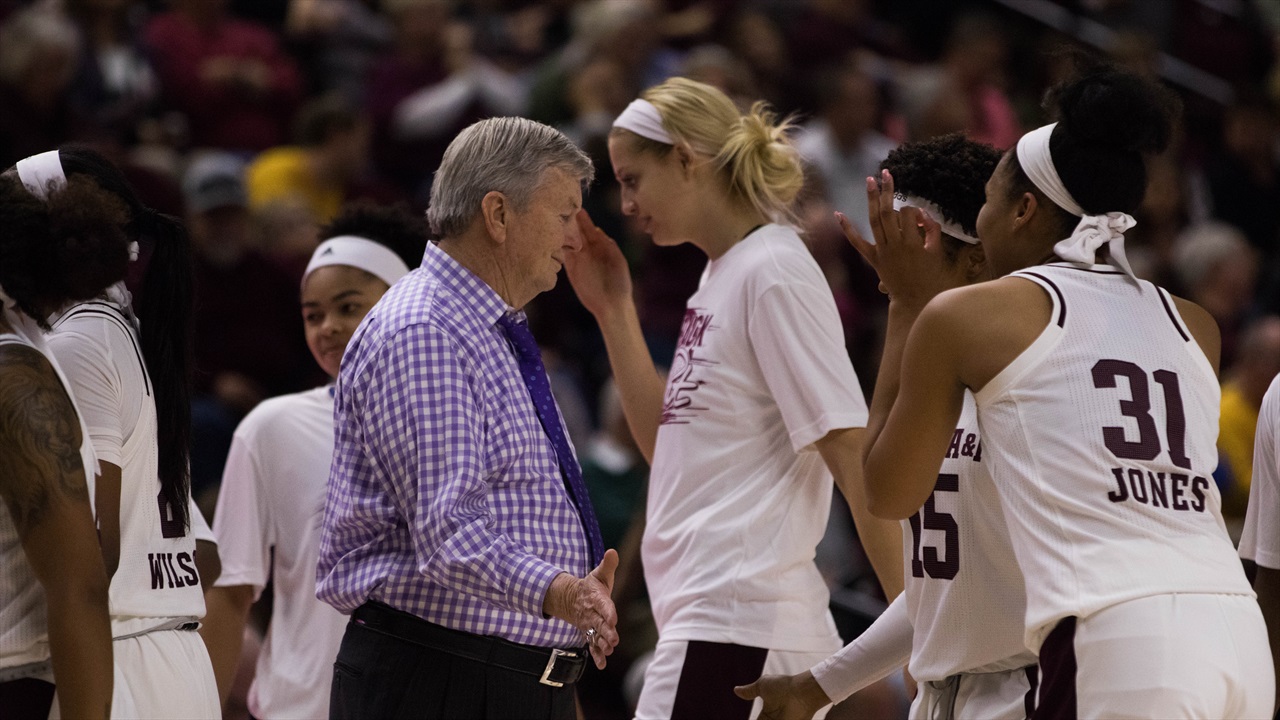 Photo by Angelina Alcantar, TexAgs
Texas A&M Women's Basketball
Aggies open up SEC tournament with disappointing 67-66 loss to Arkansas
---
They don't get more heartbreaking than that. The No. 15 Texas A&M Aggies (22-8) fell in the last eight seconds of the SEC Tournament quarterfinals to No. 25 Arkansas (24-7) on Friday 66-67, blowing a game-long lead and ending their shot to advance in the tournament semifinals.
The Aggies opened with a strong 12-0 run at the beginning of the first quarter and looked as if they had found their sweet spot. Even with Ciera Johnson benched early in the first quarter for the rest of the game with an evident sprain, the Aggies were able to masterfully defend the paint and keep Arkansas contained.
Chennedy Carter found her stride, putting up 17 points in the first half. At halftime the Aggies were up 38-26, SEC 1st team and Razorback Senior guard Alexis Tolefree was limited to just two points the whole first half, and Arkansas' FG shooting percentage was 23%.
At the start of the second half, Arkansas showed new energy and stormed back with a 10-2 run. Arkansas was able to twice come within one in the third quarter, and both times the Aggies were able to answer with runs of their own.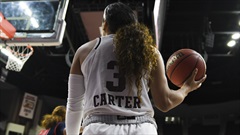 Jamie Maury, TexAgs
Arkansas senior center Kiara Williams put the nail in the coffin by drawing a foul from Chennedy Carter, cementing the Razorbacks' first lead of the game with two free throws with 0:08 left in the 4th quarter to put Arkansas ahead by one. Chennedy Carter and Aaliyah Wilson both missed their scrambled shots inside the paint, and Arkansas ran out the clock with the lead to advance to Saturday's semifinal matchup against No. 1 South Carolina.
Chennedy Carter led the Aggies with 23 points, just seven points shy of passing the school record as Texas A&M's all-time career scorer. Kayla Wells followed Carter with 19 points. N'dea Jones secured a double-double, tallying 10 points and 11 rebounds, her 18th consecutive game with double-digits in rebounds.
Post-game, Texas A&M coach Gary Blair expressed praise for his team's effort. "My kids played one heck of a ball game. We shot well enough. We missed some golden opportunities in the last quarter. We had put-backs not go in and had a couple costly turnovers. We know how hard we competed. We'll go down to the NCAA tournament and we will do our best to represent Texas A&M and the SEC."
Texas A&M awaits the release of the 2020 NCAA Championship bracket which will premiere Monday, March 16.
MESSAGE FROM OUR SPONSOR
Special thanks to 12th Man Technology for their sponsorship of all women's basketball content produced throughout the season at TexAgs.com! For the eighth consecutive year, all WBB content will be available to you for free!
Never miss the latest news from TexAgs!
Join our free email list
PRESENTED BY