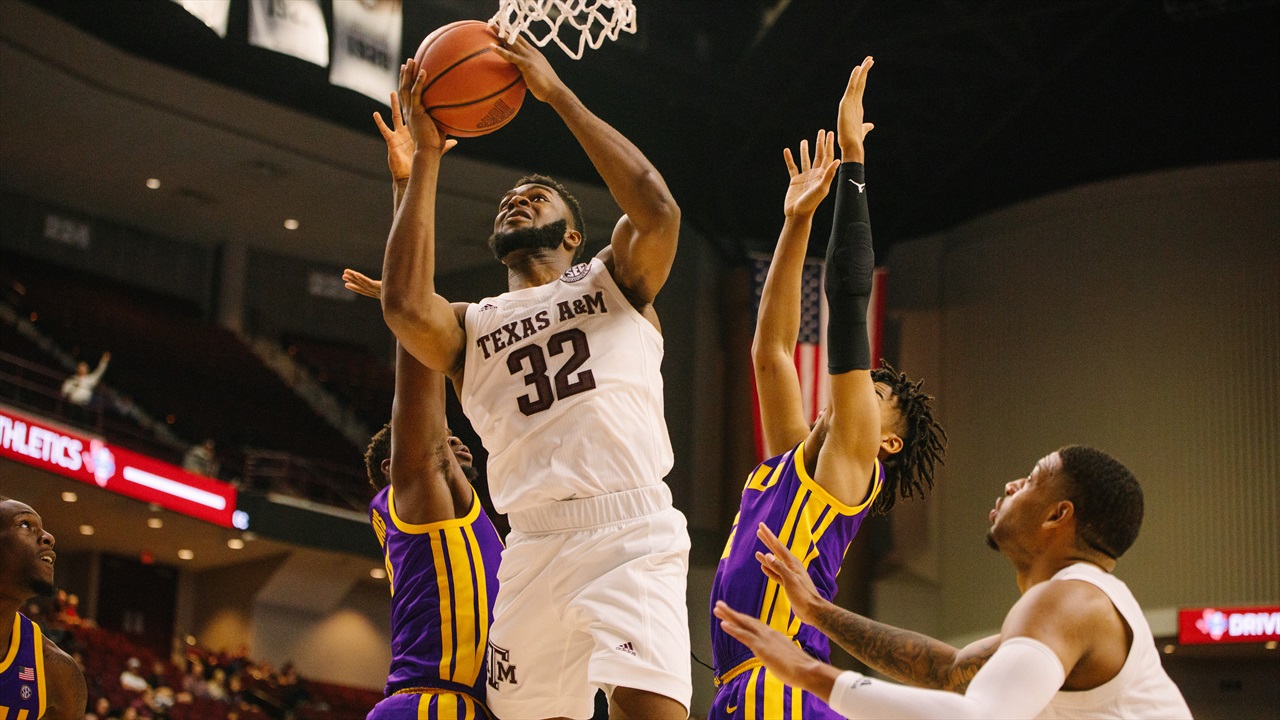 Photo by Rey Romo, TexAgs
Texas A&M Basketball
Controlling the glass is crucial for Texas A&M in rematch against LSU
---
A second chance to beat LSU may depend on Texas A&M's ability to prevent second chances.
Limiting offensive rebounds is a top priority for the Aggies (14-13, 8-7) when they square off with LSU (19-9, 10-5) on Saturday at 11 a.m. in Baton Rouge. The game will be televised on ESPN2.
Earlier this season, LSU turned 16 offensive rebounds into 25 second-chance points to escape Reed Arena with an 89-85 victory. The Aggies are well aware a different results on the scoreboard will likely require different results on the glass.
"They shot 60 shots (in the first game). Of the 31 they missed, they offensive rebounded 16," A&M head coach Buzz Williams said. "They got 16. We got 15. We can't absorb that number."
That means A&M's guards must help out big men Josh Nebo and Emanuel Miller by tracking down rebounds, especially on errant 3-point attempts.
"They shot 60 shots (in the first game). Of the 31 they missed they offensive rebounded 16. They got 16. We got 15. We can't absorb that number."
"Every time the ball is in the air, make it a fight to get the ball," junior guard Savion Flagg said. "With our defense, a lot of the bigs are rotating out, so Q (Quenton Jackson) and Chuck (Wendell Mitchell) have to box out a big most of the time. Just make it a fight. If you don't get the rebound, just make sure your guy doesn't get it."
Obviously, the Aggies must make a dramatic change to beat LSU. They have made several dramatic changes since the first encounter on January 14.
The Aggies have won three of their last four games. The only loss was a competitive 69-60 setback to No. 8 Kentucky last Tuesday.
Much of the season, the Aggies have struggled to score from 3-point range and the free-throw line. But in the last four games, A&M has averaged 73.3 points. They've shot 47.7 percent from the field, 43.5 percent from behind the arc and 77.2 percent at the foul line.
Perhaps most pertinent, though, they allowed just six offensive rebounds to Kentucky.
Williams admitted he waited quite a while to review the video of the first game against LSU because it was such a painful loss. A&M held a six-point lead with just under two minutes remaining.
However, he said the Aggies are better and more prepared than they were in mid-January.
"We had a six-point lead with, I think, two minutes and change. We just made some bad decisions, bad execution," Williams said. "In defense of our kids — all blame on me — they had not had any of those reps. If this, we do this. Critical turnovers. I think they got their 14th offensive rebound on a kick-out three at the very end of that game to send it into overtime. We just at that moment and time we had not practiced many late game-type situations. We were just practicing how to make it a game."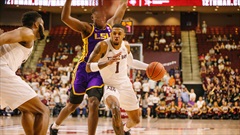 Rey Romo, TexAgs
Competitive games haven't been a problem for the Aggies of late. They defeated Georgia 74-69 at Reed, toppled Alabama 74-68 on the road, and in the second half, dominated Mississippi State 87-75 before challenging Kentucky.
Part of the reason for that surge is the play of Savion Flagg, who broke out of a shooting slump. Flagg has averaged 13.2 points and hit 17 shots from 3-point range in the five games.
"I felt like I was going to hit a run," Flagg said. "Just like last season, I kind of ended the season strong. It always comes back around. It was just a drought I was in. Just keep working, and everything is going to come back."
A&M needs Flagg and everyone else to continue their recent hot streak against LSU, which leads the SEC in field goal percentage (47.1) and is second in scoring average (80.3).
LSU guard Skylar Mays averages 15.9 points. Forwards Trendon Watford and Emmitt Williams both average just under 14 points. Guard Javonte Smart and forward Darius Days also average in double figures.
The Tigers have lost five of their last seven. But four of those losses were on the road, including a one-point loss to Auburn.
They suffered a narrow 79-76 loss to Kentucky in Baton Rouge on Feb. 18.
Whether or not LSU is slumping is up for debate. Flagg said he's not hoping to play a struggling opponent.
"We want everyone's best performance," he said. "We want to earn everything. We don't want anything given to us."
Never miss the latest news from TexAgs!
Join our free email list
PRESENTED BY