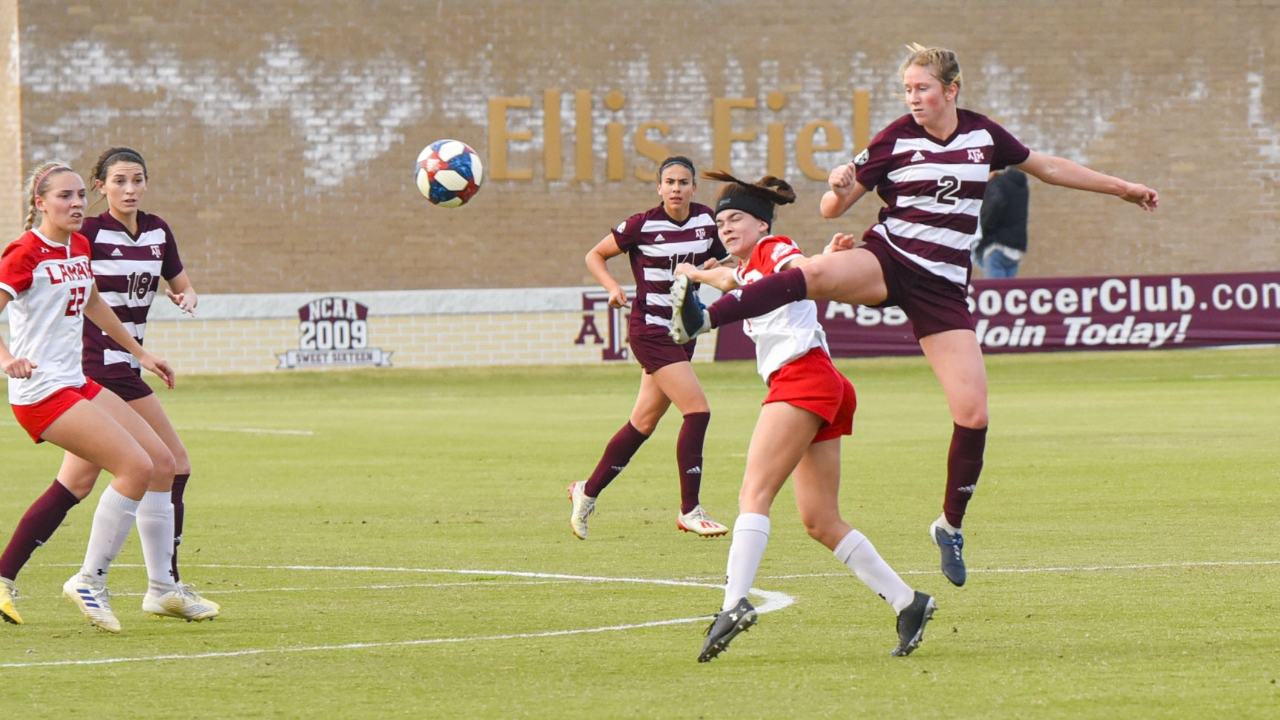 Photo by Anna Peterson, TexAgs
Texas A&M Soccer
Aggie soccer dominates in season opener, taking down Lamar 5-1
---
On a sport-filled Saturday in Aggieland, the Aggie women's soccer team rounded out a day of Aggie domination, defeating the Lamar Cardinals 5-1 in their spring season opener at Ellis Field.
Building off their 14-5-3 record this fall, the Aggies looked to create some momentum in the spring with their two new freshmen, midfielders Kate Colvin and Barbara Olivieri. However, it was the returners who started the scoring. In front of a sparse crowd, a corner kick by senior Jimena López set up a perfect header for junior defender Daria Britton to give the Aggies the early one-goal advantage.
The Aggies could not celebrate the goal for long. Less than two minutes after the score, Lamar, the reigning Southland Conference champions, drew even with an absolute strike from midfield, courtesy of junior Lucy Ashworth. After trading goals early, the Aggies were held from retaking the lead for most of the first half. Many possessions ended in scoring chances that came up empty, including a shot from senior Taylor Ziemer that went off the crossbar.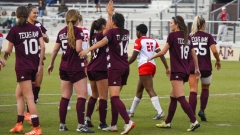 Anna Peterson, TexAgs
Holding the offensive edge early and maintaining it throughout the first half, the Aggies had yet another chance. A cross into the box from López seemed promising, but junior Tera Ziemer could not capitalize, hitting the left post instead of the back of the net.
With four minutes remaining in the first half, the Aggies made a strong offensive push with another corner kick, their sixth of the half. Junior midfielder Macie Kolb took the kick from the left side, as López knocked it in to regain the lead, which would give the Aggies a 2-1 halftime lead.
The Maroon and White came out of the locker room strong, continuing where they left off and extended their lead early in the second half. The next goal was thanks to another corner kick, taken by López and finished off by Tera Ziemer. Even with a two-goal lead, the Aggies were not done. With 33 minutes remaining, another corner kick taken by junior midfielder Macie Kolb found the back of the net, with Britton getting credit for the goal, building the lead to three.
Nearing the midpoint of the second half, a newcomer looked to contribute to the match. Olivieri took a foul just outside the box, which led to an Aggie free-kick from López. Although the free-kick did not result in a goal, it provided another corner kick on which the Aggies capitalized. It was the SEC All-Freshman Midfielder Katie Smith who found the back of the net, sealing the game for the Maroon and White.
The Aggies continue their spring season campaign next Saturday in Waco against the Baylor Bears at 6 p.m.
Never miss the latest news from TexAgs!
Join our free email list