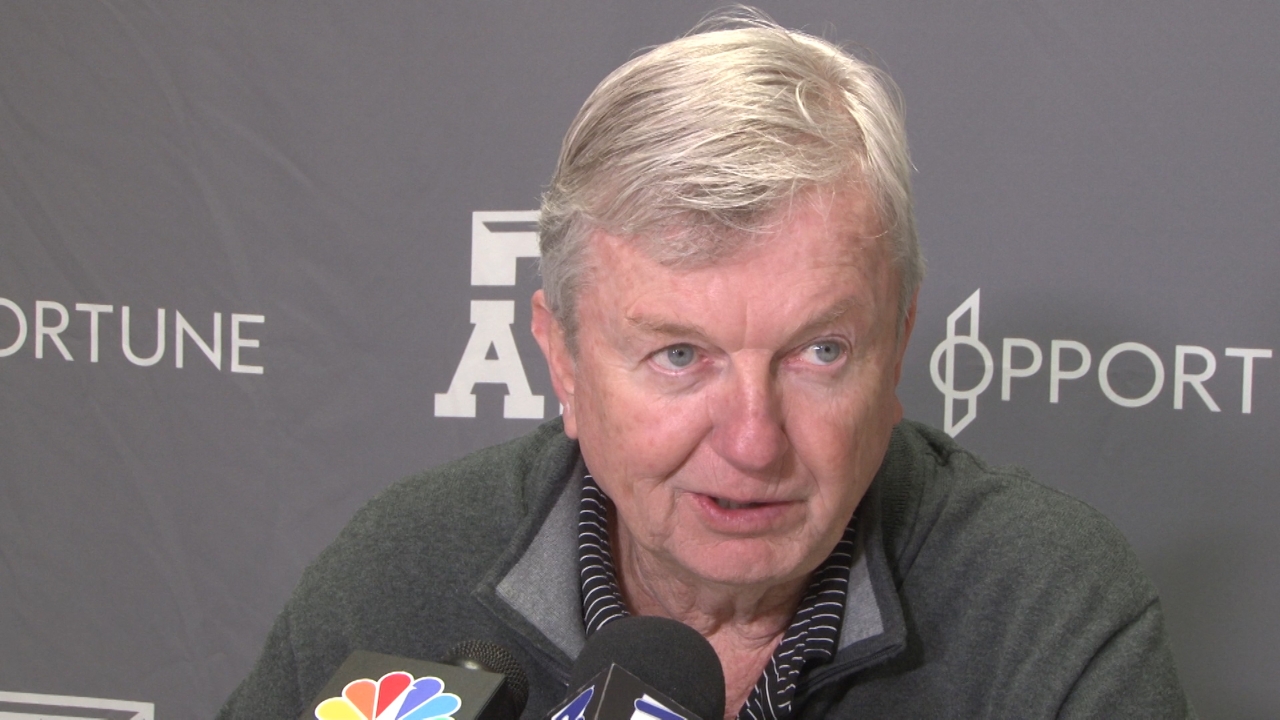 Gary Blair
Gary Blair (Radio)
Texas A&M Women's Basketball
Press Conference: Following Carter's return, Aggies preparing for stretch run
---
With All-American Chennedy Carter returning from an ankle injury that sidelined her for seven games, the Aggies are getting healthy and ready for their final four SEC games of the year. Gary Blair spoke to the media ahead of their matchup with Georgia.
---
Key notes from Gary Blair interview on TexAgs Radio
The 22-6 run against Vanderbilt — before we put Chennedy Carter in the ball game — said a lot about our kids, our zone and the shots we made. We're excited to have her back, but we're also excited about the team we have. Aaliyah Wilson and Shambria Washington were doing a great job running the show. It was a good refreshing game to get us ready for Knoxville.

We had three huge plays in the game. The last game at the half, Carter is on the bench because she had three fouls, and all of a sudden, Shambria Washington hits a three. Then in the 3rd quarter, we built up a lead, and Chennedy got the steal and scored to put us up six points going into the 4th quarter.

Cheah Rael-Whitsitt went in and made two free throws, and all of a sudden, we were on a life support system. Those plays were huge for us.

I'm not sure who the tallest team in the men's game is, but picture that on the women's side. Tennessee is long and athletic. We wanted to shoot mid-range shots, and that's what Chennedy was doing. She got a layup to relax us real quick. Chennedy is playing like Chennedy. She loves big moments, she's playing well, and she's setting her team up well.

Chennedy's just a baller. Just let her go because she rises to the occasion, particularly on better teams in the conference. She loves to play, and she hates to sit out. Chennedy is definitely a factor. The blessing of her being out gave us the ability to develop our other players.

You've got to realize it is hard to play a 40-minute ball game. You've got to have Jasmine Williams come and give us minutes when we have people in foul trouble, and Aahliyah Jackson gives us defense. When we had Anna Dremaine come in, she played well. She didn't have to score, but she just played well.

Georgia is a dangerous team. They've got to win three of their last four games to get to the tournament. This will be tough to win.

We went 23 of 28 from the free-throw line against the tallest team in America. We shot 17 more free throws. We were able to drive and draw fouls. We had to handle the pressure of shooting a free throw with thousands staring at us.

We're using N'dea Jones much more on offense now. When Cierra got in foul trouble, we tried to play her in the 5 position, but she is better when she is guarding a 3 or a 4. Right now, she is playing as well as any post player in the league.

We need to win three out of their last four, get to semifinals in the SEC tournament, and the seeding will take care of itself. We stay as a 5-seed because none of the 4-seed lost. People way behind us lost, and people way in front of us lost.

We have Senior Night on Sunday. Come out and honor those seniors, Ciera Johnson, Jasmine Williams, Cheah Rael-Whitsitt and our manager, Courtney Gallagher.
Never miss the latest news from TexAgs!
Join our free email list