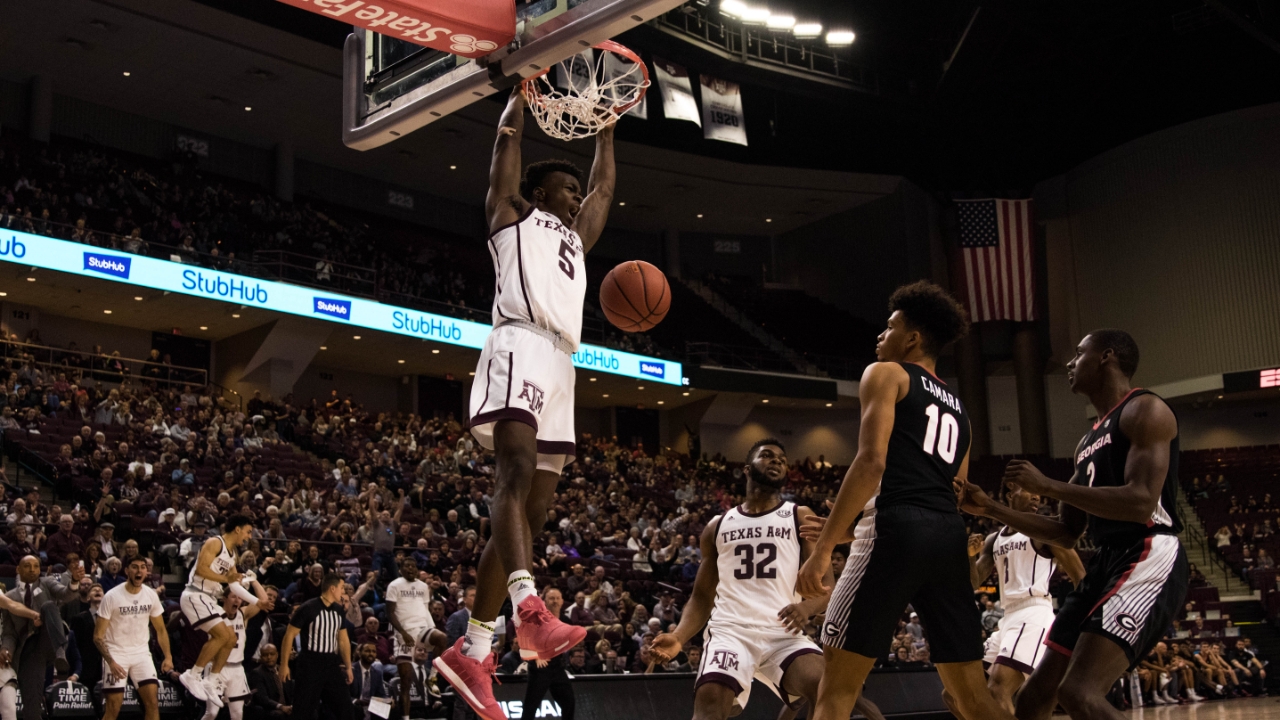 Photo by Angelina Alcantar, TexAgs
Texas A&M Basketball
Emanuel Miller's 21 points lifts Texas A&M past Georgia in hard-fought contest
---
After a challenging first half, Texas A&M coach Buzz Williams emerged from the locker room without his familiar sports coat and vest. Instead, he wore a black, long-sleeved T-shirt.
"Very unprofessional. I apologize. I try not to ever do that," Williams said. "I try to wear a vest so people won't ask me why I sweat."
The apology was totally unnecessary. Indeed, the Aggies seemed to draw inspiration from his perspiration.
A&M quickly erased a nine-point deficit in the second half and then made a series of clutch plays on offense, defense and at the foul line to capture a 74-69 Southeastern Conference basketball victory over Georgia before 7,106 at Reed Arena.
"He loves to compete. He's going to take the whole program that wants to compete with him."
The Aggies forced 14 turnovers in the second half and turned them into 24 points.
"That's his energy. You could just see it," said freshman forward Emanuel Miller said of his coach. "He loves to compete. He's going to take the whole program that wants to compete with him."
Miller posted a double-double with a career-high 21 points and 10 rebounds to lead five A&M players in double figures. Wendell Mitchell had 13, Josh Nebo netted 12, while Quenton Jackson and Savion Flagg had 11 each.
Forward Rayshaun Hammonds led Georgia (12-13, 2-10) with 15 points, and guard Tyree Crump had 11.
Star guard Anthony Edwards scored 29 points and 15 rebounds in an earlier 63-48 victory over the Aggies. This time he had more turnovers and fouls (4 each) than field goals and managed just six points.
"He's been sick somewhat, but he didn't have a good day," Georgia coach Tom Crean said. "He wasn't very aggressive today. He was very aggressive in the first game. He didn't move well without the ball and did not have great recognition of that."
The Aggies, who improved to 12-12 overall and 6-6 in SEC play by avenging the loss to the Bulldogs, got even in some odd ways.
They've often struggled at the free-throw line and 3-point line, yet in the pivotal final minutes, Jay Jay Chandler drilled a clutch 3-pointer, Wendell Mitchell converted a three-point play that was the first of seven free throws in the final 1:22.
The Aggies also forced a season-high 21 turnovers — their most since hitting the same number against Florida Gulf Coast in 2015 — which led to 26 points.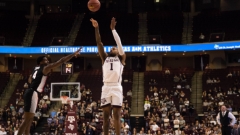 Angelina Alcantar, TexAgs
The most vital of them came with 1:27 remaining and the Aggies holding a precarious 64-63 lead.
Hammonds got the ball under the basket and was primed to go up for a dunk or layup. Instead, Mitchell slapped the ball away. That started a fast break that Mitchell finished with a layup and a foul. He hit the free throw for a 67-63 lead.
On Georgia's ensuing possession, Chandler stole the ball from point guard Savhir Wheeler to launch another break, which Flagg ended with a dunk.
"Any time we can score points in transition, it has to come off a steal," Williams said. "Transition off a miss will not happen for the Aggies this season. But off a steal, if we can shoot a layup or a dunk, that's manna from Heaven for us."
Georgia eventually moved within 71-67 on a Wheeler layup with 44.1 seconds to play.
But Miller hit a pair of free throws with 36.5 seconds to end any threat of a Bulldogs' late rally. All the rallying would be done by the Aggies.
Georgia led by as much as 12 points, 38-26, after Crump drilled a 3-pointer from the corner with 1:21 remaining in the first half.
A&M rallied to forge a 40-40 tie on when Miller scored an alley-oop dunk with 15:05 remaining in the game.
Georgia reclaimed a 48-42 lead with 11:22 to go, but A&M scored on its next three possessions to pull even.
The Aggies didn't take the lead until Miller converted a pair of free throws for a 61-59 edge with 3:47 left. They never again lost their lead, though they certainly had to sweat out clinching the win.
Never miss the latest news from TexAgs!
Join our free email list