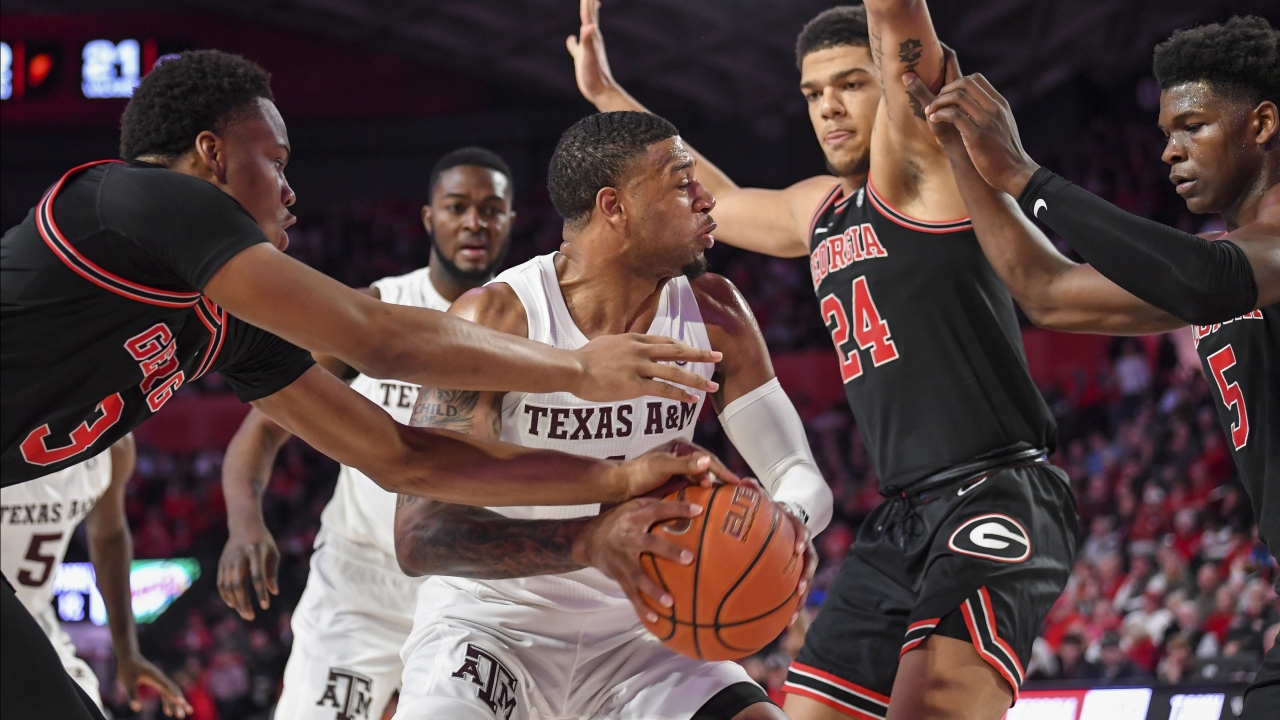 Photo by Dale Zanine-USA TODAY Sports
Texas A&M Basketball
Matching UGA's energy, defending Edwards key for Aggies on Saturday
---
Love is said to be better the second time around.
On the day after Valentine's Day, Texas A&M is hopeful its defense on Georgia guard Anthony Edwards is, too.
The Aggies (11-12, 5-6) are seeking to end a two-game Southeastern Conference basketball skid when they face Georgia (12-12, 2-9) at 2:30 p.m. on Saturday at Reed Arena.
Accomplishing that goal will require preventing Edwards from accumulating as many goals as he did in a 63-58 win over the Aggies on Feb. 1.
In that game, the 6-foot-5 freshman — who is projected by some as the first selection in the next NBA draft — converted 10 of 21 shots, including four from 3-point range, en route to a dominant 29-point, 15-rebound performance.
"We didn't slow him down off the catch or off the bounce. He had 15 rebounds. We were at a different level — not in a good way," Texas A&M coach Buzz Williams said. "I don't think one player can stop him or any other elite level guard because they're so crafty with the ball, and they can gain space.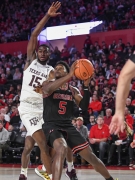 Dale Zanine-USA TODAY Sports
So, it's not just who's guarding the ball. It's the next two defenders relative to the gap. Obviously, we didn't do that at Georgia."
The Aggies didn't do a lot in that first encounter. They shot just 32.2 percent from the field and only 55.6 percent at the foul line. They allowed 15 offensive rebounds and committed 17 turnovers.
Wendell Mitchell scored 13 points, and Andre Gordon had 10, but leading scorers Josh Nebo and Savion Flagg combined for just seven.
No doubt, A&M must play better in several areas. Still, containing Edwards, who averages 19.5 points, remains the top priority.
"You can't give a player as talented as he is at scoring the ball vision," Williams said. "Because now he can score and make the game easier for someone else."
The Aggies will work hard to ensure nothing comes easy for Williams or the Bulldogs other top players like Rayshaun Hammonds and Sahvir Wheeler.
"They've got a bunch of players that love to get up and down the court and score in transition," guard Jay Jay Chandler said. "We've got to close out shots better. We've got to rebound. We've got to be in the driving gaps they love to go in. We've just got to focus on defensive principles on everybody. Not just on one person.
"Edwards ended up getting hot (in the first game). Once he got in the groove, all the other players just started going off the energy he was bringing."
The Aggies must match that energy, especially on the defensive end. They're not likely to prevail in a high-scoring contest.
A strong defensive effort could result in a victory, which would even A&M's season and conference record and would provide a significant step toward a first-round bye in the SEC Tournament.
"The next game coming up is a huge game to get back on track," Nebo said. "Every game is important, especially this one against Georgia. It's a good opportunity to come back and avenge the last game we lost to them."
The Aggies would love to get even the second time around.
Never miss the latest news from TexAgs!
Join our free email list
PRESENTED BY