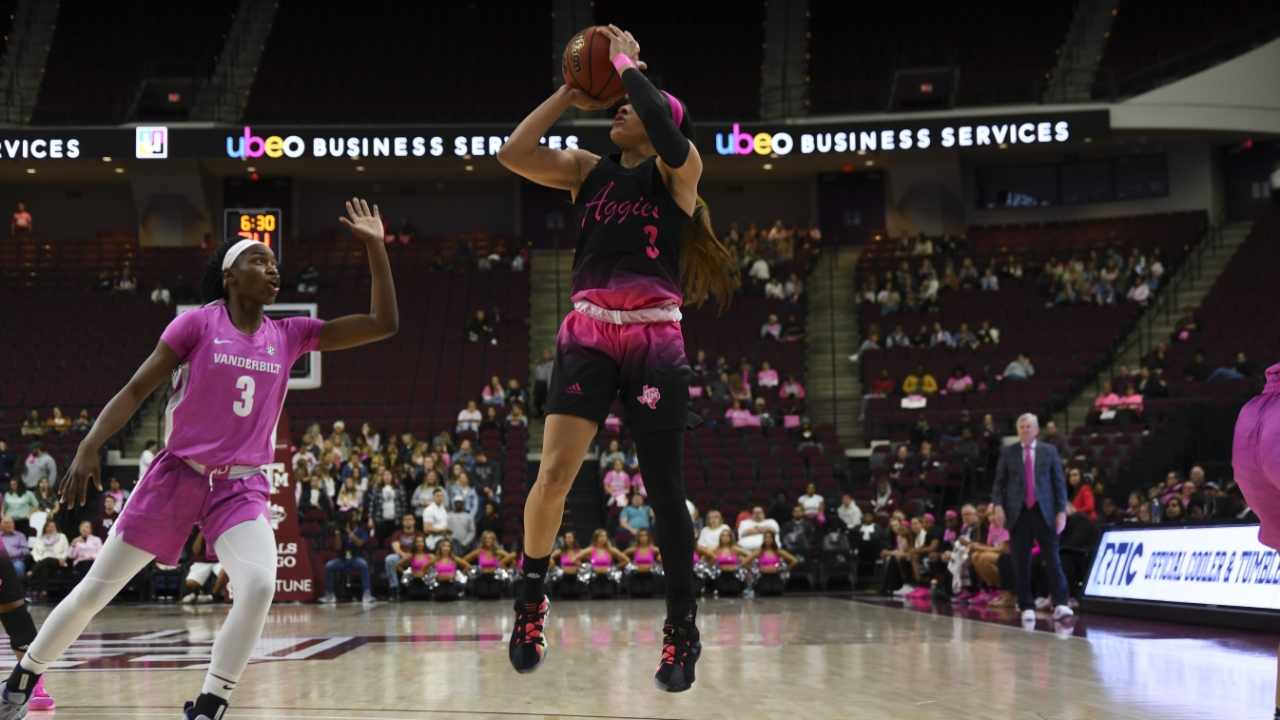 Photo by Jamie Maury, TexAgs
Texas A&M Women's Basketball
Carter posts 18 points in her return as the No. 16 Aggies dominate Vanderbilt, 74-53
---
On Thursday evening, the No. 16 Texas A&M Aggies (7-4, 19-5) brought the energy for BTHO breast cancer night and cruised past the Vanderbilt Commodores (3-8, 13-11) 74-53.
"When you reverse the basketball against a zone, good things are going to happen," says Coach Gary Blair. "We were doing that and we've got good three-point shooters, as you've noticed when they went man in the second half. Instead of trying to prove it, we were just very selective because we felt like we could hurt them in different ways."
Texas A&M's starting five came out with a stunning performance, shooting 85% in the first quarter with 4 threes and a 22-4 lead. It's not every day that the 6th man leads in points, but tonight was special as Gary Blair reintroduced the SEC's most explosive scorer to the home crowd.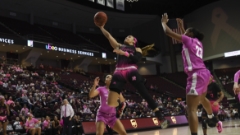 Jamie Maury, TexAgs
Chennedy Carter came off the bench late in the first quarter to make her first return since her ankle injury. Carter did what she does best: make buckets. Despite only coming out the bench for 21 minutes, she still managed to lead all scorers - dropping 18 points on Vanderbilt. Carter's return sent shockwaves in Reed Arena. The stadium erupted with excitement when she scored her first jumper of the game in the first quarter.
"I think she played within the flow of the offense very well," says Coach Blair. "She shared the ball, she hit her mid-range game instead of constantly attacking the basket and putting that ankle at risk."
Shambria Washington, Aaliyah Wilson, and Kayla Wells built momentum for the offense at the start of this game, by hitting several threes. Early on, Vanderbilt failed to contest any of these outside shots but they adjusted their defense soon after this rapid shooting translated to an 18 point lead in the first quarter for A&M.
With 17 points and 12 rebounds, N'dea Jones celebrates her 12th consecutive double-double. Jones remains the only player in the SEC to record a double-double every conference game.
Jones touched on how she felt, bouncing back from two losses, "Really good. We really needed this one. I think we worked on us a lot this game."
Gary Blair explains what this night meant for him and how it was more than just a win.
"The cause of breast cancer awareness is pretty special. When we went out of the tunnel at halftime, and all of our breast cancer survivors were high fiving our kids all the way through, the last one was Coach Starkey's wife. Tonight was a big event."
The Aggies will now gear up to travel to Knoxville, Tennessee to play on Sunday at 2:00 p.m.
MESSAGE FROM OUR SPONSOR
Special thanks to 12th Man Technology for their sponsorship of all women's basketball content produced throughout the season at TexAgs.com! For the eighth consecutive year, all WBB content will be available to you for free!
Never miss the latest news from TexAgs!
Join our free email list
PRESENTED BY