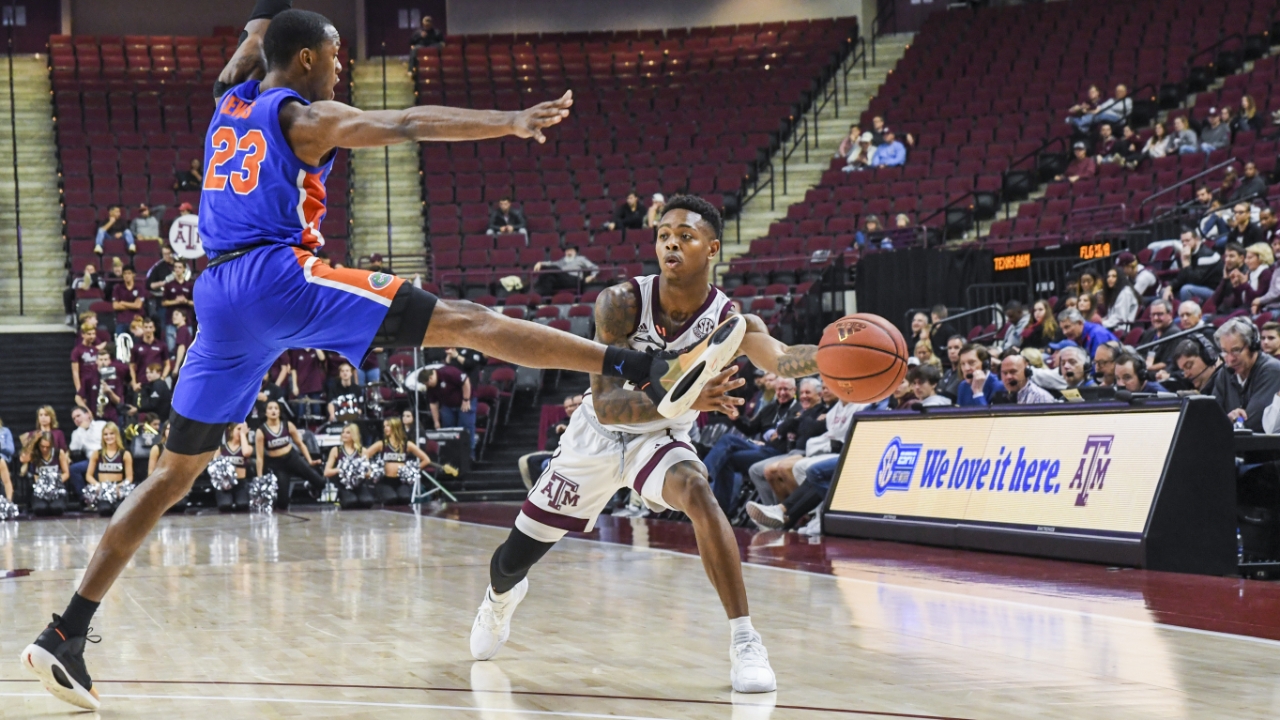 Photo by Lia Musgrave, TexAgs
Texas A&M Basketball
Disastrous second half plagues Aggies in 78-61 loss to Florida at Reed Arena
---
Three months into this basketball season it's become crystal clear Texas A&M has specific criteria to win.
The Aggies must defend the 3-point line, limit offensive rebounds, shoot a high percentage and/or gets more shots than their opponent.
Based on the final score in a 78-61 Southeastern Conference loss to Florida on Wednesday, it was just as crystal clear the Aggies failed to check any of those proverbial boxes.
A&M (11-12, 5-6) was particularly ineffective in a disastrous second half in which a competitive contest became a complete conquest.
In that decisive second half, the Aggies shot 34.8 percent from the field, allowed more offensive rebounds (8) than they totaled (7) and surrendered four treys.
"(At the) 16 to eight-minute mark it's getting away from us," A&M coach Buzz Williams said. "Burn every time out. Try every player. Run every play. Just trying to gain some level of traction.
"The thing that hurt us the most is they missed 25 balls (field goal attempts) and rebounded 14 of the 25. That's hard for any team to overcome when the opponent's offensive rebounding percentage is higher than your defensive rebounding percentage."
Overall, Florida (15-9, 7-4) had 36 boards to A&M's 20, shot 51.9 percent, hit a dozen 3-pointers and limited the Aggies to 42.6 percent shooting (20 of 47).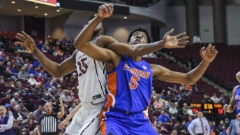 Lia Musgrave, TexAgs
"For us to come in here and score 78, obviously, we played well offensively," Florida coach Mike White said. "With this current team, we've struggled at times, especially on the road. That's about as well as we've played."
A&M freshman forward Emanuel Miller and Josh Nebo played well but did not get a lot of support. Miller led A&M with 19 points, Nebo had 12 and Savion Flagg broke out of a five-game slump with 11 points.
Nebo and Miller did a nice job inside against Florida post Kerry Blackshear, who last season starred for Williams at Virginia Tech. Blackshear got in early foul trouble and finished with just eight points.
However, guards Andrew Nembhard and Noah Locke compensated with 24 and 21 points, respectively. They combined for eight triples.
The first half offered no indication the Aggies would become victims of a blowout. Although they allowed Florida eight goals from 3-point range and only converted 6 of 12 free throws, the Aggies trailed just 37-34 at the break.
They trailed just 39-37 after Emanuel Miller lofted a 3-pointer from the top of the key about a minute and a half into the second half.
But their decline began soon afterward. Florida outscored A&M 8-2 after Miller's trey. The Aggies did not add another field goal until Miller hit a layup seven-and-a-half minutes later.
Florida capitalized and steadily added to the margin that peaked at 23 points, 77-54, with 2:26 to play.
"During those times we've got to stay disciplined and really focus in on us and not worry much about other teams," Miller said. "I think down the stretch we just have to execute our plays and continue playing Texas A&M basketball. That's us flying around, getting stops and doing anything we can do to win."
Never miss the latest news from TexAgs!
Join our free email list