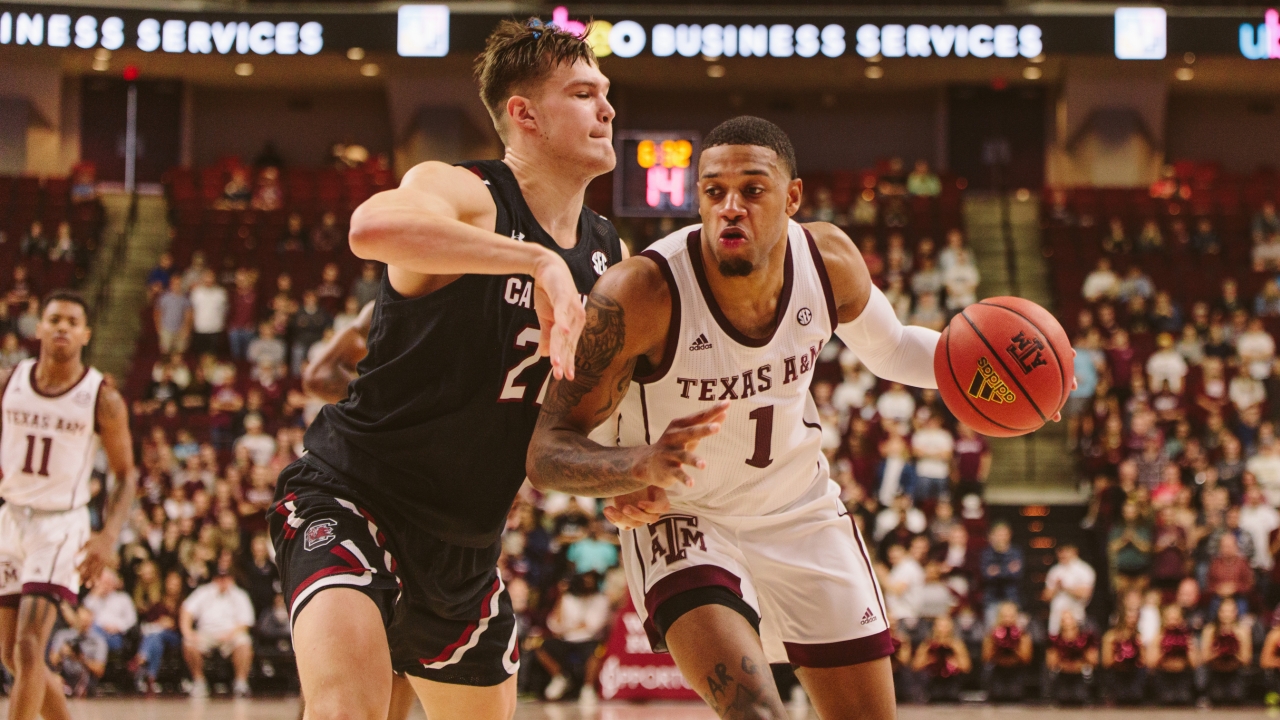 Photo by Rey Romo, TexAgs
Texas A&M Basketball
A&M's goal in second meeting with South Carolina: Don't get 'punked'
---
There's a list of items Texas A&M must accomplish to avoid a repeat of its 81-67 basketball loss to South Carolina three weeks ago.
The Aggies must defend the 3-point line more effectively, improve their shooting, limit second-chance points, avoid turnovers and rebound much better.
A&M coach Buzz Williams has a more succinct goal for the Aggies (11-10, 5-4) when they face South Carolina (13-9, 5-4) on Saturday at noon in Columbia.
"We can't get punked. That would be words our players would use. They punked us,"
"We can't get punked. That would be words our players would use. They punked us," Williams said. "If you play for coach (South Carolina's Frank Martin), you're going to have to fight. And we didn't fight. They got 45 percent of the balls they missed on the offensive glass. That's being punked.
"They beat us and bullied us because they were tougher than us. They played harder than us, and they didn't give us an inch in any regard on either end of the floor."
Obviously, Williams wasn't taking it easy on the Aggies. He's counting on them to have the same approach against the Gamecocks.
That's required to dramatically change some of the numbers in that first meeting. South Carolina tied a school-record with 16 goals from 3-point range. A lot of those were on second chances. The Gamecocks grabbed 14 offensive rebounds and 38 overall.
Junior guard Jair Bolden scored 19 points, sophomore guard Justin Minaya had 18, and freshman guard Jermaine Couisnard had 17. They combined for a dozen triples.
Meanwhile, A&M hit just three treys, managed just 27 rebounds and shot just 41 percent from the field. Josh Nebo had 18 points but didn't get a lot of help inside the perimeter.
"We obviously know that we did not play well in that game," junior guard Savion Flagg said. "We can't do that again, or the same result will happen. If we go in with the same mentality of the Tennessee (a 63-58 win) game or the Missouri game (a 68-51 win), we'll be fine with that kind of fight and confidence."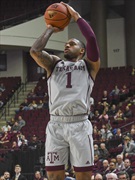 Lia Musgrave, TexAgs
Flagg had eight points in that loss to South Carolina. In fact, he's scored in single digits in five of the last six games.
But it was at this point last season when Flagg went on a run and averaged almost 20 points over the final nine games. The Aggies are hopeful he can close this season in a similar fashion.
"Coach Buzz always says true confidence only comes from your work. I'm just going to believe in that and keep working," Flagg said. "I can be a lot more aggressive. But that goes to the work. You can't be aggressive if you're not confident in yourself."
Williams, for sure, hopes Flagg, who remains A&M's second-leading scorer with a 10.0 average, can get on another roll.
"Maybe he'll do the same thing," Williams said. "That would be great. Anybody that can score more than six points for us … we'll be excited. So, if it's deja vu, and it's the Eagles got back together, and it's Hell Freezes Over reunion tour for Sav, we're happy."
If not? Well, the Aggies can still be happy if they don't get punked.
Never miss the latest news from TexAgs!
Join our free email list