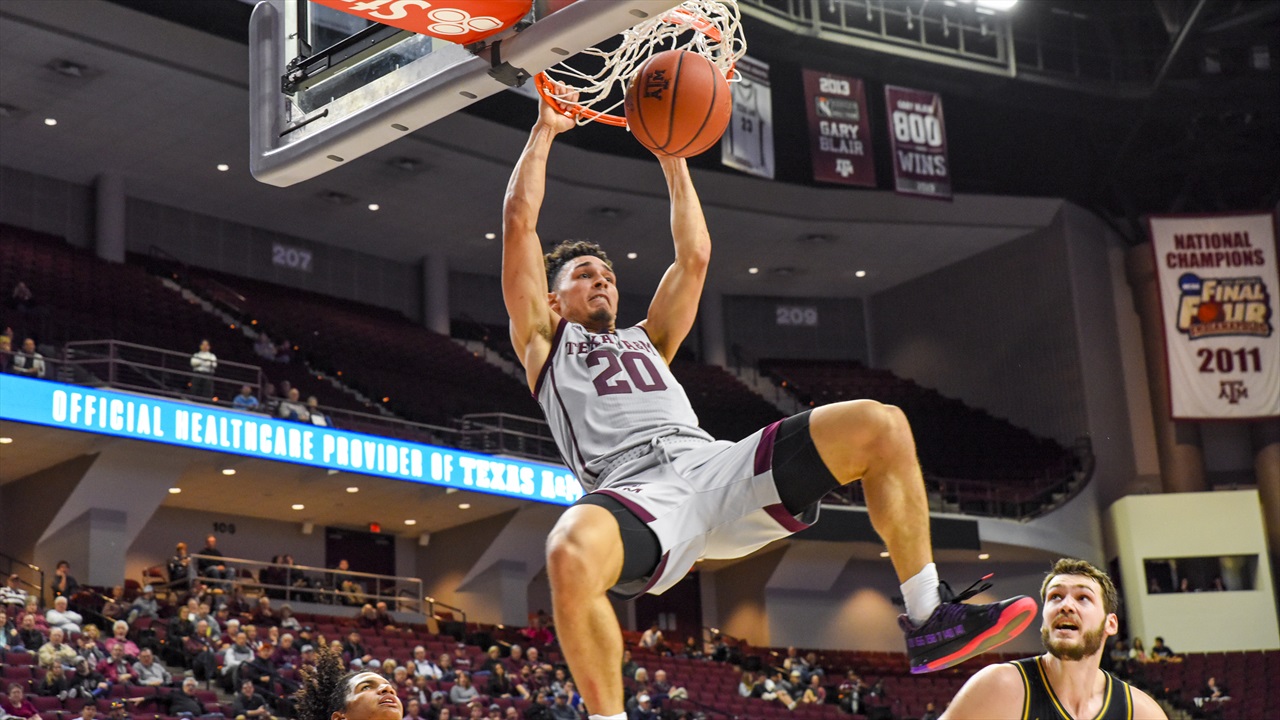 Photo by Lia Musgrave, TexAgs
Texas A&M Basketball
Flair and style points on display as Texas A&M defeats Missouri, 68-51
---
Style points usually aren't a priority for Texas A&M. Typically, any points are prized by the offensively-challenged Aggies, whether with flair or not.
But on Tuesday night in the second half, A&M scored seemingly at will, frequently at the free-throw line and even closed with a little pizzazz.
Wendell Mitchell ignited a break with a steal in the last minute. He purposely tossed the basketball off the backboard so trailing Quenton Jackson could snatch the rebound and throw down a thunderous dunk to climax a 68-51 Southeastern Conference victory over Missouri on Tuesday night at Reed Arena.
Although that was the last of four crowd-thrilling dunks that commanded attention, the Aggies followed coach Buzz Williams' formula to raise their record to 11-10, 5-4 at the halfway point of SEC play.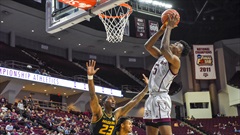 Lia Musgrave, TexAgs
"When we play with incredible spirit (and) togetherness, when we're an incredibly hard-playing team, when we at least give ourselves a chance by not having a high turnover rate, by not getting obliterated on the offensive glass we can skew the numbers offensively," Williams said. "If we can get fouled and get some free throws."
The Aggies accomplished all those goals against Missouri (10-12, 2-7).
A&M limited Missouri to 30.6 percent shooting and forced 17 turnovers. The Aggies also held a whopping 49-30 edge in rebounding, which included 23 offensive boards. They parlayed that into 22 points off turnovers and 20 second-chance points. They also capitalized on 32 Missouri fouls by converting 25 of 37 free throws.
The Tigers were without injured guard Mark Smith, who'd scored 19 points in a 66-64 loss to A&M in Columbia on Jan. 21. In his absence, they were led by forward Mitchell Smith with nine points and guard Xavier Pinson with eight.
Josh Nebo led the Aggies with 18 points. Jackson had 16, while Mitchell had 12, and Emanuel Miller notched a double-double with 10 points and 13 rebounds. Nebo's resurgence was especially significant because he'd managed just 17 points in the three previous games combined.
"The past few games, I've been kind of non-existent," Nebo said. "I kind of handled it the right way. I've been trying to stay even keel and handle failure the same way I handled success and keep working. Eventually, it would come back, and I'd figure it out."
"We need (Nebo) to get touches. We need him to be borderline dominant at the glass"
Williams acknowledged Nebo's production is not only welcomed but almost required for A&M to win.
"We need him to get touches," Williams said. "We need him to be borderline dominant at the glass. We need him to shoot as best a percentage as possible from the line. It changes our team."
The Aggies absolutely appeared changed from the team that fell at Georgia 63-48 last Saturday.
As is often the case, they started slow but took a 23-14 lead on Andre Gordon's spectacular alley-oop dunk of a Savion Flagg pass with 1:36 remaining in the first half.
Missouri whittled away at the margin in the second half and pulled within 33-31 on a pair of Dru Smith free throws.
But Miller scored a dunk to launch a 9-0 run that also included a Jackson breakaway dunk. The run was capped with Jackson drawing a technical foul while trying to add another breakaway dunk. He converted 3 of 4 free throws to boost A&M to a 43-31 lead with 11:37 left.
Missouri got no closer than eight points the rest of the way. The Aggies protected the lead by converting 18 of 26 free throws in the second half.
Never miss the latest news from TexAgs!
Join our free email list