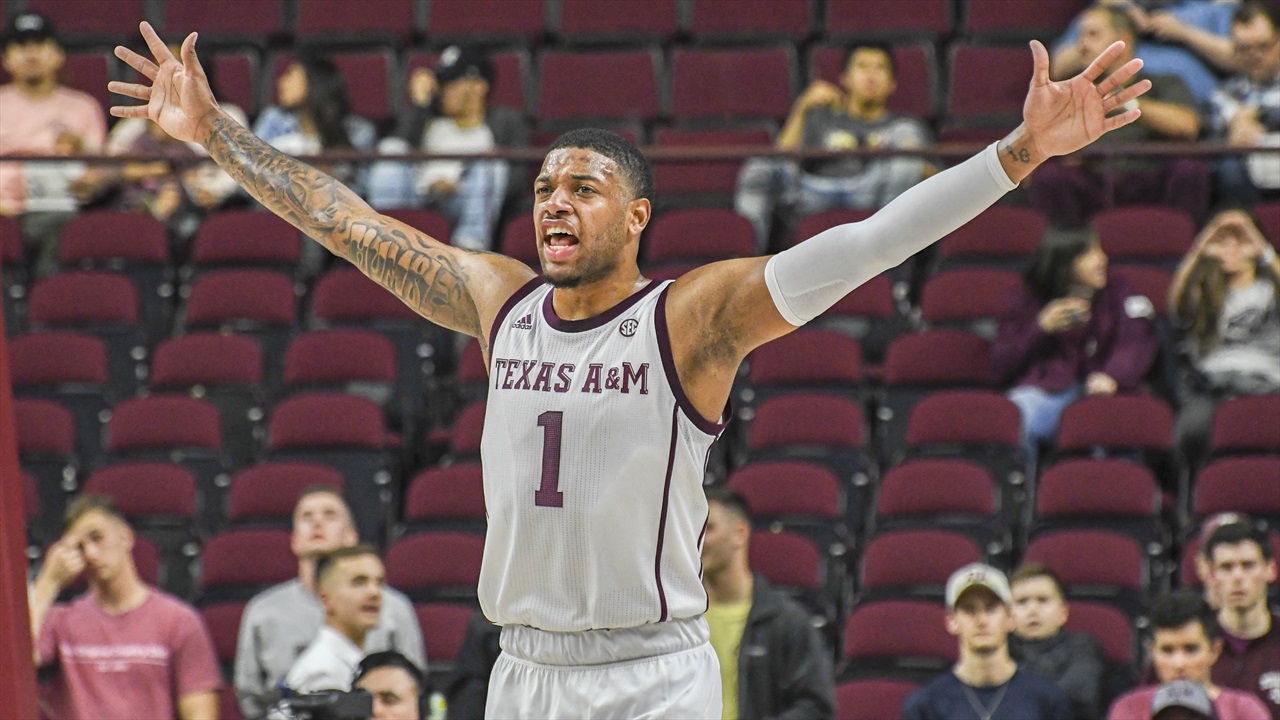 Photo by Lia Musgrave, TexAgs
Texas A&M Basketball
Eyeing a sweep of Missouri, Aggies must get the fire started early
---
Texas A&M basketball games are like an episode of Naked and Afraid. The Aggies can be successful only if they can get a fire started.
When playing with a fiery intensity, the Aggies can scape out a victory — as they did against Tennessee, 63-58, last week.
If they cannot ignite that spark, the Aggies just get burned, as was the case in a 63-48 loss to Georgia on Saturday.
"If we play with incredible fire, we will have a chance to win," A&M coach Buzz Williams told TexAgs Radio on Monday. "The games do not differ based on locale. The opponent doesn't matter. What we have to figure out is how we can bring it."
Therefore, the Aggies (10-10, 4-4) know what is needed when they face Missouri (10-11, 2-6) on Tuesday night at 8:00 p.m. in a Southeastern Conference clash at Reed Arena.
"The games do not differ based on locale. The opponent doesn't matter. What we have to figure out is how we can bring it."
Alas, knowing what is needed to win does not always result in doing what is needed to win.
Sometimes, the Aggies seem to light that emotional fire with a blow torch. Sometimes, they seem to be rubbing sticks together.
"We have been consistently inconsistent," Williams said. "That's what we've got to solve. We know what it is. That's not a character trait that you want to have."
A&M demonstrated the appropriate fire in a 66-64 victory over at Missouri on Jan. 21. The Aggies limited Missouri to 30 percent shooting from the field, forced 13 turnovers and had just two fewer rebounds.
The Aggies led by nine points with 1:30 to play but had to survive a late rally to escape with the victory.
Mark Smith scored 19 points, and Dru Smith had 18 for Missouri in that game. Mark Smith hit five times from behind the 3-point arc, including twice in the Tigers' late rally.
A&M countered with 45.8 percent shooting as Josh Nebo and Savion Flagg each had 14 points and combined to make 9 of 15 shots (60 percent).
However, since then, Flagg has managed just 14 points and has shot 20 percent (5 of 25). That includes 0 of 8 from 3-point range.
Meanwhile, Nebo has been handcuffed by sagging defenses. He's only attempted just eight shots and scored 17 points in the last three games. He had just four points in the win over Tennessee and only two against Georgia.
"We need Josh Nebo to get going," Williams said. "In neither game (Tennessee and Georgia) was Nebo good. He carries a lot of the burden for us offensively. In defense of him, I don't know if he has ever had to be 'the guy.' That's hard to do over a long period of time and in two road games in-a-row. He was not good, just like everybody else was not good (last) Saturday."
Never miss the latest news from TexAgs!
Join our free email list
PRESENTED BY