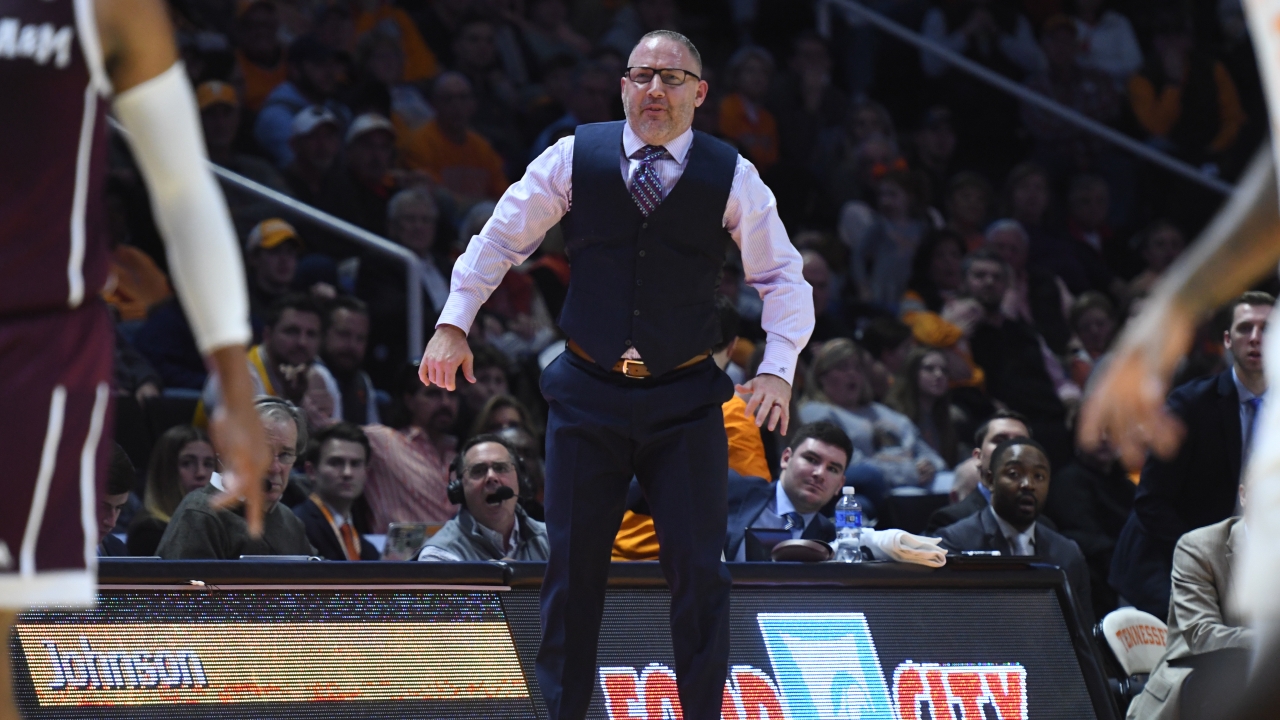 Photo by Randy Sartin-USA TODAY Sports
Texas A&M Basketball
Buzz Williams analyzes 1-1 road swing, emergence of Jonathan Aku
---
Key notes from Buzz Williams interview
It was the first week since we have been here that we had two road games in the same week. It was coming off what I thought was the lowest energy performance when we played Oklahoma State. I thought our response - who we were, our competitiveness, our spirit - was as good as I have seen in a long, long time. Our execution wasn't the best, but our togetherness and the competitive spirit and the energy we played with as a group was easily the best since we've been here. The kids felt it from the beginning. They were all on the same page.

I had never played at Tennessee, and I had never been there. Easily one of the top 5 facilities in the country. Incredible support. It was really nice. That was a very good win for our program in many respects.

Prep work on Thursday and Friday was good. Shoot around on Saturday morning was just okay. We were just okay in the first half. We allowed them to get too much, and we were too loose with the ball. In the second half, I burned all of my timeouts, trying to keep it to see if we could breakthrough. We never could. We didn't play with the energy required. Seventeen turnovers - that's no good. We got outrebounded by ten. A lot of the things that are important to us to win, we did not do.

I have to figure out how to help them. It's a good thing we know the answers to the test before we take the test. If we play with incredible fire, we will have a chance to win. The games do not differ based on locale. The opponent doesn't matter. What we have to figure out is how we can bring it. Thus far, we have improved dramatically since Christmas. We're 4-4 in the SEC, and that's a bigger deal than I think it is. To be 4-4 in the first week of February is good.

We have been consistently inconsistent. That's what we've got to solve. We know what it is. That's not a character trait that you want to have.

We need Josh Nebo to get going. I thought Jonathan Aku was tremendous at Tennessee – 7 offensive rebounds. I think Aku played 14 or 15 minutes. In neither game was Nebo good. He carries a lot of the burden for us offensively. In defense of him, I don't know if he has ever had to be 'the guy.' That's hard to do over a long period of time and in two road games in-a-row. He was not good, just like everybody else was not good on Saturday.

I think Aku and Emanuel Miller have come a long way. We've been so reliant on Emanuel and Andre Gordan from the start. It's okay that they're getting beat up and playing a lot of minutes right now. Two or three years from now, this experience is going to allow them to be a lot better.

Nebo is whipping Aku every day. When you're playing Josh Nebo every day, you have no choice but to improve. He played consecutive minutes this weekend, and I couldn't take him out because he was getting rebounds on every other possession. The team was so excited for Jonathan. For his career, this was a really good week.

Against Missouri this week, we'll have to play with the same energy we did in the second half against them on the road earlier in conference play. That is something that I think we'll remember where we were at during halftime and how that game transpired. They are similar to us.
Never miss the latest news from TexAgs!
Join our free email list