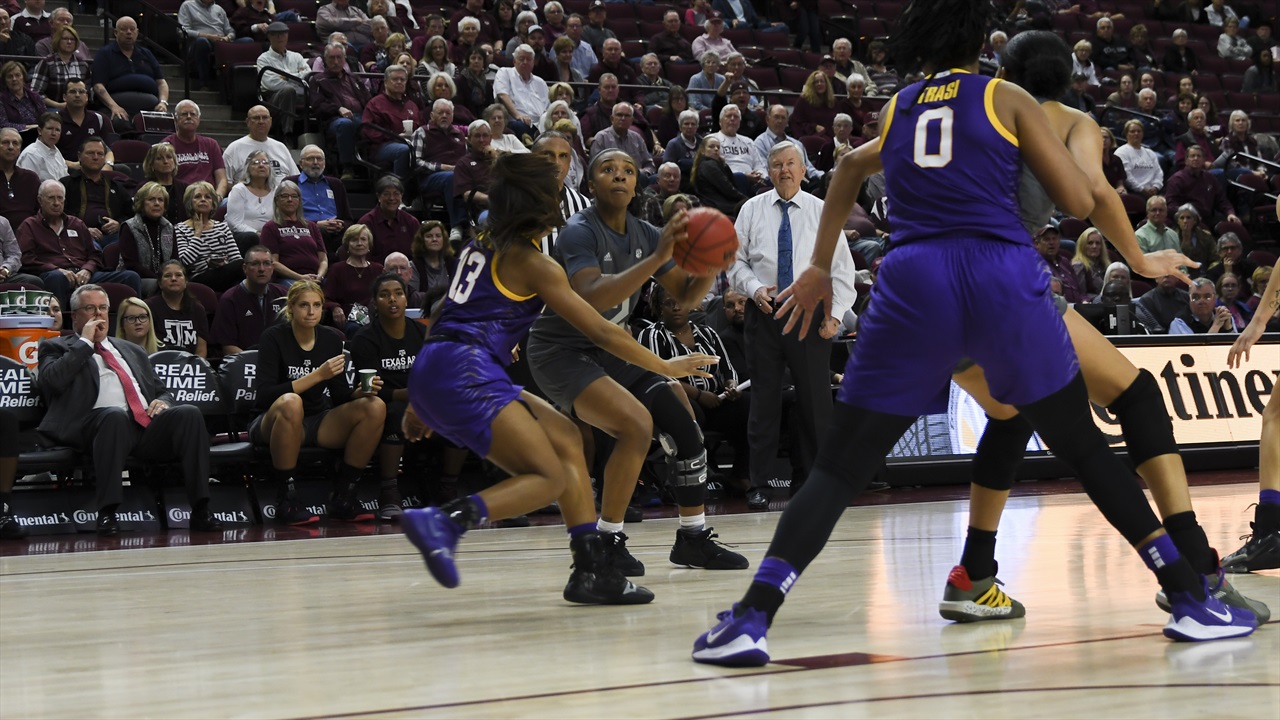 Photo by Jamie Maury, TexAgs
Texas A&M Women's Basketball
Aaliyah Wilson's 16 points not enough as Aggies fall to LSU, 59-58
---
On Sunday evening, the LSU Tigers (16-5, 6-3) snapped the No. 15 ranked Texas A&M Aggies (18-4, 6-3) four-game win streak in a 59-58 heart-breaker. This marks the second loss to LSU, making it a series sweep by the Tigers and their fourth win against a ranked opponent this season. Both teams are known for their physicality and unfortunately, each game resulted in injury.
In the first encounter between these two conference opponents, Texas A&M's (and the SEC's) then-top scorer Chennedy Carter landed awkwardly in the first half, sustaining sprained ankle. Carter has not returned since. Unfortunately, history repeated itself, only this time the Tigers were bit by a costly setback. Senior captain Ayana Mitchell, LSU's first team All SEC, No. 4 rebounder and No. 8 scorer in the SEC, suffered from a potentially season-ending injury.
LSU coach Nikki Fargas responded to the game with a touching message on the team coming together and playing for their captain.
"With the loss of [Ayana] Mitchell, it is very emotional for our team right now and they did it for her," said Fargas. "Mitchell is about heart, hustle and playing this game at an elite level. And we needed to make sure that we played that way. I didn't care what the result was, we needed to play like Mitchell played."
With the lead changing 5 times and evening up 4 times, this was a back and forth battle. Texas A&M played with grit and perseverance in all four quarters and outscored the Tigers 34-28 in the paint.
Junior Aaliyah Wilson led the Aggies alongside Kayla Wells and scored a season-high 16 points. She found her rhythm after draining a buzzer-beating half-court shot at the end of the third quarter. Wilson also dominated the boards with 7 rebounds and a clutch free throw in the fourth quarter.
Texas A&M's N'dea Jones continues to set the record this season as the only player in the SEC to record a double-double every conference game. Jones earned her 10th consecutive double-double with 12 points and 12 rebounds.
The Aggies will be on the road again for a showdown against the No. 9 ranked Mississippi State Bulldogs on February 9th at 12:00 p.m.
MESSAGE FROM OUR SPONSOR
Special thanks to 12th Man Technology for their sponsorship of all women's basketball content produced throughout the season at TexAgs.com! For the eighth consecutive year, all WBB content will be available to you for free!
Never miss the latest news from TexAgs!
Join our free email list
PRESENTED BY