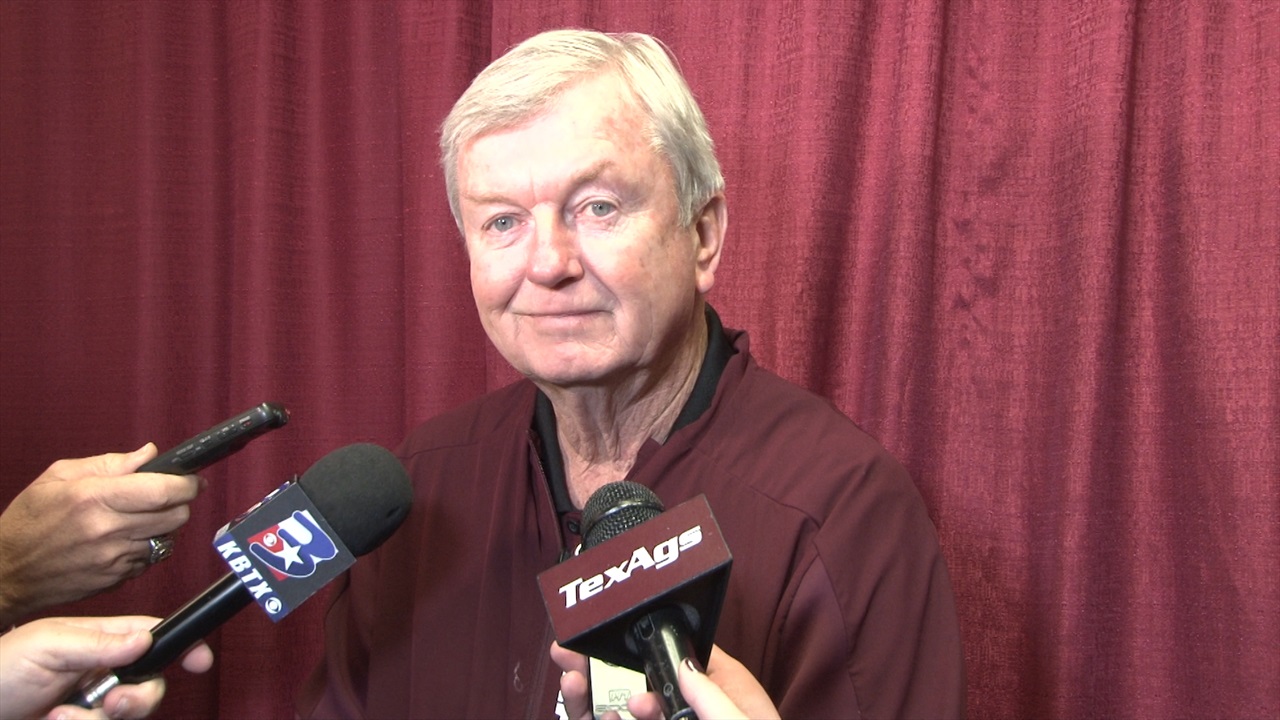 Gary Blair
Gary Blair (Radio)
Texas A&M Women's Basketball
Press Conference: Blair, Aggies ready for difficult road test against Alabama
---
Ahead of a road trip to Tuscaloosa on Thursday night, the head man of the Texas A&M women's basketball team met with the media. Hear from Gary Blair as he and the Aggies prepare to take on the Alabama Crimson Tide.
Key notes from Gary Blair interview on TexAgs Radio
I go by the Jimbo rule. Carter's injury is not season-ending. It will be up to Chennedy Carter when that ankle is well enough to play on. Only the player will know when they are able to play basketball, even if they are not 100%. All we can do is train her. It is my job to get the team ready, not necessarily the individual ready.

We believe in the next man up, next person up, next Aggie up. Jasmine Williams had a perfect opportunity to show her leadership ability. A&M is built on leadership. I think she was surprised I put her in, but we needed ball movement, and then all of a sudden, Williams started hitting the shots because Florida didn't know much about her.

Thursday, we travel to Alabama, and they have had the hardest six-game stretch, which is why they are 1-4. They should've won the game against Tennessee, but Rennia Davis hit a 30 foot, 3-point fade-away shot to win the game. You also need to understand, Alabama's next rival in every sport is Tennessee. For Alabama, that was a heart breaker to lose that game. They are 1-4 on paper, but this is a dangerous team we are going up against.

We are having to change up our offense because people are guarding Kayla Wells with Chennedy is gone. Kayla hasn't been getting as many looks. What we do know is we can score inside, and Ciera Johnson's a great passer. In the men's game, look at what Emanuel Miller and Savion Flagg did in the Missouri game. Other people have to step up. I'm also playing the girls heavy minutes, so they're having to step up.

N'dea Jones' position allows her to be a double-double machine. When you've got a threat at both positions, the stats go up. She's just got a knack for moving to the ball. If Kayla Wells misses a shot, it is a 3-point shot and a high rebound, whereas Wilson is more of a low shooter. N'dea Jones has learned the misses and where to position herself on the court.
MESSAGE FROM OUR SPONSOR
Special thanks to 12th Man Technology for their sponsorship of all women's basketball content produced throughout the season at TexAgs.com! For the eighth consecutive year, all WBB content will be available to you for free!
Never miss the latest news from TexAgs!
Join our free email list
PRESENTED BY