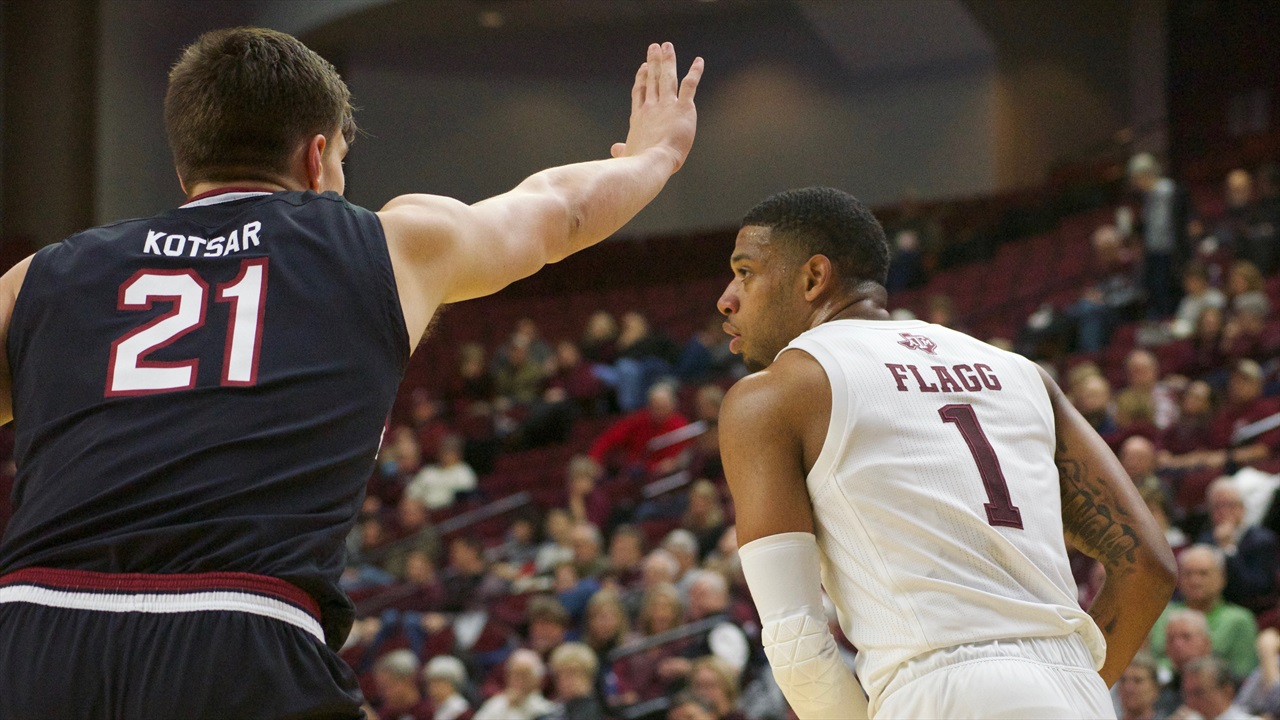 Photo by Lia Musgrave, TexAgs
Texas A&M Basketball
Defensive rebounding, 3-point shooting key as Ags face South Carolina on Saturday
---
Everybody deserves a second chance. Except, of course, the South Carolina Gamecocks. They get no second chances.
At least, that's Texas A&M's hope.
Depriving South Carolina of second chances will be the Aggies' first priority when the Gamecocks visit Reed Arena on Saturday for a noon Southeastern Conference basketball clash.
South Carolina (9-7, 1-2) is the nation's best on the offensive glass. They average 12.7 offensive rebounds per game. That's cause for concern for A&M (8-7, 2-2), which surrendered 16 offensive rebounds in an 89-85 overtime loss to LSU last Tuesday.
"We know how they're going to come to attack us. We've just got to do our best to box them out. Same thing as LSU."
"We know how they're going to come to attack us," A&M senior forward Josh Nebo said. "We've just got to do our best to box them out. Same thing as LSU. We knew they were going to come and crash the glass hard, but we didn't do a good job of executing. Hopefully, we can do a better job."
Nebo had nine rebounds in the loss to LSU. However, he didn't get much help from A&M's guards, who needed to track down errant 3-point shots.
The Aggies' plan is to push opponents away from the basket and force them into 3-point shots. They succeeded there. But the plan is also to rebound errant 3-point shots. A&M failed miserably in that regard.
Only seven of LSU's 31 misses came inside the 3-point circle. LSU frequently got second chances after its 24 misses from 3-point range and often cashed in. The Tigers scored 25 points off of offensive rebounds.
Those stats were not lost on A&M coach Buzz Williams.
"We had gotten to the point since Christmas, where we weren't awful on the glass," Williams said. "But that game … those numbers … I don't think you can ever win that game.
"The test we'll have on Saturday will literally be the same test we had on Tuesday."
The Aggies certainly will be tested by the schizophrenic Gamecocks, who ended a three-game losing streak by upsetting No. 10 Kentucky, 81-78, last Wednesday. Before the losing streak, South Carolina had posted consecutive victories over Clemson and Virginia, the defending National Champions.
Guard play has boosted the Gamecocks. A.J. Lawson leads with a 13.9 scoring average. Freshman Jermaine Couisnard averages 10.1. He scored 26 and hit the game-winning 3-pointer at the buzzer against Kentucky.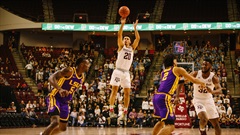 Rey Romo, TexAgs
Maik Kotsar, a 6-foot-11 senior center, averages 10.1 points and 6.1 rebounds, while forward Keyshawn Bryant and guard Jair Bolden average just over 9 points.
Meanwhile, the Aggies are quite literally aiming to continue a recent 3-point shooting surge. Though last in the nation in 3-point shooting much of the season, A&M hit 3 of 7 shots from behind the arc in the second half of a 57-47 victory over Ole Miss and followed up by hitting 14 3-pointers against LSU.
Savion Flagg hit four treys against LSU, while Wendell Mitchell and Andre Gordon each had three.
"I feel like we're just taking the open shots now," said junior college transfer Quenton Jackson, who also hit a trey against LSU. "We're not thinking as much on the floor about all the new sets and new cuts and all that other stuff. It's all just coming naturally, and we're just able to play basketball."
Williams agreed that the Aggies are making undeniable progress.
"There's been a lot of consistency within our program. There's been consistency in our effort. There's been consistency with how we study film. There's been consistency in our attitude.
"Maybe the separator is there's been a consistency in how we collectively think. They're beginning to say some things that I don't have to say because they know I'm about to say it."
It's kind of like understanding the need to do a better job denying second chances. Williams doesn't have to tell them. They know it.
"We've got to rebound because South Carolina plays the same way (as LSU)," Josh Nebo said. "They're physical. They crash the offensive glass. We've got to do a better job of boxing out and getting rebounds."
Never miss the latest news from TexAgs!
Join our free email list
PRESENTED BY