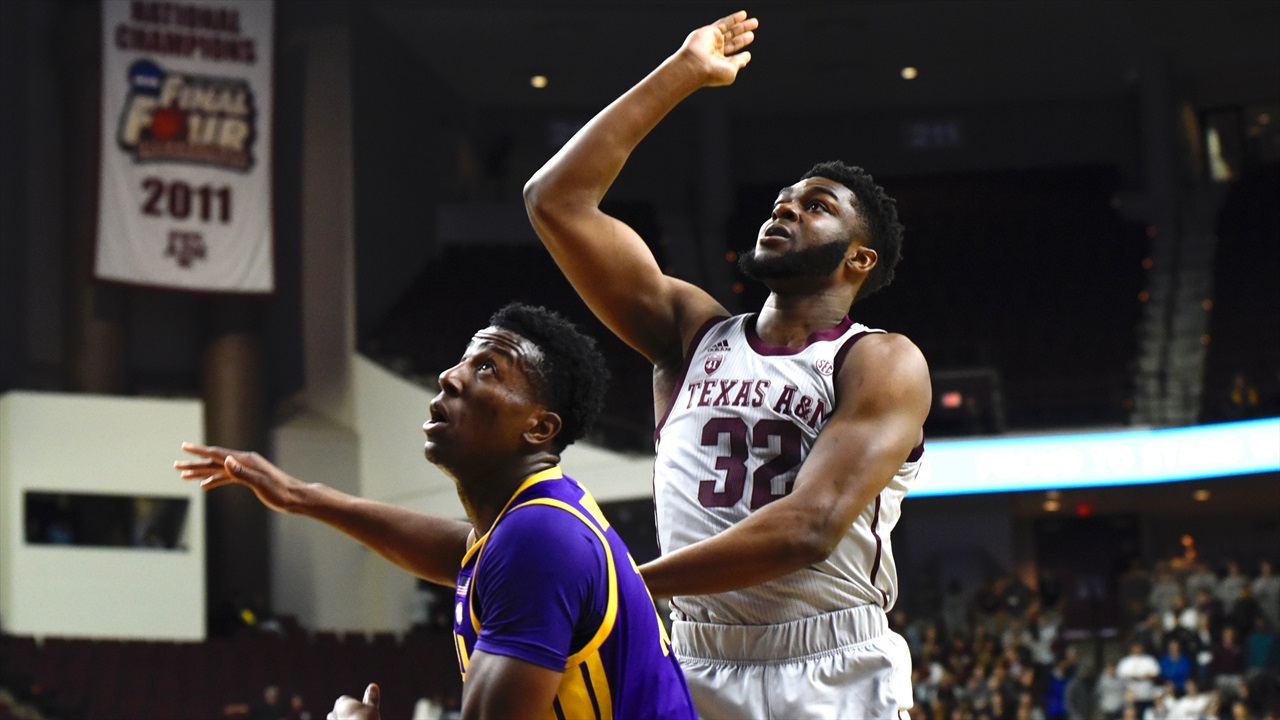 Photo by Lia Musgrave, TexAgs
Texas A&M Basketball
Looking for three straight, surging Aggies face white-hot Tigers on Tuesday night
---
A month ago, few — if any — who follow Texas A&M basketball would've foreseen the Aggies posting three consecutive Southeastern Conference victories.
In truth, many would've doubted A&M would post three SEC wins at all.
Yet, the suddenly hot Aggies (8-6, 2-1), who have won five of their last six games, have a chance for the hat trick.
However, that will require beating an even hotter LSU (11-4, 3-0) Tuesday at 6 p.m. at Reed Arena.
LSU has won four-straight. That streak includes a 78-64 drubbing of Tennessee in Knoxville and a 60-59 thriller on Saturday against Mississippi State.
Guard Skylar Mays hit a buzzer-beating jumper to lift the Tigers to that victory.
Mays is leading the Tigers with a 15.8 scoring average. Four others also score in double figures for LSU, which averages 79.3 points to rank third in the SEC in scoring.
Forward Emmitt Williams averages 13.4 points, forward Trendon Watford 12.7, forward Darius Days 12.3 and guard Javante Smart 10.7.
The Tigers, though, average 13.4 turnovers and hit just 30.7 percent from 3-point range. Those stats would seem to hint that A&M has a strong chance to win three-in-a-row.
In their 69-50 blowout of Vanderbilt on Saturday, the Aggies' defensive effort limited the Commodores to 16.7 shooting from 3-point range. A&M also forced 14 turnovers, which were parlayed into 16 points.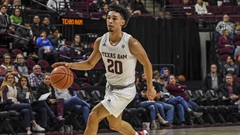 Lia Musgrave, TexAgs
"What we do defensively is semi-complex," A&M coach Buzz Williams told TexAgs radio on Monday. "We got beat from start to finish early on. The reps in games and practice are doing a great job of helping our staff break it down for our guys. Being able to see it in the film room has helped us as well.
"As time has transpired, we have improved. We were the 53rd best defense in the country entering the Ole Miss, and now I think we're the 42nd best defense after the Vanderbilt game. A lot of what has helped our defense has been our defensive rebounding percentage. Only allowing the opponent one shot per possession is huge."
But after the victory over Vanderbilt, Williams warned Aggies not to get too comfortable with the recent success.
"We're not in a position from a roster standpoint (or) from an experience standpoint that we can do anything except try to handle all this with humility and maturity and try to figure out how we can get a little bit better," he said.
The Aggies appear to be getting better on the offensive end.
Freshman guard Andre Gordon has scored 15 points in two of the last three games. Senior forward Josh Nebo continues to be a force inside and is making defenses account for him. Junior guard Quenton Jackson hit 4-of-5 shots against Vanderbilt.
Also, despite being the most inaccurate 3-point shooting team in the nation, the Aggies hit 5-of-16 attempts from 3-point range against Vanderbilt. While that's a modest total, it's the highest number of 3's since the Aggies hit 6 in a 64-49 victory over Oregon State on Dec. 21.
More importantly, the Aggies shot .526 percent overall.
"Everything works better when you make shots," Williams said. "The counter from that is that everything feels worse when you don't make shots. We're last in the country in three-point field goal percentage. We are not a shooting team. We took two bad shots against Vanderbilt. That's 4 percent of the possessions. Over the last month, we've done a much better job of not taking bad shots."
That's another reason A&M has a good shot to post a third-straight victory.
Never miss the latest news from TexAgs!
Join our free email list
PRESENTED BY