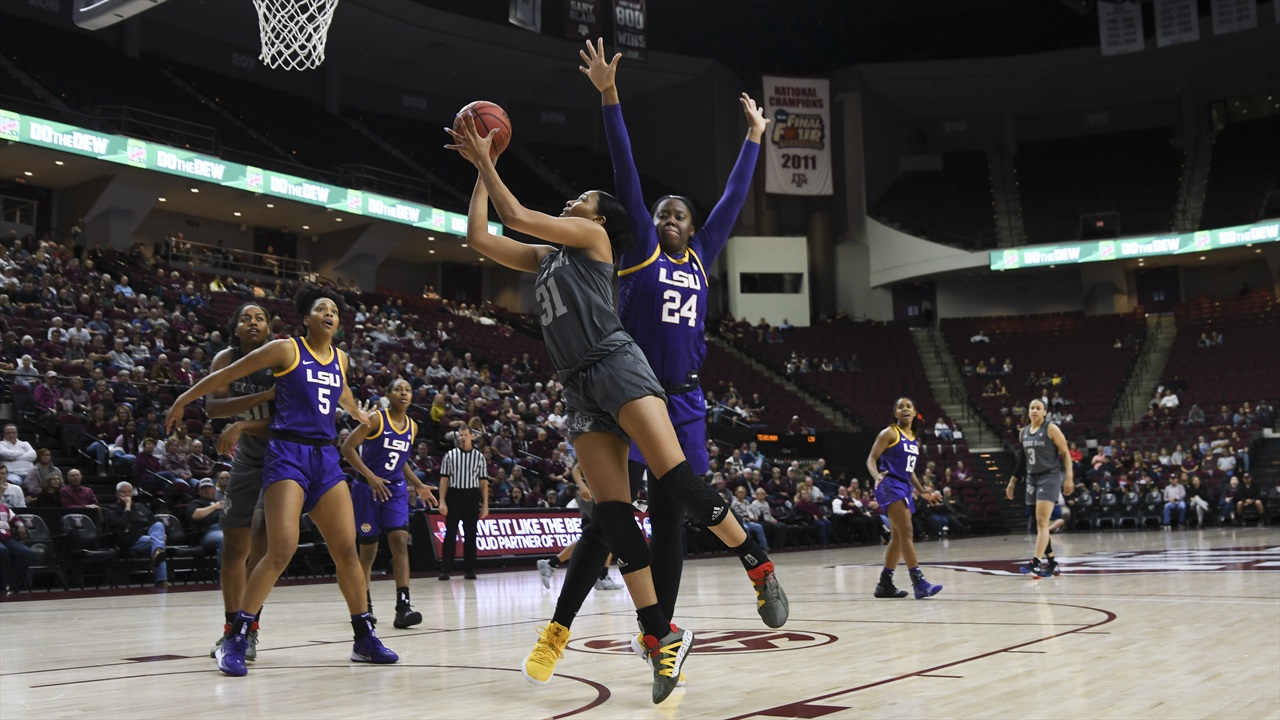 Gary Blair
Jones & Johnson
Nikki Fargas
Texas A&M Women's Basketball
Aggies upset by LSU despite N'dea Jones' fourth consecutive double-double
---
Thursday evening, the No. 10 ranked Texas A&M Aggies fought a tough battle but fell short to the LSU Tigers, losing (54-57) at Reed Arena. Ciera Johnson predicted a "dogfight" and that's exactly what the Aggies got.
The lead changed four times and the game was tied five times in this intense SEC contest. Although Chennedy Carter had an electric performance in the first half to maintain her double-digit streak of 55 games, she exited the game at the end of the second quarter with an apparent ankle injury.
Ciera Johnson explains the team's mindset after losing their top scorer for the majority of the game.
"We got to finish the game out. We got to find a way to finish with Chennedy and without Chennedy. I think that was our first time playing without her this year. We've played without her before, so we've gotta finish the game out."
Coach Blair has faith in Chennedy's strength and thinks that she should have a quick return.
"We've been lucky over the years. Nobody has taken as many falls as she has and has always gotten up, but sometimes you can't get up from a sprained ankle that bad. So, she'll work out twice a day until we get that sucker back."
Coach Blair also believes the Aggies did not play to their full potential this evening.
"When we shoot 20% in the third quarter and 20% in the fourth quarter, we cannot beat anybody on any night. I said the first team to 60 would probably win the ball game because this is a typical LSU-A&M game. It always goes this way, one way or the other."
The Aggies struggled to maintain their rhythm after Carter left the game. The Tigers outscored Texas A&M 38-27 following Carter's absence.
This performance by LSU was not a complete shock to the Aggies. Despite their unranked status, Ciera Johnson indicated her respect for the Tigers.
"We match up very well with LSU. LSU is never a team we overlook, because every time we play them, here or away, it's going to be a dogfight,"
N'dea Jones put up yet another impressive performance against LSU. She led the Aggies with 19 points and 12 rebounds, tallying her fourth consecutive double-double this season.
Texas A&M will travel to Lexington to face No. 14 ranked Kentucky on January 16th at 5:30 p.m.
MESSAGE FROM OUR SPONSOR
Special thanks to 12th Man Technology for their sponsorship of all women's basketball content produced throughout the season at TexAgs.com! For the eighth consecutive year, all WBB content will be available to you for free!
Never miss the latest news from TexAgs!
Join our free email list