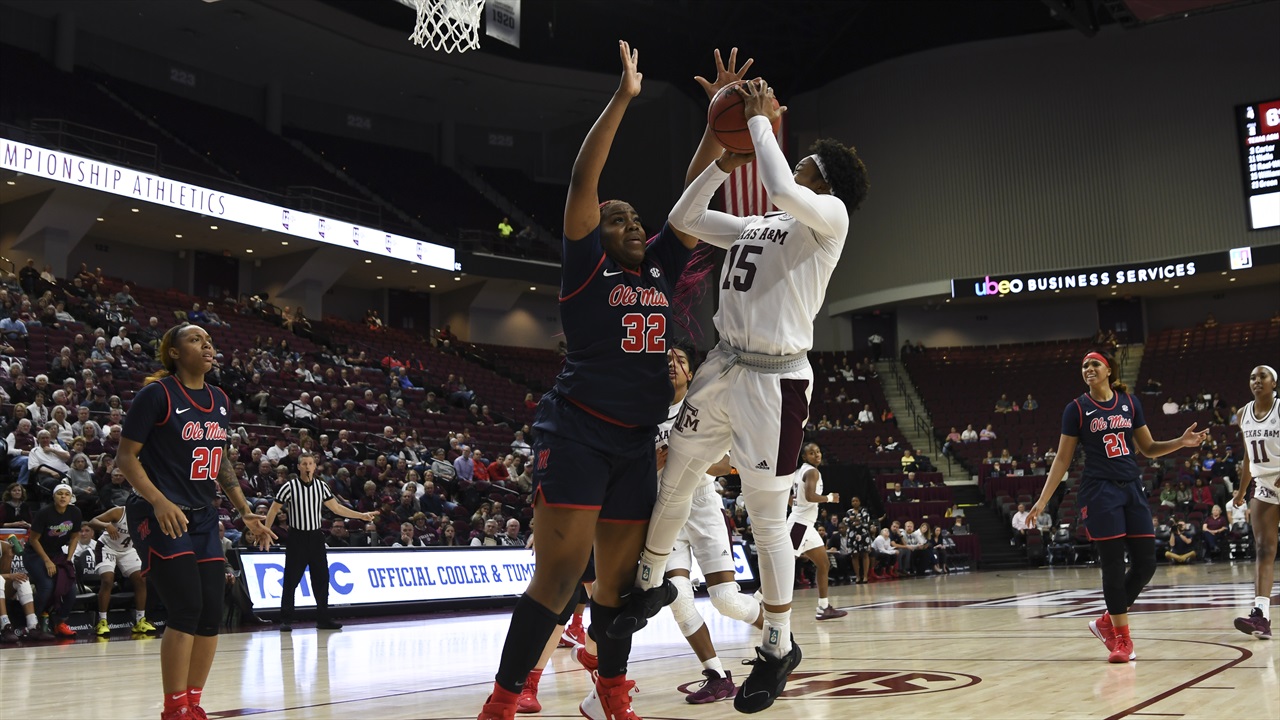 Gary Blair
Johnson & Washington
Texas A&M Women's Basketball
Five Aggies score in double figures in Texas A&M's 79-35 rout of Ole Miss
---
On Monday evening, the No. 10 ranked Aggies blew out Ole Miss, 79-35, in front of a home crowd at Reed Arena. The Aggies extended their win streak, earning their ninth consecutive win. They are now 2-0 in conference play and 14-1 overall.
The Aggies played like a well-oiled machine, and five players (Ciera Johnson, Shambria Washington, Chennedy Carter, Aaliyah Wilson and N'dea Jones) scored in double figures. Kayla Wells almost made it 6 – closing the game with 9 points. Ciera Johnson, who led all scorers with 17 points, touched on how important it was to come out strong in tonight's game.
"The past few years we played Ole Miss, we've given them hope and our big thing this game was 'no hope' and get off the first punch every time. Every timeout, every quarter get out throw the first punch and give them no hope," said Johnson.
The Aggies finished with 44 rebounds, 34 of which were defensive boards. Defense was a huge part of the story, which was no coincidence according to Johnson.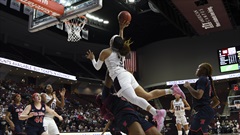 Jamie Maury, TexAgs
"We knew they like to set a lot of ball screens, so our emphasis this week was ball screen defense and rebounding the basketball." Johnson said. "You can play great defense, but if you are not rebounding the basketball, like Coach Starkey says, 'We're not picking up our paychecks.'"
Coach Blair amplified the praise of his team's defense: "The defense was very good, I'll give Coach Starkey a lot of credit cause going into practice it would have looked like we were 1 and 13 because he got on 'em pretty good. They respond to coaching, and they take a lot of pride in that defense. Never in the history have I had single digits in the 3 quarters, and they (Ole Miss) had to hit the last two 3's (to get to a double-digit quarter) which means we didn't see Mississippi at its best."
Chennedy Carter, who is the leading scorer in the SEC, came out of the gate unusually slow. She was 1 for 9 at the half. However, she kept attacking the paint and her presence made a difference in the game. Going into the half with only 4 points, her 54 game streak with double digits was in jeopardy. Midway through the 3rd quarter, she got into a rhythm and managed to score 13 points, dish out 8 assists and grab 6 rebounds.
"She's an All-American. She knows that she didn't take a bad shot all night, and sometimes – what else can you do? You feed the ball to Ciera Johnson and she enjoys the pass as much as the shot, and she's really turned into a great teammate." said Coach Blair.
The Aggies will return to Reed Arena for their second home SEC conference game on Janurary 9th, where they'll face LSU at 8:00 p.m.
MESSAGE FROM OUR SPONSOR
Special thanks to 12th Man Technology for their sponsorship of all women's basketball content produced throughout the season at TexAgs.com! For the eighth consecutive year, all WBB content will be available to you for free!
Never miss the latest news from TexAgs!
Join our free email list