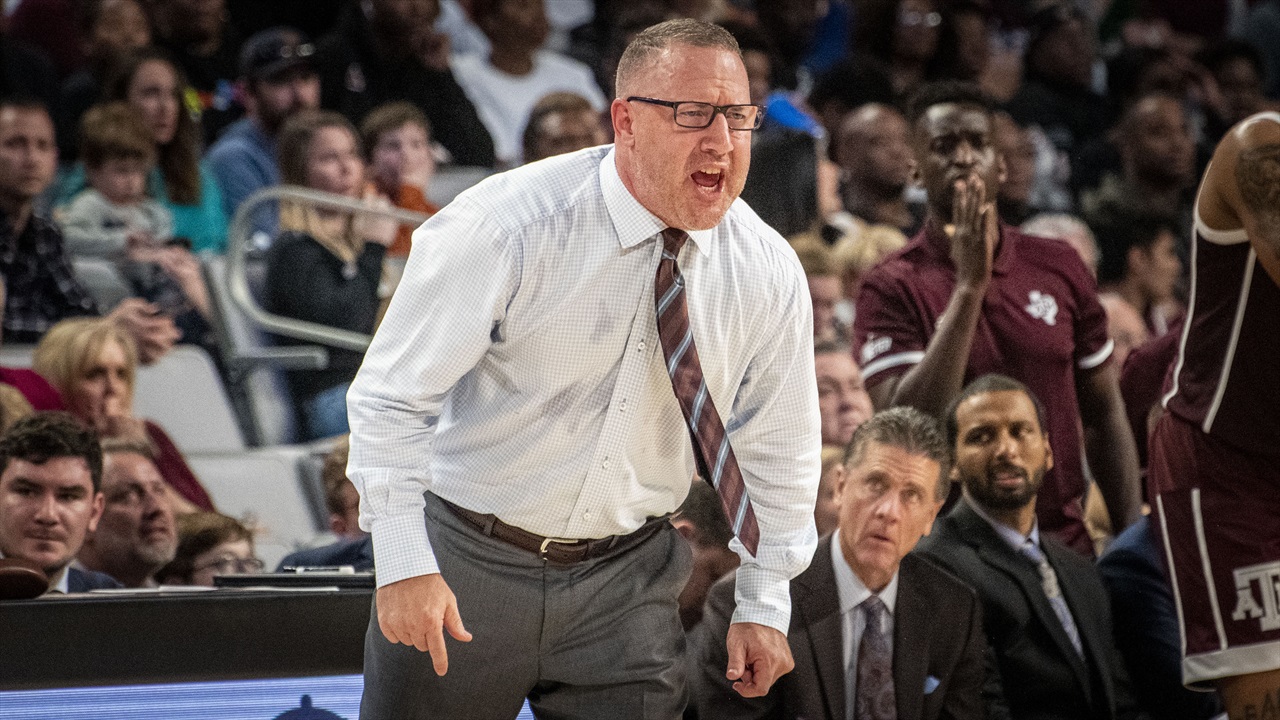 Photo by Lia Musgrave, TexAgs
Texas A&M Basketball
Buzz Williams pleased with his team's effort in conference opener
---
Key notes from Buzz Williams interview
We apologize for coach's call quality; please enjoy the notes.
I thought we played hard. I thought we played like it was important, and we understood the value of each possession.

I thought it could have been better considering the personnel that we had. I thought Chuck Mitchell played well. They played to the best of their ability. Our execution level isn't where it needs to be to win on the road.

I think we're putting a heavy burden on Andre Gordon. He can play the point, but I don't think he is a point. We're asking a lot of him early in his career. He hasn't backed away from it and is trying his best. I think Saturday was the best he has played. He's starting to become aware of the clock and scoring. He didn't throw lobs like he did against Texas Southern.

Chuck is one of my favorite guys ever. I think he is 100% for us. He is 'ten toes in' every single day. He probably played more minutes than he should have early on in the season, then less than he should have the last four or five games. He handled it phenomenally. He was excited to be back playing, and he showed it from the first possession.

We have to have everyone at their absolute best every night. Everything has to go right. You see that a majority of guys are starting to understand that. When that takes place, it's a game. When everything goes right, it's a game – a really good game.

We turned it over six times to close the game. We had 17 turnovers in the last 33 minutes of the game. We can't do that.

Arkansas played five guards for 200 minutes of the game. The game has changed. Guards are many times the separator in, for sure.

Arkansas full fronts the post, regardless of who's guarding the post. They play with high pressure regardless of who's dribbling or accepting the pass. It wasn't so much Nebo's play, but Arkansas' defense that limited him.

Anybody that can be better than what they've done already this season would be mana from heaven. Quenton Jackson has played hard all season. I love JUCO guys. He's starting to understand how hard this is and how valuable each possession is. I thought he competed a lot better. His turnovers were terrible relative to the timing when they came.

I love all my guys the same, so it doesn't matter to me, but one of them needs to be able to catch and shoot and make a shot. Q, Jay Jay, anybody. Someone needs to be more productive than what they've done so far.
Never miss the latest news from TexAgs!
Join our free email list