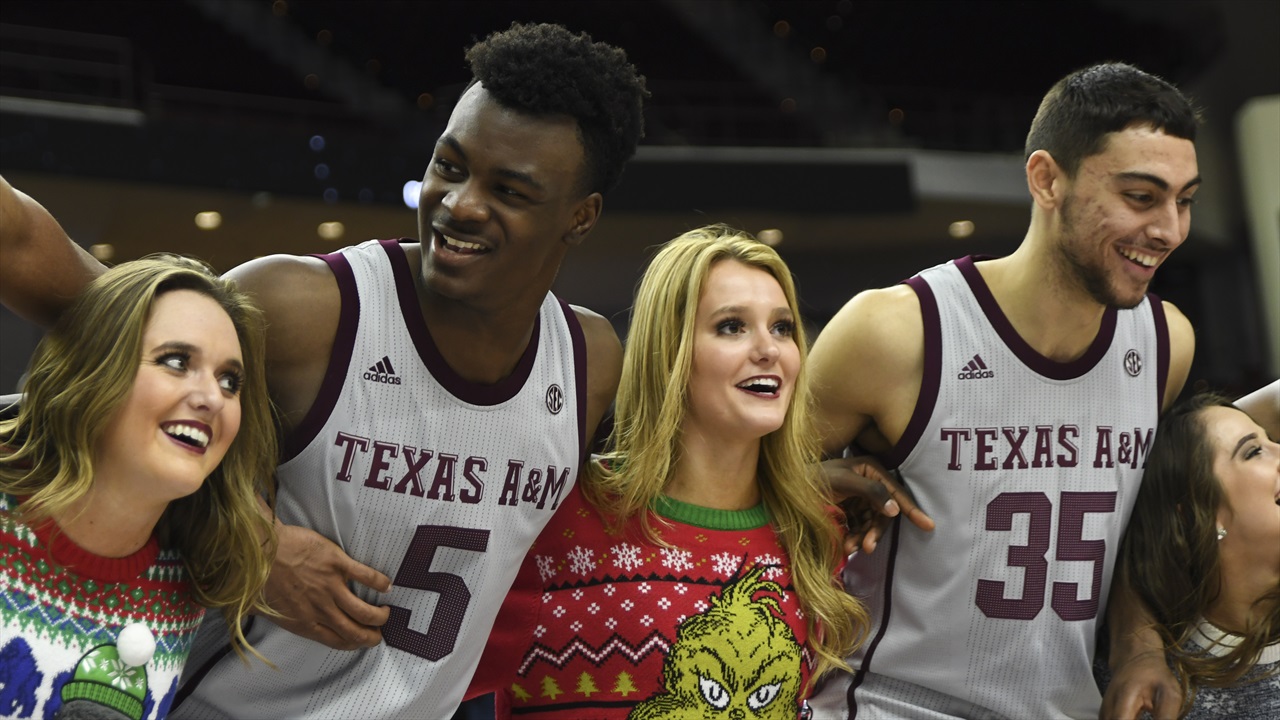 Photo by Jamie Maury, TexAgs
Texas A&M Basketball
Aggies get much needed comeback win over A&M-Corpus Christi, 63-60
---
Just when it appeared Texas A&M was on a one-way path to Rock Bottom, the Aggies made a quick U-turn.
Trailing by 11 points early in the second half, the Aggies regrouped, played perhaps their most efficient basketball of the season and captured a 63-60 victory over Texas A&M-Corpus Christi before an announced crowd of 5,846 on Sunday night at Reed Arena.
The Aggies (4-6) shot a sound 47.8 percent in the second half, denied the visiting Islanders a field goal for more than four minutes at crunch time and converted five of six free throws in the final minute to put an end to a four-game losing streak.
"We needed it pretty bad," junior guard Jay Jay Chandler said. "It's been a while since we've won one. In the locker room, we discussed it. It's like since Nov. 20 (against Troy) is the last time we got a win. Every game matters now, so we have to go out and try to keep collecting more in the win column."
Freshman forward Emanuel Miller had his second consecutive strong outing. He hit 7-of-8 shots and was 6-for-6 at the free-throw line to score a team-high 20 points.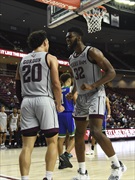 TexAgs
Josh Nebo posted a double-double with 13 points and 13 rebounds, while Chandler scored 11 points and Savion Flagg had ten.
"In the last two games, he (Miller) and Nebo have established a distinct role. A role that we're dependent on," A&M coach Buzz Williams said. "Without what those guys did — 33 points and 19 rebounds … very efficient.
"Encouraged, for sure, by both of those guys. We need to somehow figure out how we can keep those guys trending in that direction. And then find some other guys to establish those types of roles relative to their responsibilities."
Texas A&M-Corpus Christi (4-6) relied heavily on the three-point shooting of guards Jordan Hairston and Myles Smith. They combined to hit nine treys, while Hairston finished with 25 points and Smith had 16.
"I'm really disappointed for our guys. I thought we played well enough to win," Corpus Christi coach Willis Wilson said. "I think the difference that was, down the stretch, A&M did a really good job trusting in the things that they do. Basketball is more like chess than it is checkers. You really got to know your chess piece. You don't ask your pawn to do things you need your bishop to do. I thought they did a really solid job of just knowing who they are when they needed to."
Perhaps, but the Aggies were in check much of the early going as their first-half issues continued.
They did manage to break the 20-point mark in the first half, which they've failed to do five times. But they struggled with again poor shooting (34.6 percent) and turnovers (seven).
Still, the Aggies led 17-13 after a Mark French three-pointer with 8:05 left in the first half.
However, A&M-Corpus Christi responded with six three-pointers over 6 1/2 minutes — five by Hairston — to take a 31-24 lead at the break.
"We needed it pretty bad. It's been a while since we've won one. In the locker room, we discussed it."
The Islanders extended the margin to 37-26 on a pair of Hairston free throws with 18:08 left. From that point, A&M began playing strong basketball on both ends of the court.
The Aggies fought back from that 11-point deficit to take a 48-47 lead on Nebo's alley-oop dunk from Andre Gordon with 8:53 to play.
Neither team managed more than a two-point lead until the final seconds when Flagg hit a free throw to give A&M a 61-58 edge with 9.2 seconds remaining. Quenton Jackson converted a pair of free throws with 4.8 seconds left to clinch the victory.
Corpus Christi managed just one free throw over the final four minutes and 15 seconds until the Islanders added a meaningless put back just before the buzzer to close the scoring.
"I thought tonight, down 11, I didn't feel like guys were trying to back up," Williams said. "I thought they were trying to run towards the fight. I'm encouraged by that."
Never miss the latest news from TexAgs!
Join our free email list