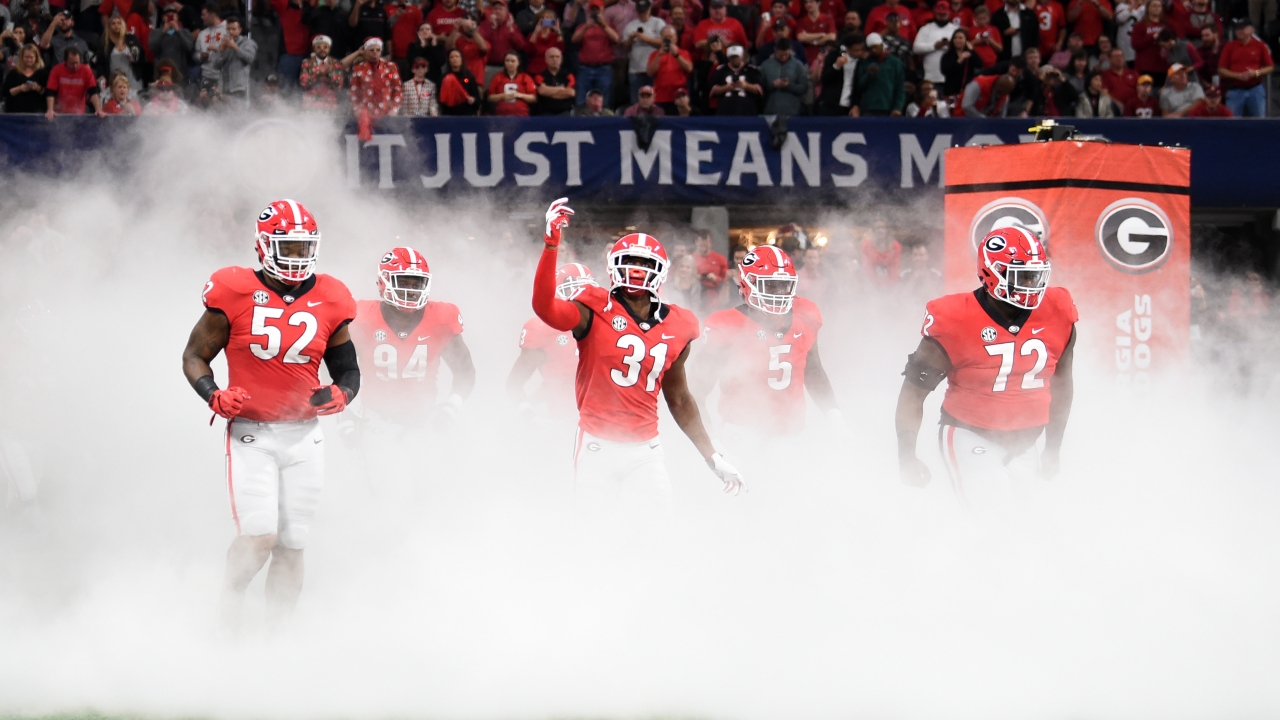 Photo by Dale Zanine-USA TODAY Sports
Texas A&M Football
The Athletic's Andy Staples previews Conference Championship weekend
---
Key notes from Andy Staples interview
I'm on my way to Atlanta. I'll be watching the Bulldogs and Tigers this weekend and seeing if the SEC gets one or two teams in the playoff this year.

Who could beat LSU? It feels like Ohio State and Clemson could do that. Those two teams are built and complete enough to do it. You have seen LSU's defense be vulnerable. I could see Clemson or Ohio State putting up points and getting into a shootout. It might be like the first two Clemson-Alabama championship games. Both defenses are excellent, but the offenses are outstanding too. Nobody can stop anybody, and it's just a roller coaster game.

Georgia offensively hasn't shown that ability to do that. Add in that their best receiver, Lawrence Cager, is out, George Pickens, who is one of their most athletic receivers and a true freshman who is still learning, is out for the first half for fighting against Georgia Tech. D'Andre Swift has a banged-up shoulder. Who is Jake Fromm throwing to? I don't worry about them losing rushing yardage. But I do worry about them being one dimensional. Who do you throw to? They really play a type of game where they want to keep the score low, possession down, and let the defense suffocate you. I don't think the defense is going to suffocate LSU every single time. LSU is playing too well on offense to be shut down. You're going to have to score with them a little bit, and I'm not sure they have enough weapons in the passing game.

If their defense really clicks, I don't know who beats LSU. That offense is so effective. The teams LSU is going to face – Georgia and whoever they're going to see in the playoffs – better hope the defense is more like you saw against Ole Miss and not the one you saw last week against A&M. If they are like that, I really don't know how you beat them.

I don't want to say it's the best season ever by a quarterback for Joe Burrow. You have Kyler Murray and Cam Newton and Johnny Manziel. Especially Manziel and Newton. They led the SEC in rushing the years they won the Heisman. That is an incredible feat. Leading the SEC in rushing as a running back is enough to get you on the Heisman Watch list. To do that and throw for 4,000 yards and forty-something touchdowns is unbelievable. I think you have to look at Joe Burrow in terms of how he changed that offense. They changed schematically. It doesn't work like this without him being that good. He could gain a ton of rushing yards if they need him to, but they don't need him to do that. They get the ball downfield very effectively with their rushers.
Spread for Championship Weekend (both the food and points kind)
SEC Championship – Georgia vs. LSU: LSU -7.5
I think LSU covers. There are so many great restaurants in Atlanta. It's a very long list for me. I would have to say Bacchanalia. TWO Urban Licks is one, and Antico Pizza is another one. There's a long list in Atlanta for me.
PAC 12 Championship – Utah vs. Oregon: Utah -7
There's a Somali place in San Jose that is awesome. They have something called the sports plate. They have all kinds of cool stuff. [Restaurant is called Jubba]. Utah, by 7, feels a little high to me. I realize Utah has been smashing people for a month and a half, but they've been crushing the inferior competition. The last time they played someone with really good athletes, they played USC and lost. Oregon feels like they have more firepower on offense than willing to use. They rely too much on defense to do everything. They're going to have to cut it loose offensively to beat Utah. It's going to be close. I think Utah wins, but Oregon covers.
Big 12 Championship – Baylor vs. Oklahoma: Sooners -9
I'll go with Pecan Lodge for BBQ in Dallas. It's outstanding and just really spectacular. For the game, Cee Dee Lamb is playing. He didn't play last time these two met. I think Oklahoma covers.
AAC Championship – Memphis vs. Cincinnati: Memphis -9.5
I'm going to go old school. I haven't been to Memphis a ton lately. There are a lot of newer barbecue places I need to try, but I'm going to go old school and go with old fashioned Corky's with the dry rub is hard to beat. I think Memphis covers this one. I still think Memphis is better than Cincinnati, more explosive. Cincinnati is a team that tries to beat you up and shut you down mentally, but I'm going with Memphis.
ACC Championship – Clemson vs. Virginia- Clemson: -28.5
We're going to go with Mert's in what they call uptown. It's a soul food place, and it's outstanding. 28.5 is interesting. Do I believe Clemson is 28.5 points better than Virginia? Yes, I do. Do I know if Dabo's going to pull starters? It's a complete crapshoot, but I think Clemson covers
Big Ten Championship – Ohio State vs. Wisconsin: Ohio State: 16.5
If we're in Indianapolis, we're going to St. Elmos. This one is tricky with 16 and a half. They've already played. Ohio State did crush them the first time, but this is a good Wisconsin team. They're solid on defense. They're willing to change things more than Michigan is even though they're athletically overmatched. Then you have Jonathan Taylor, who is special. He's probably the best tailback Wisconsin has ever had. So I'm going to say Ohio State wins, but Wisconsin covers. I think with the rematch factor, Wisconsin comes up with some stuff that keeps it way closer.
Never miss the latest news from TexAgs!
Join our free email list