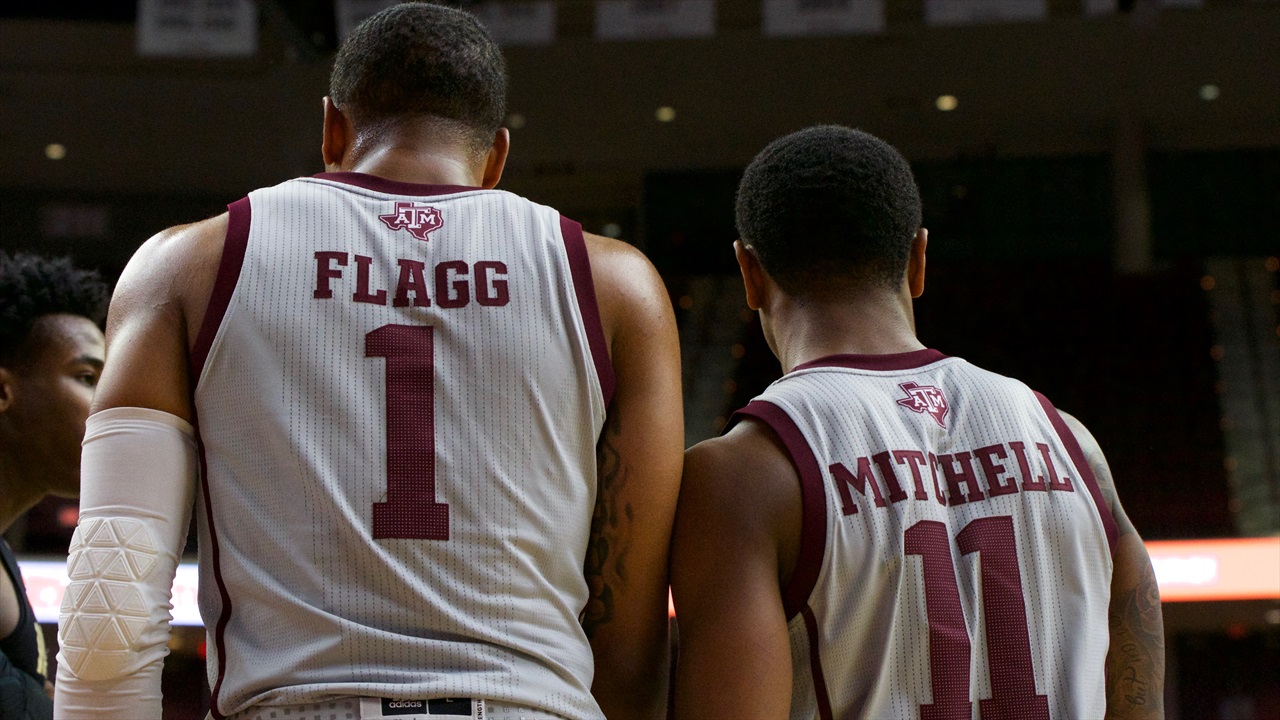 Photo by Lia Musgrave, TexAgs
Texas A&M Basketball
Increased output from Flagg, Mitchell critical for success in Orlando
---
Not meaning to point fingers, but Texas A&M's slow start to the basketball season coincides with slow starts by guards Savion Flagg and Wendell Mitchell.
They were the Aggies' leading scorers last season. But through four games, Flagg is averaging just 9.3 points and Mitchell just 7.5. Together, they've converted just 4 of 24 from 3-point range.
The Aggies (3-1) need them in form as they take on Harvard (4-2) on Thursday at noon in the Orlando Invitational.
Harvard, the defending Ivy League champion, is led by guard Bryce Aikin, who's averaging 25 points, and 6-foot-9 forward Chris Lewis, who's averaging 9.8 points and 7.6 rebounds.
"I think Harvard will play their two best players for the first time on Thursday," Williams said. "With both of those guys, I think they're a Top 30 team. I think they could win a game and advance in the NCAA Tournament.
"I don't know if those two kids are NBA players, but they're on the fringe if not for sure. We'll have to be at our absolute best."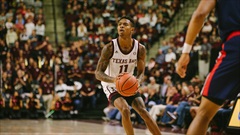 Rey Romo, TexAgs
That's a problem. A rash of injuries has sidelined guard Andre Gordon, forward Emanuel Miller and guard Cashius McNeilly, who has not yet played. Also, guard Jay Jay Chandler had his wisdom teeth removed last week. Further, guard TJ Starks left the team.
The attrition left A&M with only six scholarship players participating in recent practices. That underscores the need for Flagg and Mitchell to break out of their slumps.
Williams, though, is not blaming them for A&M's struggles to post close victories over Northwestern State, Louisiana-Monroe and Troy. There can always be difficulties adapting to a new coach's style of play.
"I think change is hard no matter what the sport is," Williams said. "No matter what is transpiring in anyone's life, I think change is hard.
'"Chuck (Mitchell) and Savion are both as good a kids as I've been around. I hope the trajectory of the rest of the season is better than it has been through four games, statistically. But I also hope it's better in regards to how hard they compete. That's for sure not just Chuck and Savion. It's Texas A&M, and that includes me at the front."
Williams is trying to coax even more effort and intensity from the Aggies, who have been paced by Chandler (11.3 points per game) and senior forward Josh Nebo (10.7 points).
"We've got to figure out how we can play with a level of care that gives us a chance," Williams said. "Thus far, we haven't been able to do that in long enough stretches. It's only going to get harder relative to the competition.
"This trip will be the first time we've had to play away from Reed Arena, so you'll probably have to manufacture even more emotion in order to give ourselves a chance."
Never miss the latest news from TexAgs!
Join our free email list
PRESENTED BY