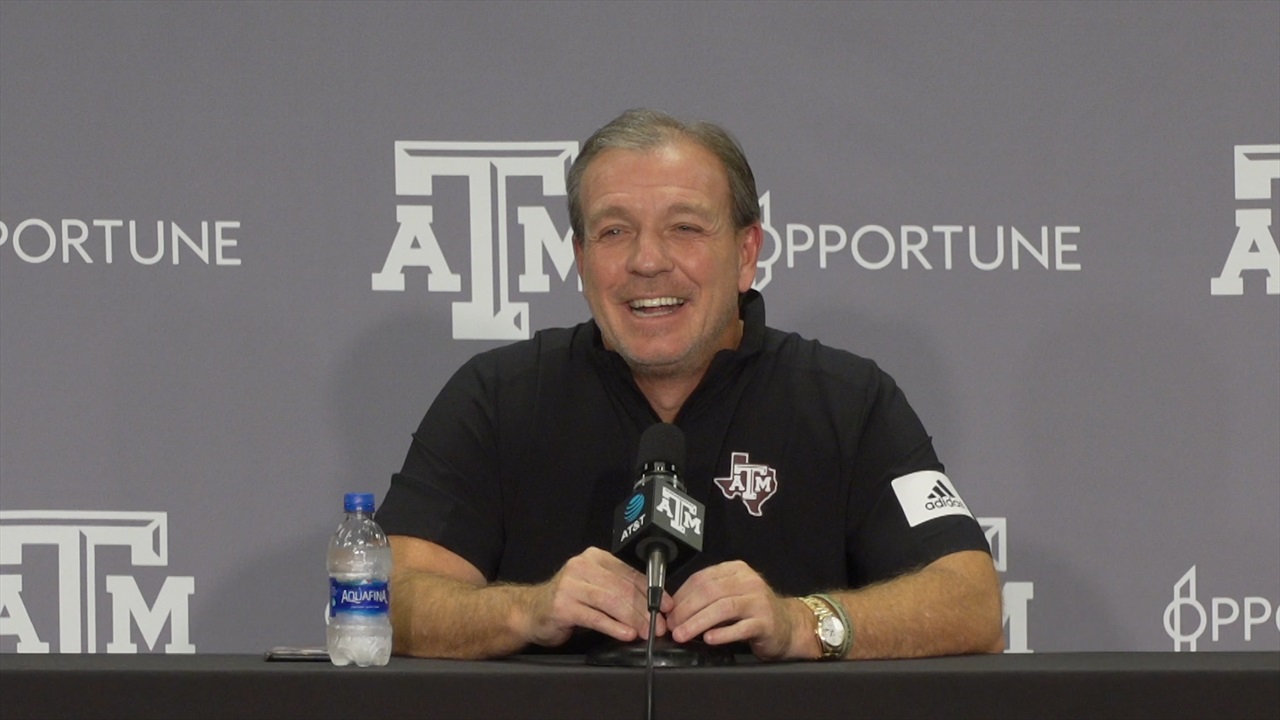 Jimbo Fisher
Justin Madubuike
Jhamon Ausbon
Anthony Hines
Keldrick Carper
Kellen Mond
Buddy Johnson
Texas A&M Football
Press Conference: Aggies preparing for trip to hostile Baton Rouge
---
The LSU Tigers will be ready for the Aggies on Saturday as they look for revenge for last year's 74-72 loss at Kyle Field. Ahead of the rivalry week matchup, Texas A&M is focusing on what should be another hard-fought battle in Death Valley.
---
The following are live, paraphrased notes from head coach Jimbo Fisher's press conference prior to Saturday's game against LSU.
After evaluating the film, I think we saw on the film two very good football teams. I thought our kids competed, played, made adjustments, stayed in the moment. When you're in a heavyweight fight like that, you need all three areas, offense, defense and special teams, need to be really good. We were one play away. We need to find that last two percent.

I thought, offensively, we didn't have much time because their front was able to get after us. In the second half, they did better in pass protection, and Kellen did well when he had more time. We had some weather issues. We didn't punt it as well in the first half and in the second half we did better in that area - only one punt. But, we lost the field position battle a lot. Quartney had a good return. Quartney and Wydermyer did some really good things. We couldn't get the first down on the fourth and down. They came off a block, and we couldn't get it.

Georgia is a good football team, but I think that we are too. There are no moral victories. No matter what happens in that game, everything else goes on. Our players are responding to everything we are asking and progressing well. We, as coaches, need to coach them a little better and get them over that last hump.

Burrow is a great player, one of the best we have seen in a long time. His receivers are making the catches, but he is making all the throws too. They are playing as good as anyone in America. They have great fans and great people. We have to put this one behind us and get ready to play them.

I think about how each team takes extra motivation differently. I don't know how they will take it, but we are focused on us. We are going to go out there and play the best that we can, no matter what they are thinking or feeling.

I didn't study A&M before I came here, but ever since I have been here, the players have been buying in. But I really like what we have done here since I have been here. I really like how we have progressed as a program and how we have recruited. We had a heck of a class last season, and I love the guys we have committed here now. I look forward to coaching here for a very long time.

I swear to God I had no idea that Braden Mann didn't make the Ray Guy Semi-Finalist award until now. He is as good of a punter that I have seen, and he's going to make a lot of money in the NFL playing this game for a long time. I had no idea, but I am disappointed for him. I can't believe there are that many guys better than him.

Eventually, these LSU-A&M games are going to have a lot of bearing on who wins the SEC West. I really like how we have progressed, and I think we will be rivals for years to come. I love rivalries; it's one of the joys of the profession.

We strategize our offensive game plan as a staff. We talk about how to go about approaching them with our other coaches. How their offense plays has a lot to do with how we call our plays.

I like the diversity of play callings and things you see in college football. I think it's the biggest difference between the NFL and college football. You see Lamar Jackson having so much success because you just don't see that in the league. They are all pocket passers.

We practice two-point plays every week. Every time you play, you gain or learn something about yourself - good or bad. You can coach this game for 70 years, and things will still come up that you have never seen before. I think that's what we like sports so much, is you never know what is coming.

Ainias Smith should be good to go. We will have to see this week on Elijah Blades.

We have talked with the SEC Office, and we have our disagreements, but guys, that's part of football. It's not about us; it's about the kids. You have to make your breaks in life though. You can't sit around waiting for things to happen for you. They acknowledged some things should have been called differently, but it is what it is.

What separates Tiger Stadium is the passion for what they do. Both of my kids were born in Baton Rogue. I lived there for seven years. It's a great place to play, and we are fortunate enough to get to play there.

As far as ball security, I thought we did a pretty good job in the rainy environment, all things considered. One is still too many, though.

The first delay of game we thought we got it off, the second was a mess up. The false starts - we just can't have that. We practice that all week with the crowd noise but its anxiety. We have to do better on that.

Jhamon Ausbon's character, intelligence and his toughness. He is a total team guy. He can do so many different things. He is a tough sucker. Whatever he can do for this team, he does. He has such high character. He is an unsung hero. He does all the little things that nobody sees. He is a tremendous human being.

Houston, you have 3 million people. Unfortunately, everyone in America is in Houston. We cross paths with LSU in recruiting a whole lot and not just in Texas. As we go national, we see them too. In the last 10-12 years, it's funny how the recruiting dynamic has changed. It used to be 'I'm going here, I don't care about redshirting, we are going to win a championship.' Now I see guys who just want to go somewhere that they can play quickly and get to the NFL as fast as possible.
Never miss the latest news from TexAgs!
Join our free email list