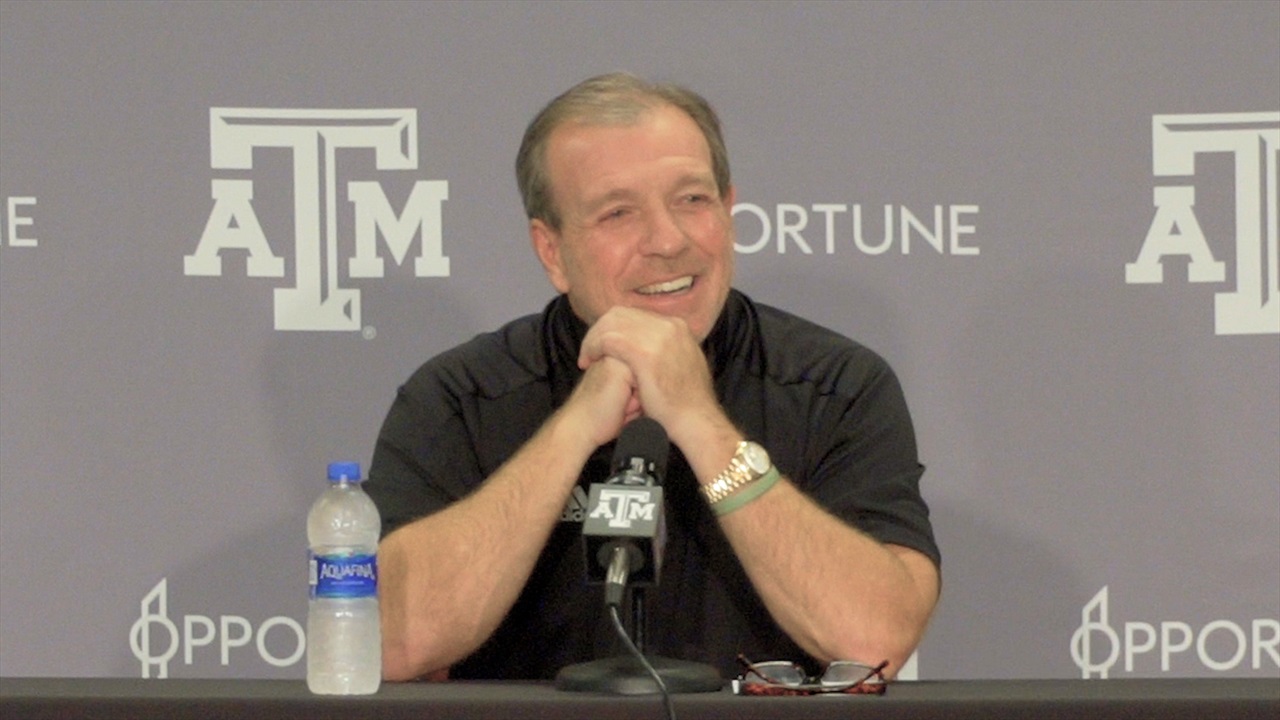 Jimbo Fisher
Buddy Johnson
Jhamon Ausbon
Anthony Hines
Kellen Mond
Charles Oliver
Texas A&M Football
Press Conference: Surging Aggies taking win streak into hostile Athens
---
Texas A&M burst into the polls again after a 30-6 drubbing of South Carolina at Kyle Field on Saturday. However, the Aggies will face an extremely difficult final two games beginning this week Between the Hedges, at Georgia.
---
The following are live, paraphrased notes from head coach Jimbo Fisher's press conference prior to Saturday's game against Georgia.
I would like to start the day off by paying a tribute to the Aggies we lost because of the Bonfire. There were over 1,000 Aggies outside last night at the Memorial to pay a tribute to the lives lost. Tremendous support, which is very typical of Aggies and their support for traditions and putting others before themselves.

After evaluating the film, both fronts did very well on both the offensive and defensive lines. We ran the ball really well and had a good balance. We ran it well and were able to spread the field in the passing game. The defense did a good job against a good well-coached South Carolina team. Special teams, a solid night. Ainias was really good in the return game. Penalties hindered a couple of his runs which we can't have. Seth was good, he missed one field goal but then battled back. Still a lot of things to work on. We are getting better and better. We have an extremely tough opponent coming up this weekend.

Georgia is really good defensively; they get to you upfront with really good fronts. As good of a defense as we will have played this season, by far. Offensively, Jake Fromm is a really good player. They have big, long players out wide. They are very sound both on offense and defense. Their special teams are great too, they are in the Top 4 for a reason.

We were always going to use a two-back set. It's your foundation, and you are able to do so much out of that. Our running backs are doing a good job. As long as you keep your roots, we can do everything we want; it's a base.

Our freshmen had a wall at the beginning of the season in learning how we do things and picking things up. They are learning cause-and-effect of how we practice and why we do things the way that we do.

No matter what you go through in a situation, once it gets hard, your habits come to the surface. Those things keep coming out. You can't not do what you do in practice because it's what you do daily — it's who you are. We have played some really good teams and we are hoping it will help us in the last stretch.

Nickel is one of the toughest positions on the field, and Charles Oliver did a great job. Six pass-break-ups and he did a lot of good things.

We want to affect our program by who we play. This last month, we have played really well. It's important to our program to keep getting better. I'm not worried about the Playoff picture right now, I am worried about Texas A&M.

There are no corners, safeties, nickels anymore. No. You have to be able to do it all as a cover man. That was in the old days when you just had one specialization. Now you have to be versatile.

With our offense, it's about unique in that it's not so much spread. So, when teams see it, it's an adjustment. Sure, they will practice it all week, but we hope that we have what we do down better than they do since we see it every day.

I think we have gotten better; we have made good progress.

We were the first team to use the GPS in the country. The reports are put on my desk after every game. Who is going the fastest, who is using the most energy and who do we need to load manage in practice.

Jake Fromm is as good of a quarterback in the country. He is selfless, makes all the runs, and the throws. All he does is move the football. He is an excellent football player.

I am so proud of Kellen. He has progressed a lot and has really stepped up as a leader and done everything that we have asked. We have done well these last few games because of him.

Elijah Blades is day-to-day, he got that shoulder banged up.

The key to possessing the ball so long is patience and third-down conversions. When you convert those third downs you start eating clock and really frustrating the defense. When you are able to control the clock, you have to convert a lot of 2-5 yards. You can't have penalties or negative plays either.

I was in Cincinnati when I heard about the Bonfire. You know it was like the highlight of the year to go see The Bonfire and I hated to see that tragedy happen.

Kirby and I used to play noon-time basketball and I would get him. I am just kidding. With Kirby there are no defenses, some teams you think 'oh maybe I can get a few yards here or doing this' you don't see that on Georgia film. He does a very good job.

As an overall consensus, I think run blocking is easier than pass blocking. That's not always true but for the most part, is the case in this league. I have been to other conferences and the guys you see lined up on the defensive front on every team are so good.
Never miss the latest news from TexAgs!
Join our free email list