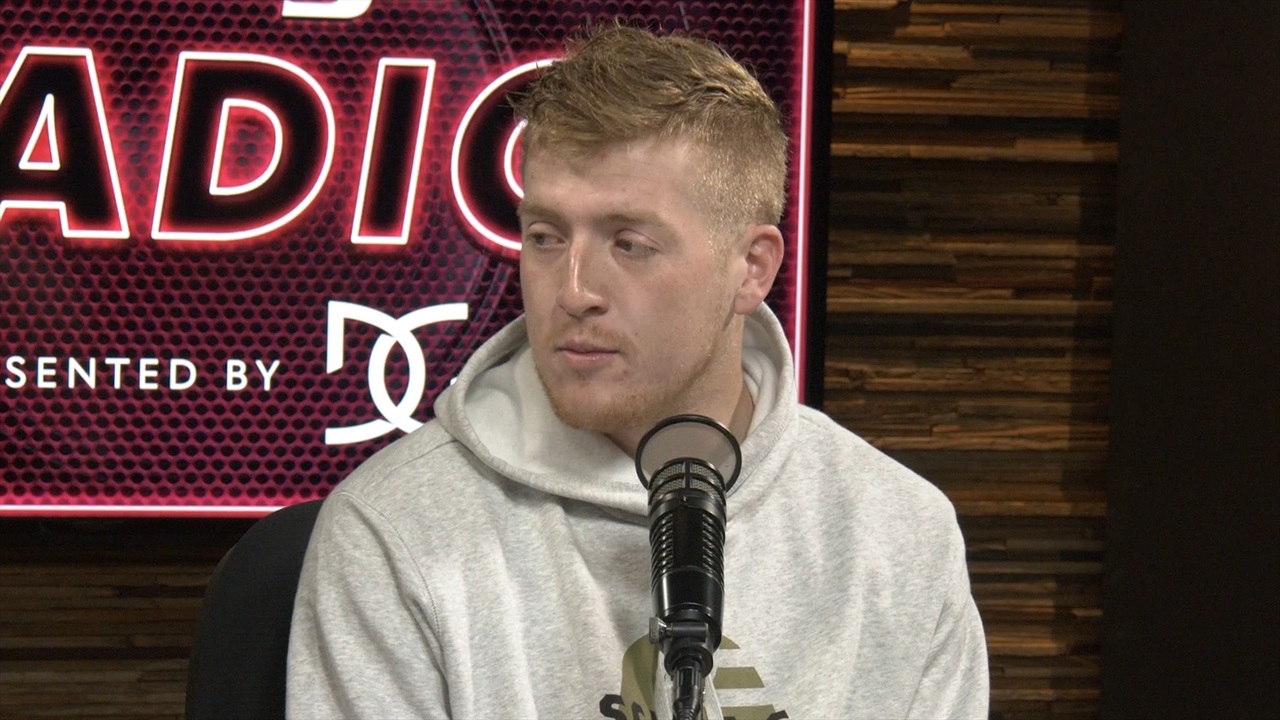 Texas A&M Football
Jace Sternberger joins The Final Countdown to preview A&M/South Carolina
---
During Friday's edition of TexAgs Radio, Billy Liucci and the brothers Steve & Seth McKinney joined for your all-encompassing game preview ahead of Texas A&M/South Carolina with a special guest appearance from Jace Sternberger.
---

Key notes from Jace Sternberger interview
It's good. It's cold. It snowed early on, and I knew I was in for a long winter. I've battled that injury and had a mini redshirt this season. I'm training every day to get healthy, and it's a good time to sit back and learn from Jimmy Graham and Marcedes Lewis. I've been waiting to get healthy and got activated three weeks ago and now can get back in the mix.

For people who know me, if I'm going to the NFL, then I'm ready to play. Whatever came from that, whether I got thrown in the mix or had to sit and learn for a couple of years. When I got picked by Green Bay, I knew it wasn't going to be random because the program has structure and foundation. I'm not going to come in, and something is new or out of the blue. For my situation, I'm glad I got to learn and wasn't forced to play right away. It's just different.

The community plays a huge part. That's what Green Bay is- a community. We have a team president, and the community really runs it. Everybody works all week and then goes to the game on Sundays. It's a charming small town with a huge stadium in the middle of it. The atmosphere is great. It's amazing playing with some great guys. It's still football at the end of the day, and you fall back to how you play when you're younger.

You know, the thing that sticks out for this team this year is we're going to start winning those games soon. Like soon, soon. You have these people saying oh it has been kind of a down year. The way I'm looking at it. You still got a lot of work to do, but I'm excited about the way this team is going. It's a young team. A lot of your seniors left and are in the NFL. From outside of the fan standpoint, I'm excited about how the season is going. There are things we need to work on. It's a young group of guys. Kellen Mond's leadership is just going to get better.

At the tight end position, it really makes you wonder why more people aren't using them at the college level. In the NFL, everyone is using two of the minimum. Coach Fisher knows how to utilize them. Jalen Wydermyer is doing all the stuff off the field too. You do that, and then you go out there and trust your training and get balls thrown to you.

I'm earning to play with 12, learning to play with Aaron Rodgers. People ask- is it the physicality and or the mental part of the game? It really is how he uses his language. He's been playing for 14 years. He'll make the call he made a couple of years ago. You know, I was in high school when he made the call, so it's an adjustment.

I see Jalen Wydermyer starting to mesh with Jhamon and them. Last year, there were times when I knew I wasn't going to get the ball. You have to go out and carry the defender and hook him. Once you think like that as a team, that's when you start setting those goals. It's not let's win this game this week. It becomes a mission.

The turn in November: It's one thing Coach Fisher preaches from the get-go. I don't know how a lot of them would have handled coming into A&M. There were a lot of expectations for him. He demands structure from day 1. It's rough the first couple of months. You have young guys who are stepping up, older guys who get down on themselves, and then some guys are gone. There are growing pains. Not an excuse for anything, but it's genuinely growing pains.

Dragging a bunch of South Carolina defenders down the sideline play- No, that wasn't my favorite play in an A&M uniform. When I was in-game, I wasn't feeling like I was dragging him down the line. I'm thinking more; he's just running with me, so I'm just thinking like just keep running. Just don't give him any excuse. Honestly, any LSU play is the more memorable play. The touchdown, the overtimes, the Kendrick Rodgers catch with the pass interference-all of it. The one-handed pass interference on the 4th and 11 where Kellen just threw that up there. What are the chances?

What's funny- when I got to A&M, everyone is talking about the A&M-Tennessee game. Now everyone is talking about the A&M-LSU game. From the fans' perspective- it was just a crazy game. I might get in trouble for this, but at the end of the game, I'm going, "we have to finish this." I asked Goose, and I asked Kellen,- what time is it? "We have to finish this; otherwise, we're not going to have time to go out." I didn't know what my future was and wanted to celebrate my final home game of the season.

The LSU fumble review- I'm thinking because I saw the way it happened that it's incomplete. I know when I catch the ball, I'm thinking North and South. I remember I didn't tuck it. I'm going to catch, cross over, and step in. I didn't think that he tracked me like that. I went shorter on my depth, and then I'm not thinking anything of it. He hits me right on my hands, and I think I drop it. I'm walking to the sidelines, and I look at it and see that they're challenging. I'm like- what are they challenging? Then I see that they're thinking I fumbled it. You're just going surely not going to do that at home with Jimbo as a coach. Surely not two in a year. It was one of the more after the fact things where you realize that could have been so bad.

I think they're going to do the same stuff this year against the Gamecocks. They're just going to go out and run our stuff. South Carolina- it's that SEC East thing- we make it an intense game. For us, it was so unique, and the chemistry was nuts. Q's making jumping catches. It was crazy. That's why I say that if our bye week had come at a different time, that stretch would have been different. There was an emotional game with Kentucky and the emotional road game with South Carolina- I really think it would have been different.

Baylor Cupp and the TE situation next year: There are just more threats in the middle and more threats in the blocking game. There's more toughness, and that opens up everything. As long as the third tight end can run and block, it doesn't really matter.
Freak of the Week:
Not biased at all, but I'm going Jhamon Ausbon as my freak of the week. He's been patient all year. He's getting better week in and week out. I think he has a multiple touchdown game, and hopefully, he has a great game in his last home game of the year.
Never miss the latest news from TexAgs!
Join our free email list