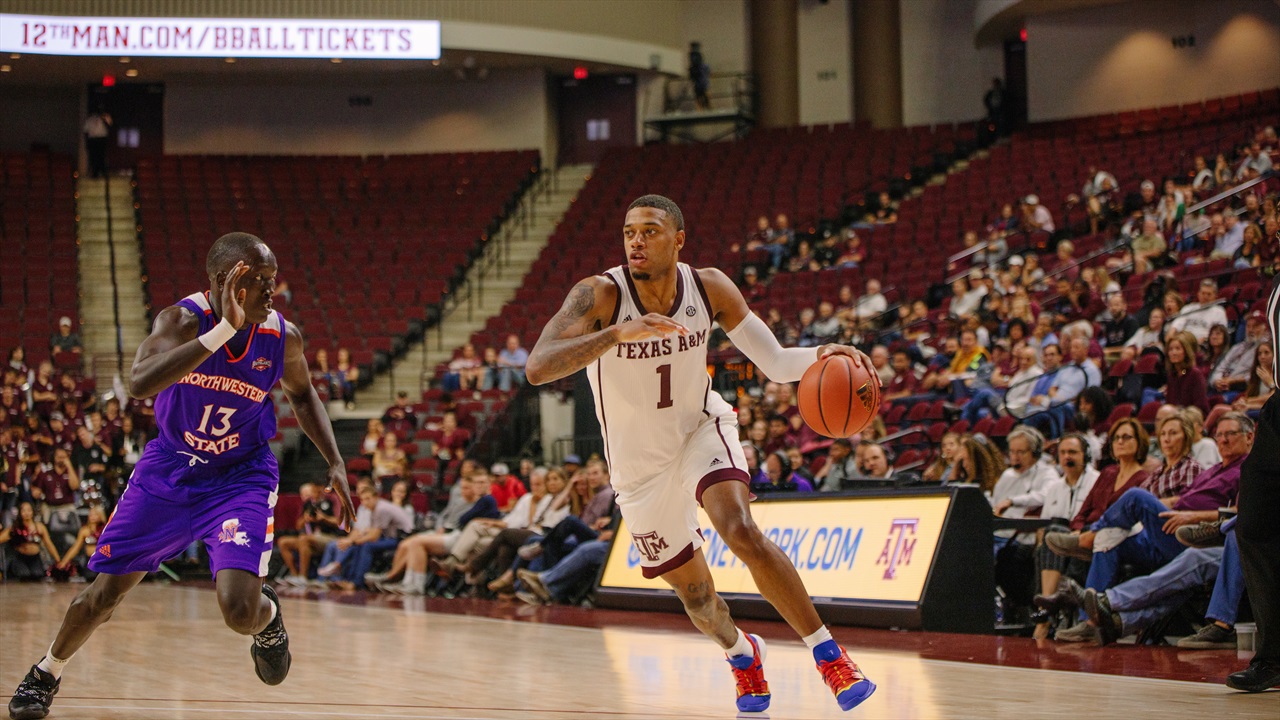 Buzz Williams
Chandler & Flagg
Mike McConathy
Texas A&M Basketball
Flagg nets 22 as Aggies clinch first win of Williams era over NW State, 77-63
---
At times the Aggies looked like a college basketball team that could go far. At other times they showed just how far they have to go.
Such was Texas A&M's first game of the coach Buzz Williams era. Once appearing on the verge of blowing out Northwestern State, the Aggies instead had to be careful not to blow it.
They finally clamped down in the final minutes to open the season with a 77-63 victory on Wednesday night at Reed Arena.
Though playing without injured Josh Nebo, T.J. Starks and Cashius McNeilly, A&M held a 21-point lead with just under 11 minutes to play. Then, a cold spell on both ends allowed Northwestern to pull within 67-60 with 3:44 remaining.
The Aggies regrouped, went on a decisive 6-0 run, and pulled away to send 5,751 fans — and one new coach — home happy.
Well, Williams could have been a little happier. A lapse that enabled the visiting Demons a half dozen 3-point goals and a conventional 3-point play to momentarily get back in contention might have soured his mood to some degree.
"In simplest terms, I think we just exhaled," Williams said. "I don't think our endurance, emotionally, is where it needs to be in order to be a good team. I think we were excited we were ahead, excited we were playing good and emotionally kind of let off what we need to do right."
Though the Aggies didn't reach Williams' high standards, they did manage to do a lot of things right in their debut. They demonstrated energy and intensity on the defensive end and some flair and dramatics on offense.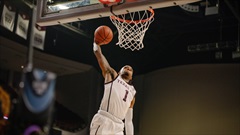 Rey Romo, TexAgs
Savion Flagg missed the first shot of the Williams era, but then converted his next six attempts, which included an alley-oop dunk on the break and a put-back on a Quenton Jackson missed three-pointer to stake A&M to a 38-26 lead at the break.
The Aggies consistently added to the margin until Jackson scored a put-back to cap a 10-2 run and provide a 57-36 lead with 10:56 to play.
"I think there were stretches when we did do good," Williams said. "The reason why I think that stretch was positive we didn't turn it over. In that stretch, we had four assists. Typically speaking for our team — what I know about it, thus far — it means that we didn't give up an offensive rebound so we were able to finish the possession with a defensive rebound. To some degree, it was a broken floor, which led to some level of transition which created maybe advantage-disadvantage situations. And we didn't turn it over."
Flagg finished with 22 points on 9-of-11 shooting, grabbed seven rebounds, dished five assists and blocked three shots.
He was complemented by Jackson, who had 13 points, Jay Jay Chandler with 11 and freshman Andre Gordon with nine.
"We're heading in the right direction. We found our mistakes. We fixed them. We'll fix the mistakes we had today and keep moving up."
"We're heading in the right direction," Chandler said. "We found our mistakes. We fixed them. We'll fix the mistakes we had today and keep moving up."
Defensively, the Aggies limited Northwestern State to 34.2 percent shooting (25-of-73) from the field. The Demons hit just 23.7 percent (9 of 38) from 3-point range.
Nikos Choughaz, a 6-foot-9 guard from Greece, scored 12 points to lead Northwestern State. Jacob Guest and LaTerrance Reed, also guards, both had nine points.
The downside was the Aggies committed 14 turnovers of which Flagg and Chandler were responsible for nine.
Williams was critical of that stat and will expect to be better on Monday night against Louisiana-Monroe.
However, he was perhaps most critical of himself. He said he has a ways to go, too.
"My endurance needs to improve, for sure," Williams said. "It just seems like the world has been spinning incredibly fast since the first day I got here. I'm not in game shape. I need to improve my endurance just as much or more than our kids. Hopefully, I'm the standard-bearer relative to emotional energy. At times, I was exhausted."
Never miss the latest news from TexAgs!
Join our free email list