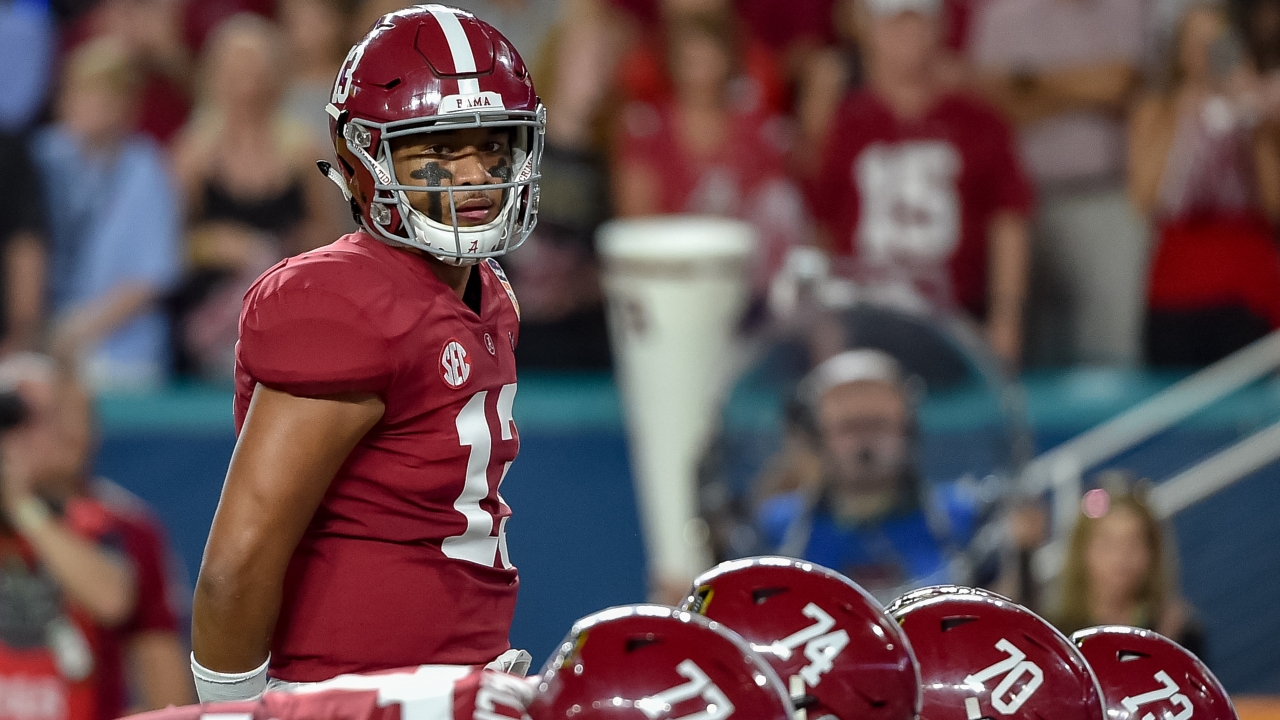 Photo by Steve Mitchell-USA TODAY Sports
Texas A&M Football
SEC Round-Up: Alabama needs Tua's toughness in potential shootout with LSU
---
Alabama quarterback Tua Tagovailoa can do a lot of the football field. But can he do what LSU quarterback Joe Burrow did?
In a Sports Illustrated story this week, Burrow revealed he played against Alabama last season despite a painful injury. Burrow separated his throwing shoulder in practice earlier that week.
"Get shot up with a bunch of drugs and go out and play," was his explanation of how he was able to compete in the Tigers' 29-0 loss.
"Well, you know, Joe's a competitor," LSU coach Ed Orgeron said. "He's one of the toughest players I've seen. It's no surprise to me. Joe's going to play if at all. He can play with any injury. He's going to play. He's a great competitor. He wants to win."
Tagovailoa might be in a similar situation when Alabama plays host to LSU on Saturday in a clash that would determine who wins the SEC West Division, a college football playoff berth and maybe even the Heisman Trophy.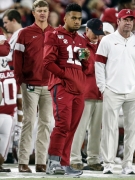 Butch Dill-USA TODAY Sports
LSU is second and Alabama third in the first College Football rankings. Also, Burrow and Tagovailoa are among the leading candidates in the Heisman race.
Three weeks ago, in a win over Tennessee, Tagovailoa sustained a high ankle sprain that required surgery. He's been listed as day-to-day, and it remains unclear whether he'll need to get shot up with a bunch of drugs to be able to go out and play.
"He's practicing and doing OK in practice," Alabama coach Nick Saban said. "It's still going to be a game-day decision or game-time decision as to whether he plays in the game or not."
The Tide likely needs Tagovailoa to keep up with LSU's passing attack, which is the second-most productive in the nation. Only Mike Leach's Washington State offense averages more passing yards.
LSU has scored at least 36 points in seven of its eight games.
Alabama averages 48.6 points, which is more than LSU (46.8), though Alabama has played a weaker schedule than LSU. Also, the vast majority of those points were scored with Tagovailoa leading the offense.
If Tagovailoa is healthy enough to play at a peak level, the outcome could be determined in the final possession of the game.
If not, he may be very similar to Burrow last year — playing hurt in a losing effort.
Around the SEC
This week's games: LSU at Alabama; Western Kentucky at Arkansas; Vanderbilt at Florida; Missouri at Georgia; Tennessee at Kentucky; New Mexico State at Ole Miss; Appalachian State at South Carolina
Who's hot: Hot? South Carolina receiver Bryan Edwards is torrid. He caught 14 passes for 139 yards and a touchdown in a 24-7 victory over Vanderbilt last week. That was just a high point in a recent hot streak in which he's caught 35 passes for 378 yards in the last four games. For perspective, that's more catches than Alabama's Henry Ruggs, Georgia's Lawrence Cager, Vanderbilt's Kalija Lipscomb or Texas A&M's Kendrick Rogers have managed all season.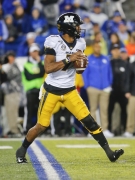 Mark Zerof-USA TODAY Sports
Who's not: Missouri's passing game has struggled of late, but a strong argument could be made that it's run defense has struggled even more. The Tigers have allowed 651 rushing yards in their last three games against Ole Miss, Vanderbilt and Kentucky. That's 217 yards per game, an average which would rank 119th nationally. No surprise, Missouri lost two of those games. As if that wasn't enough, the Tigers next face Georgia running back D'Andre Swift, who is second in the SEC in rushing.
Keep an eye on: Alabama's pass defense has, at times, been vulnerable. The Crimson Tide faces its most difficult test against LSU, which averages 377.6 passing yards per game. That's second in the nation. The last time Alabama faced a passing attack as high-powered as LSU's was in the national championship game last season. Then, the Tide allowed 347 passing yards and three touchdowns in a 44-16 loss to Clemson.
The pressure is on: You hate to kick a hog when he's down, but Arkansas coach Chad Morris seems to own the deed to this space. The Razorbacks (2-7) have lost six in a row, and arguably, their best player — tight end Cheyenne O'Grady — left the team last week. Their best (only) chance to notch another victory comes this week against Western Kentucky (5-4). Except Western Kentucky isn't a pushover. The Hilltoppers have victories over Army and UAB and were competitive in a loss to Marshall. They were even reasonably competitive in a loss to Louisville. Adding to the pressure, Western Kentucky quarterback Ty Storey was Arkansas' leading passer last season. If Arkansas loses, Morris may be fired on Sunday.
Best matchup: In the offseason, LSU coach Ed Orgeron boasted that this year's secondary would be the best he's ever coached. The secondary hasn't lived up to that billing. The Tigers are 60th in the nation in pass defense. But any secondary with All-American safety Grant Delpit and star freshman cornerback Derek Stingley, who leads the SEC with four interceptions, is dangerous. Even more dangerous is Alabama's receiver quartet of Jerry Jeudy, Henry Ruggs, DeVonta Smith and Jaylen Waddle, who have combined to catch 24 touchdown passes. Containing that group will be tough if Alabama quarterback Tua Tagovailoa is healthy enough to play to his usual standards. Heck, it will be tough to contain even if he isn't.
Never miss the latest news from TexAgs!
Join our free email list
PRESENTED BY