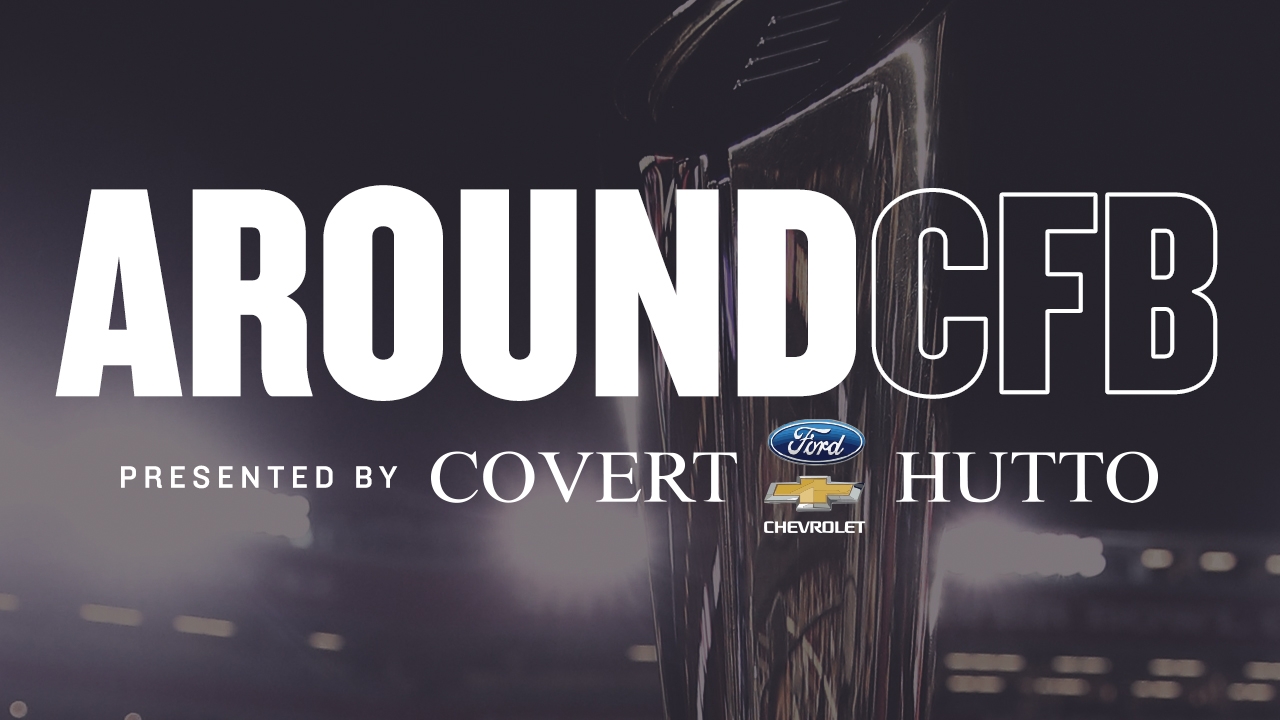 Photo by Mark Rebilas-USA TODAY Sports
Texas A&M Football
Who's next? Coaches on the brink, plus Heisman and Playoff projections
---
Typically, the question asked most in college football is "Who's No. 1?"
For this week, however, it's probably "Who's Next?" As in, who is the next coach to be fired after Florida State canned Willie Taggart on Sunday?
There's always no shortage of candidates because high salaries come with high demands. Nine victories in almost two seasons at Florida State — a program that expects to win championships — was sufficient reason for Willie Taggart to get the pink slip.
He's OK, though. Reports are Florida State has to pay him $18 million. Of course, there are also reports that prominent boosters said they'd either give money to fire Taggart or give no money at all.
Similar reports may soon be circling in Fayetteville, Knoxville, Starkville and Nashville. Put "-ville" on a college town's name and the football coach's job is seemingly in jeopardy. The second-largest city in Arizona may change its name to Tucsonville.
For this space, we'll alter the hot-topic question and ask "Who's the next 'Power 5' coach to be fired?" After all, who really cares if Rice's coach Mike Bloomgren gets the axe? Other than Mike Bloomgren, of course. Hey, coaching is a tough business.
Here's my list of the Top 10 "Power 5" coaches on the proverbial hot seat and thoughts on whether they will retain their jobs.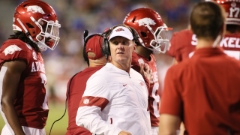 Nelson Chenault-USA TODAY Sports
1. Chad Morris, Arkansas: In 21 games under Morris, Arkansas is 4-17. Bret Bielema suddenly seems like a good coach to the long-suffering Razorbacks fans. Hell, John L. Smith might. Not only has Arkansas failed to win an SEC game under Morris, but he's also suffered losses to Colorado State, North Texas and San Jose State. Firing him would cost millions, but the Walton family (Wal-Mart) and Jerry Jones (Dallas Cowboys) are major Arkansas backers, so money is no object. The Razorbacks are already ineligible for postseason play, so Morris could be canned as soon as the season ends. Should Arkansas lose to Western Kentucky on Saturday — and that's not out of the realm of possibility — he may be fired on Sunday.
2. Clay Helton, USC: Rumors of hiring Urban Meyer has made Helton's situation even more precarious. His 37-21 record in four seasons isn't bad. The Trojans are 5-4 and likely will finish a respectable 8-4. USC expects more, though. Most feel his fate (ouster) has already been determined.
3. Derek Mason, Vanderbilt: Fans (both of them) on the West End still pine for the good old days of 2012-13 when James Franklin led the Commodores to consecutive nine-win seasons. Then, Franklin left for Penn State. Since then, Mason has not managed a winning season. Vandy is 26-44 under Mason and currently 2-6. That includes a loss to UNLV. One more loss eliminates Vandy from postseason consideration. He'll make a fine defensive coordinator for some other program.
4. Joe Moorhead, Mississippi State: Yeah, he has a winning record (12-8) at Starkville. That's mainly because he inherited a loaded lineup last season and still managed only an 8-5 finish. Thus far, the Bulldogs are 4-5. The remaining schedule includes Alabama (a loss), Abilene Christian (a win) and Ole Miss (a hated rival). Falling at home to Ole Miss likely would be unforgivable. Ole Miss seems to be improving. That's ominous. Failing to qualify for a bowl game might be the last straw.
5. Matt Luke, Ole Miss: Well, since the Egg Bowl has been brought up … Luke has been in a tough spot since taking over for Hugh Freeze. He's actually done a solid job with a 6-6 finish in 2017 and 5-7 last year. But the Rebels are now 3-6, and the outlook for a bowl game is bleak (LSU remains on the schedule). Beating Mississippi State might earn him another year. I think it will.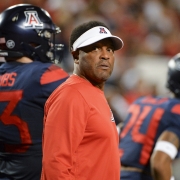 Casey Sapio-USA TODAY Sports
6. Kevin Sumlin, Arizona: After a 4-1 start, Arizona is in the midst of a collapse. Sound familiar? The Wildcats have lost four in a row, and that streak could extend to seven. Oregon, Utah and Arizona State remain on the schedule. Arizona probably finishes 4-8. That's after going 5-7 in Sumlin's first season. But Arizona is a basketball school, so there aren't as many demands. Sumlin will get a third year.
7. Barry Odom, Missouri: The Tigers had shown progress in each of Odom's first three seasons. They were upset by Wyoming in the season-opener but rebounded with five consecutive wins. Then came consecutive losses to Vanderbilt and Kentucky. Just like that, Missouri is 5-3, and the heat is on. Odom could be in deep trouble if Missouri doesn't qualify for a bowl game. Of course, the Tigers close with Tennessee and Arkansas, so he's OK.
8. Jeremy Pruitt, Tennessee: He's lost to Georgia State, compared his program to the Titanic, had a player arrested and then complained that police did not give said player preferential treatment. However, this disastrous year may be salvaged. Tennessee is showing improvement. Consecutive wins raised the record to 4-5. The final three games — Kentucky, Missouri and Vanderbilt — are all winnable. Pruitt figures to retain his job unless the Vols lose two of the final three. It won't be easy, but he'll probably make it.
9. Scott Frost, Nebraska: Two years ago, he was hailed as the best coaching hire in college football. Thus far, he's 8-13 in Lincoln. The Cornhuskers (4-5) need two more wins for bowl eligibility. Wisconsin and Iowa remain on the schedule, so a postseason appearance seems unlikely. Yet, Frost is a Nebraska boy, so that will buy him some time.
10. Chip Kelly, UCLA: His brief tenure in Westwood has been a colossal disappointment. Last year, the Bruins were 3-9. This year, they started 1-5. However, the Bruins are now on a three-game winning streak. That's probably enough progress for UCLA to retain him.
Heisman watch (if my ballot was due today)
1. Joe Burrow, LSU, QB: The Tigers were idle last week. Burrow has the opportunity to greatly enhance his Heisman candidacy this week against Alabama. He's second in the nation in passing and third in total offense. Burrow has accumulated 2,930 yards of total offense and accounted for 33 touchdowns (30 passing, 3 rushing).
2. Jalen Hurts, Oklahoma, QB: OU was also open last week. Hurts is second in the nation in total offense with 3,270 yards. He's passed for 2,469 yards and 21 touchdowns and rushed for 801 yards and 13 touchdowns.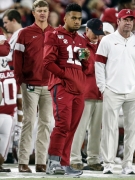 Butch Dill-USA TODAY Sports
3. Tua Tagovailoa, Alabama QB: He, too, sat out an open week after missing the previous game with an injury. Still, Tagovailoa has passed for 2,166 yards and 27 touchdowns with only two interceptions.
4. Chase Young, Ohio State, DE: Continuing the theme, Ohio State was also idle last week. Young was dominant in a 38-7 victory over Wisconsin, in which he posted four sacks and forced a fumble. He leads the nation with 13.5 sacks and is second with five forced fumbles.
5. Chuba Hubbard, Oklahoma State, RB: Hubbard actually played last week and was tremendous in a 34-27 victory over TCU. Hubbard tallied 223 yards on 20 carries and scored 2 touchdowns. He leads the nation with 1,604 rushing yards and 18 touchdowns. He also leads the country with 13 rushing plays of 30 yards or more.
Predicted playoff participants
1. Ohio State: The Buckeyes are the nation's most complete team.
2. Alabama: Though the defense is more vulnerable than usual, a healthy Tua Tagovailoa and that receiving corps seemingly can put up 40 points or more on anyone.
3. Clemson: The Tigers are hitting their stride. They've outscored their last four opponents 208-45.
4. LSU: Even a loss to Alabama shouldn't cost LSU a spot in the playoffs if it then wins out. LSU already has victories over Texas, Florida and Auburn, which defeated Oregon. No other resume' would top that.
This week's best games
No. 1 LSU at No. 2 Alabama: Eight years ago No. 1 LSU and No. 2 Alabama squared off in Tuscaloosa. LSU prevailed 9-6 in overtime. Both teams likely will exceed that game's point total in the first quarter.
No. 5 Penn State at No 13 Minnesota: The Nits need a good win for their playoff resume.' The Gophers need a good win to prove they're for real.
No. 18 Iowa at No. 16 Wisconsin: The Hawkeyes and Badgers have realistic chances of catching Big Ten West Division-leading Minnesota. Both need a win to stay in contention.
No. 20 Kansas State at Texas: Suddenly, Kansas State is a legitimate threat to reach the Big 12 championship game. A road win against Texas keeps the Wildcats' on the heels of Baylor and OU.
MESSAGE FROM OUR SPONSOR
Call or text Chad at Covert Ford in Hutto at 512-633-4819 For new Fords, Chevys and over 900 pre-owned vehicles. Thanks and Gig 'em.
Never miss the latest news from TexAgs!
Join our free email list
PRESENTED BY