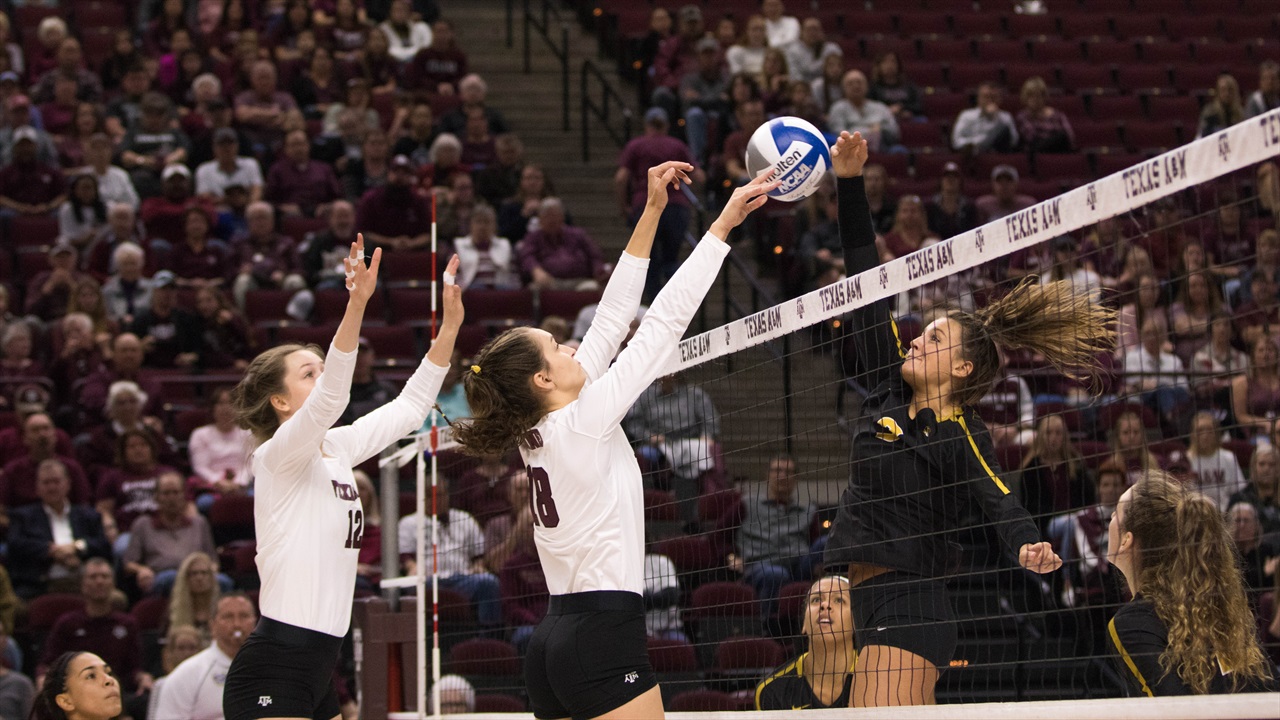 Photo by Angelina Alcantar, TexAgs
Texas A&M Volleyball
Aggie volleyball extends win streak to five with win over No. 24 Mizzou
---
Texas A&M Volleyball (16-5, 8-3) defeated the No. 24 Missouri Tigers (14-6, 6-4) in four sets on Sunday afternoon, extending the Aggies' win streak to five games. Coming off of a 3-1 upset over No. 15 Kentucky on Friday, the Aggies seem to have found their rhythm in conference play. After Missouri claimed a close 3-2 win in the first matchup between the two this season, the Aggies demonstrated their improvement as a team and earned a redemption win over the Tigers.
Set One: Texas A&M 25-21
The Aggies took control of the match, coming from behind to win set one 25-21. The score remained close before the midway points, despite Texas A&M losing two early challenges. Missouri then took a 15-13 lead on a 5-0 run, including two consecutive aces. The Tiger offense was fooling the Aggies with deceptive tips at the net, putting A&M down 19-14. It appeared the Tigers would run away with set one, but the Aggie defense tightened up and paved the way for a 3-0 run. Treyaunna Rush gave the Tigers a taste of their own medicine with a tip to knot the score at 20. With a kill by Mallory Talbert at set point, the Aggies won the race to 25 to go up 1-0 in the match. Hollann Hans led the way offensively with five kills.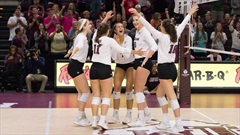 Angelina Alcantar, TexAgs
Set Two: Texas A&M 25-21
The Aggies' momentum carried over into set two, finishing on top in a set full of long rallies. With the score tied at14, Texas A&M started to take over, beginning with an Allison Fields ace. During a 4-0 run, Hans had a kill and an ace to provide Texas A&M a comfortable lead. Two more Aggies, Lauren Davis and Taylor Voss, recorded aces in the set. At 21-17, the Aggies went on a 3-0 run to force set point, but a 4-0 run kept the Tigers alive and forced an A&M timeout. On the next play, Davis had her first kill of the set to secure the 25-21 victory and take the 2-0 lead.
Set Three: Missouri 25-16
Set three was all Missouri as the Tigers clawed their way back offensively, taking the momentum in their favor. The Aggies didn't have an answer for the Missouri attackers, who racked up a .429 kill percentage. Hans was held to only three kills in the set, a team-high for the Aggies. After a Camille Conner ace to knot the score at six, Missouri went on a 5-0 run and expanded on it, fully in control. The Aggies threatened, coming back within five at 19-14, yet the Tigers responded and took set three 25-16.
Set Four: Texas A&M 25-22
Hans got the Aggies rolling early in set four with two kills and an ace. Back-to-back kills from Makena Patterson and Davis gave the Aggies an 8-4 lead and forced a Missouri timeout. The Tigers came out fighting, taking back a 12-10 lead. The score remained close, but the Aggies began to take the reins after a kill by Hans to go up 17-16. The attackers, who totaled an impressive .441 kill percentage, were rolling late in the set; Rush had two big kills to keep the Aggies on top. Texas A&M claimed the match, winning set four 25-22.
Postgame Thoughts
"It was a solid weekend, I'm so proud of this team and how they fought.They were challenged and responded really well. We're executing well."
"This game says a lot because we've worked really hard and grown so much as a team," said senior outside hitter Hollann Hans. "We knew we'd have to fight for each point and stay consistent. Everyone is doing their jobs, and we play for each other. We've gotten better, and it's only going to go up. This weekend is huge for the work we've put in and [reinforces] our confidence in our abilities. [The Kentucky and Missouri wins] are huge, but it's time to get back to work this week."
"Our rule of the team is to stay in balance, keep your composure and keep working," said sophomore defensive specialist Allison Fields. "This win gives us confidence, but we're going to keep working hard every single day."
"It was a solid weekend, I'm so proud of this team and how they fought," said coach Laura "Bird" Kuhn. "They were challenged and responded really well. We're executing well. There are always things we can clean up, like in this game, ball control. Even in losses, we were executing at a high level. We've lost five-set matches, and you have to grow and learn, and they have. The response this time around was faster, and it's coming from the players now, so it's more urgent."
Up Next: The Aggies host the Arkansas Razorbacks on Friday at 6:30 p.m.
Never miss the latest news from TexAgs!
Join our free email list