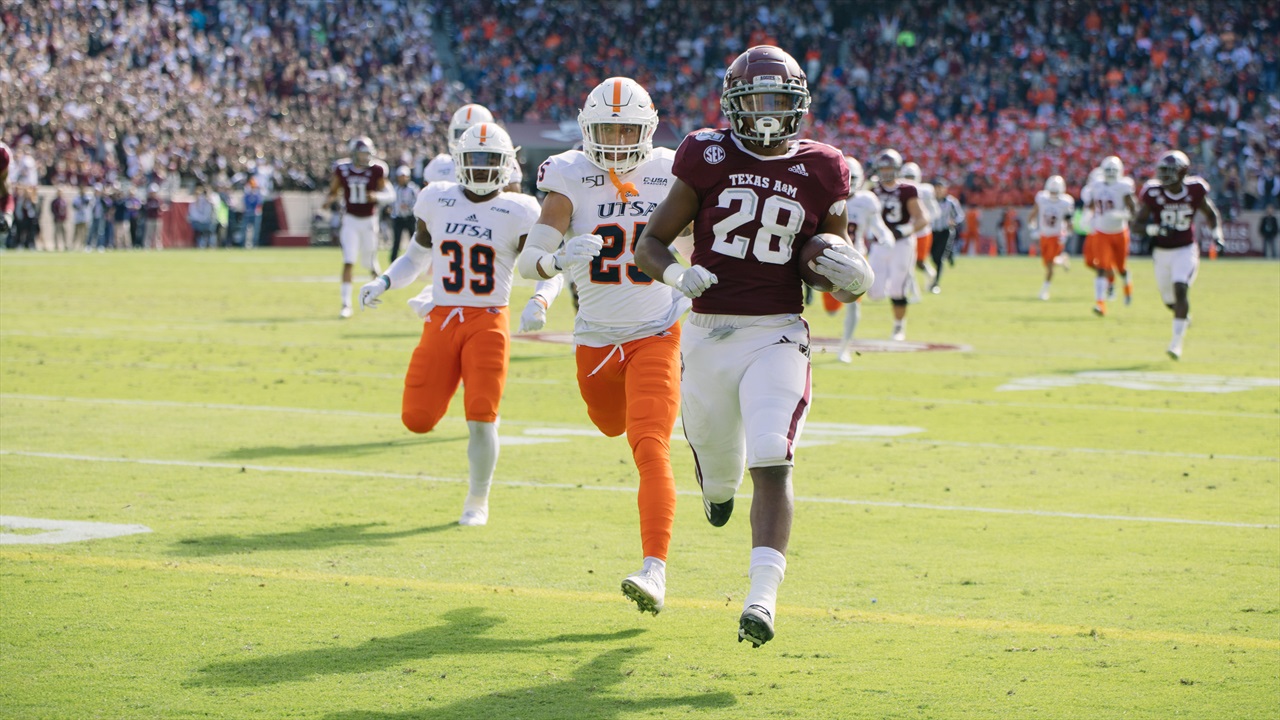 Photo by Rey Romo, TexAgs
Texas A&M Football
Post Game Review: Texas A&M 45, UT-San Antonio 14
---
The Aggies took care of business against UT-San Antonio on Saturday afternoon, taking down the Roadrunners, 45-14. A&M running back Isaiah Spiller rushed for 217 yards and three touchdowns in the winning effort.
After forcing the A&M offense into a quick three-and-out, UTSA was the first team on the scoreboard, as quarterback Lowell Narcisse ran two yards to the left side of the end zone to take a 7-0 lead.
The Aggies swiftly tied the game up on the next play via a 60-yard touchdown run by Isaiah Spiller, who made one defender miss and then had nothing but green in front of him.
Just two minutes later, the Aggies scored another touchdown on the ground, this time Cordarrion Richardson juked a couple of defenders and maneuvered his way into the end zone to supplement the A&M lead to 14-7.
The A&M offense struggled mightily to move the chains, amassing just 46 yards until under two minutes when they embarked on a 42-yard touchdown drive. The scoring drive ended with a seven-yard connection from Kellen Mond to Jalen Wydermyer for the freshman tight end's sixth touchdown of the season. Wydermyer's touchdown with 0:22 remaining in the half gave the Aggies a 21-7 lead at the half.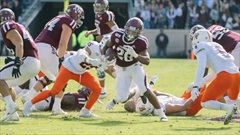 Rey Romo, TexAgs
Isaiah Spiller shed a defensive lineman and blew past a pair of UTSA linebackers and was off to the races - scoring a 50-yard touchdown. He then followed it up with an 8-yard touchdown run for his third of the afternoon to put the Aggies up 35-7 late in the third quarter. UTSA quarterback Lowell Narcisse suffered an injury after a big hit by Anthony Hines left him walking gingerly. The injury brought in Jordan Weeks, who never got into a rhythm.
The A&M defense got a quick stop, and Kellen Mond led the Aggies on a 73-yard drive, which he capped with a one-yard quarterback keeper.
Zach Calzada took over at quarterback early in the fourth quarter, and his first drive ended in a 47-yard field goal by Seth Small. On the Aggies' next possession, Calzada threw a pick-six, which narrowed the Aggie lead to 45-14 where it would stay.
RUMBLED: Isaiah Spiller was the most valuable player on the Aggie offense, and the freshman back was relied on heavily as Jimbo Fisher kept his play-calling pretty vanilla with very few designed QB-runs. Spiller tallied 217 yards on 20 carries and three touchdowns. He displayed excellent vision and ability to bust run defenses, running for two scores over 50 yards. Jhamon Ausbon also impressed with Quartney Davis sidelined due to injury. Ausbon caught five passes for 90 yards and was the Aggies' leading receiver.
STUMBLED: Prior to UTSA quarterback Lowell Narcisse's injury, the Roadrunner offense found some first-half success moving the chains via their ground game. The Aggie run defense had trouble getting to running back Sincere McCormick on handoffs and quick passes. Narcisse also had his way at times on options. Quarterback Zach Calzada entered the game in the fourth quarter and showed that he still has room to improve. The freshman completed just four of his seven passes for and threw a bad pick-six.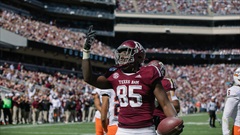 Rey Romo, TexAgs
UNSUNG HERO: After a bit of a slow start to the season, Jalen Wydermyer has established himself as a pass-catcher and an all-around asset to the A&M offense. The freshman tight end caught four passes for 52 yards and a touchdown, including a pair of tough grabs. Saturday's performance lifts Wydermyer's touchdown total to six through nine games, keeping pace with last year's All-American tight end Jace Sternberger who finished last season with 10 touchdowns.
KEY STAT: Third Quarter yards: Texas A&M 199, UTSA 36.
The A&M offense was extremely efficient in the third quarter, which was the difference in avoiding a scare against the Roadrunners. The offense was firing on all cylinders, and each of their third-quarter drives ended in touchdowns. Also working in the Aggies' favor was the injury to Narcisse, which hindered an already outmatched UTSA offense.
Scoring summary
First-quarter:
UTSA: 8:22 - 2-yard touchdown run by Lowell Narcisse. Drive: six plays, 67 yards. TOP: 2:37.
UTSA 7, Texas A&M 0.
A&M: 8:05 - 60-yard rushing touchdown by Isaiah Spiller. Drive: one play, 60 yards. TOP: 17 seconds.
Texas A&M 7, UTSA 7.
A&M: 2:03 - 19-yard rushing touchdown by Cordarrion Richardson. Drive: 9 plays, 63 yards. TOP: 4:14.
Texas A&M 14, UTSA 7.
Second-quarter:
A&M: 0:22 - 7-yard pass from Kellen Mond to Jalen Wydermyer in the middle of the end zone. Drive: 4 plays, 42 yards. TOP: 1:16.
Texas A&M 21, UTSA 7.
Third-quarter:
A&M: 12:25 - 50-yard rushing touchdown by Isaiah Spiller. Drive: 5 plays, 80 yards. TOP: 2:35.
Texas A&M 28, UTSA 7.
A&M: 5:25 - Isaiah Spiller 8-yard rushing touchdown. Drive: 9 plays, 94 yards. TOP: 4:50.
Texas A&M 35, UTSA 7.
Fourth-quarter:
A&M: 13:19 - Kellen Mond 1-yard touchdown run on a QB keeper. Drive: 8 plays, 73 yards. TOP: 3:32.
Texas A&M 42, UTSA 7.
A&M: 9:03 - Seth Small 45-yard field goal. Drive: 7 plays, 7 yards. TOP: 3:03.
Texas A&M 45, UTSA 7.
UTSA: 4:53 - Dadrian Taylor pick-six off of Zach Calzada.
Texas A&M 45, UTSA 14.
Never miss the latest news from TexAgs!
Join our free email list